(Warning: Graphic photo below. Discretion is advised.)
BC SPCA animal cruelty investigators are seeking the public's help in solving a disturbing case in Dawson Creek.
"It's a bizarre and very upsetting case where an individual woke up on Jan. 15 to find a large block of ice on his lawn," explains Marcie Moriarty, general manager of cruelty investigations for the BC SPCA.
"Inside the block of ice, which looks to have been made from a larger rubber bin, was the frozen corpse of a medium-size black dog."  Moriarty says the individual who reported the incident does not know the dog or any reason why the ice block containing  the corpse would have been left on his property.  "We are currently working to determine the cause of death and the identity of the dog's owner," says Moriarty.
Anyone with information about the incident is asked to please call the South Peace SPCA Branch at 250-782-2444.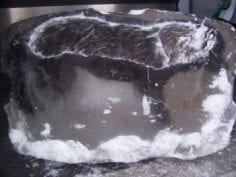 The BC SPCA conducts nearly 6,000 cruelty investigations a year and is reliant on donations from the public to continue its work. Your gift can help support investigations and bring abusers to justice. Please donate today.
Photo caption: The body of a medium-size black dog was found frozen in a large block of ice on January 15 in Dawson Creek.
The British Columbia Society for the Prevention of Cruelty to Animals is a not-for-profit organization reliant on public donations. Our mission is to protect and enhance the quality of life for domestic, farm and wild animals in B.C.