Warning: story contains graphic images
Charges of animal cruelty are pending against the Nanaimo owner of a seven-month-old German shepherd puppy who was found with a collar deeply embedded in her neck. The malnourished puppy was tied up in a yard and was wearing a 33-centimetre collar that was at least 10 centimetres too short to go around her neck.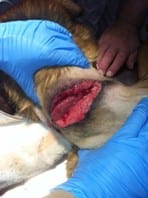 "It is inconceivable that someone would not have noticed the collar growing into her flesh," says Marcie Moriarty, general manager of cruelty investigations for the BC SPCA. "Based on how deeply the collar was embedded into her flesh it would have taken months to reach that stage and the smell of the gaping wound would have been obvious to anyone who came within a few feet of this poor animal."
Wilma, as she is now known, was rushed to Island Veterinary Hospital for immediate surgery to remove the collar embedded in her flesh and she is recovering well. "Wilma is now in our legal custody and we will continue to care for her until she is well enough to be adopted into a loving home," says Moriarty.
Leon Davis, manager of the BC SPCA's Nanaimo and District Branch, says Wilma is an amazing, loving dog. "When she arrived into our care she smelled of rotting flesh and blood and was dirty and emaciated," says Davis.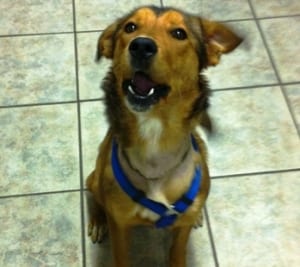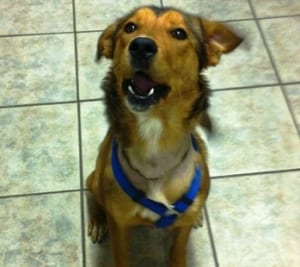 "You would expect a dog in her condition to be fearful and possibly defensive, but she greeted us with a wagging tail and covered our faces with kisses. She was just so glad to get some attention. I am always amazed at how humans can treat animals so poorly, yet all they want to do is love us."
The BC SPCA would be grateful for any help in paying for Wilma's medical costs. Donations can be made at spca.bc.ca/support or by calling the Nanaimo and District Branch at 250-758-8444.
The BC SPCA will be recommending that charges of animal cruelty under the Criminal Code of Canada be laid against Wilma's former owner.
Photo caption: (top) Wilma suffered extensive wounds from a collar that was at least 10 centimetres too small for her and was left embedded in her neck. She is currently recovering from her injury.
Photo caption: (bottom) Wilma shown with the embedded collar before she underwent surgery to have it removed. Cruelty charges are pending against her former owner.
The British Columbia Society for the Prevention of Cruelty to Animals is a not-for-profit organization reliant on public donations. Our mission is to protect and enhance the quality of life for domestic, farm and wild animals in B.C.