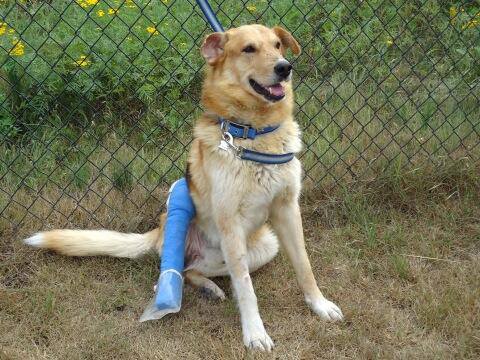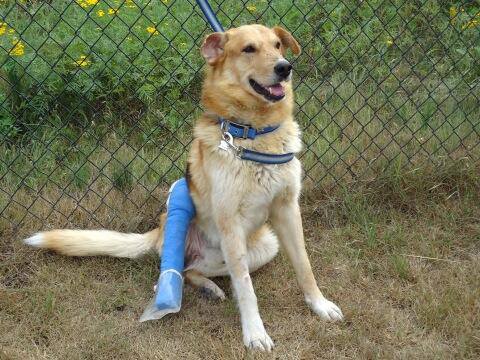 Thanks to the incredible support of donors across North America Bode has now had surgery to save his leg and is on the road to recovery. This amazing dog is winning the hearts of his caretakers with his affectionate, happy-go-lucky nature and his desire to make friends with everyone he meets. Thank you to everyone who gave so generously to give this sweet dog a second chance at a happy life.
Watch the CTV News story on Bode.
Photo caption: (above) Bode post surgery – photo credit @darcynews

Original story published: August 9, 2013
Abused dog rescued north of Pemberton needs public's help to recover
The BC SPCA Squamish Valley Branch is seeking help for a badly neglected and injured dog who was brought to the SPCA after being rescued by a Good Samaritan.
"The dog was brought to us from a remote area north of Pemberton," explains Marika Donnelly, manager of the SPCA's Squamish Valley Branch. "He is a three-year-old German shepherd we've named Bode, and it is clear that this poor fellow has been through a lot." Donnelly says Bode's face is covered in old scars and bite wounds, part of his ear has been torn and was hanging off, he has multiple broken teeth and he suffered a broken hind leg that was never treated.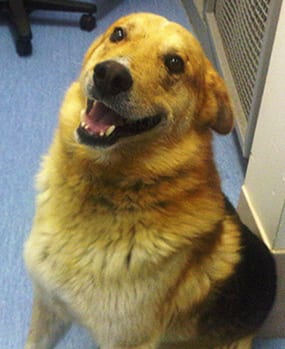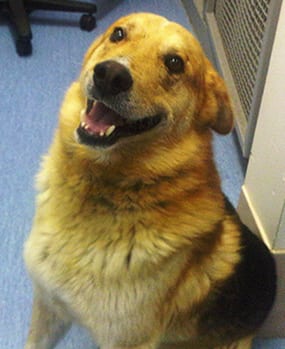 "We don't know who his previous owner was, but based on his extensive injuries we suspect that Bode was chained outside with multiple dogs and was attacked regularly, with no means of escape," says Donnelly. Despite this, she says, Bode has a very gentle, loving temperament and loves other dogs and cats. "He is just one of the sweetest dogs I've ever met, he absolutely adores everyone."
Donnelly says she suspects Bode was abused by his former owner as he becomes extremely alarmed if anyone reaches for his collar when he is not expecting it. "He falls to the floor in fear if you reach suddenly for him, but even then he doesn't snap or get aggressive. He just looks terrified that he's going to be hit."
Bode will likely have to have his hind leg amputated and will also require extensive dental surgery to remove his broken teeth and surgery to repair his damaged ear. The $4,000 veterinary bill is beyond the Squamish Valley Branch's normal medical budget and Donnelly is hoping that animal lovers will reach out to help make Bode's recovery possible.
"This dog is so special. He really deserves to be well and to be adopted into a home where he can receive as much love and affection as he lavishes on everyone else," says Donnelly.
If you can help Bode and other animals in need, donations will be gratefully received by the Squamish Valley SPCA online, by calling 604-898-9890, by mail at Squamish Valley SPCA, PO Box 659, Garibaldi Highlands, B.C. V0N 1T0, or in person at the branch, located on Government Road in the Squamish Municipal Works Yard.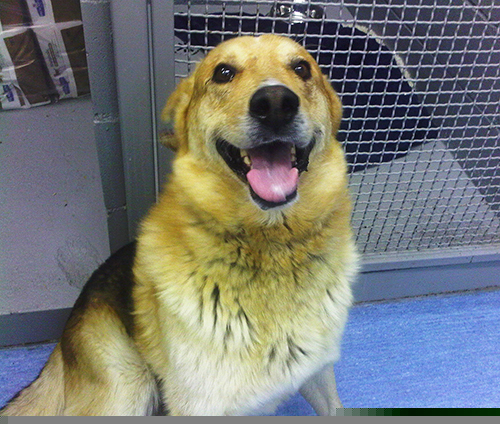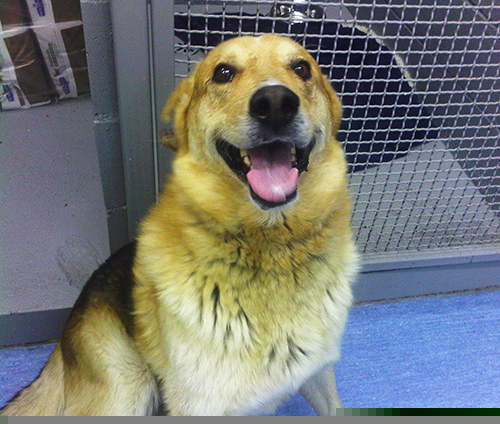 The British Columbia Society for the Prevention of Cruelty to Animals is a not-for-profit organization reliant on public donations. Our mission is to protect and enhance the quality of life for domestic, farm and wild animals in B.C.