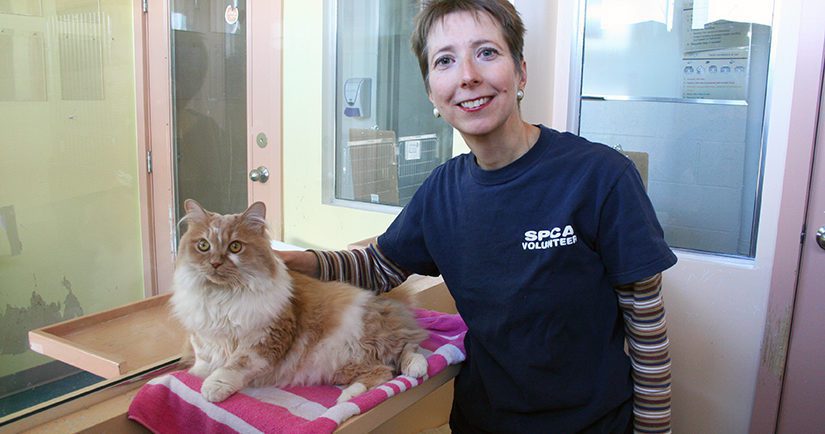 As 2020 marks the BC SPCA's 125 anniversary we want to take this opportunity to celebrate all the wonderful people who believe in our mission and work tirelessly to improve animal welfare. 
---
Shawna Willan has always loved animals and is passionate about helping them find loving homes. Willan started supporting the SPCA in the 80s because it was one of the only organizations at the time that was advocating for animal welfare. She has been a volunteer fundraiser for BC SPCA's Paws for a Cause Walk for 32 years.
Initially, Willan would come to the Vancouver Branch and donate food at the front desk because it was difficult for her to see so many homeless animals in care. After retiring, she wanted to get more involved and began volunteering at the Vancouver Branch in 2007. "I focused on the animal's feelings and what they needed, which gave me the strength to help them."
Willan was able to help develop a cat volunteer program for the branch. "We had lots of dog walkers but nothing really for cats," she recalls. "I was able to help implement a program for the cats." Now, she completes administrative tasks for the volunteer coordinator including scheduling all the volunteer shifts and training, plus cat adoption counselling two days per week.
"The volunteer program has just become amazing. We have so many wonderful committed volunteers and so many people wanting to volunteer. Without volunteers the shelter can't run and a lot of people don't realize that," she says.
Her passion is adopting the senior cats, who tend to stay in the shelter for much longer. "Sometimes they've lost their home or their people pass away and they end up here in the shelter," Willan says. "It just breaks my heart. At this time in their lives they need to know that someone loves and cares for them." Currently, she has four senior cats at home from ages 10 to 19 years old and a senior dog.
Over the years, she's witnessed so much positive change within the BC SPCA. The cats used to be housed in single cages with their litter box and sleeping area. The cats were more stressed because there was not as much room for the animals to stretch or walk around. Now, each cat is able to roam across three cages through connecting portals, which provides them with access to a bedroom, bathroom and dining area.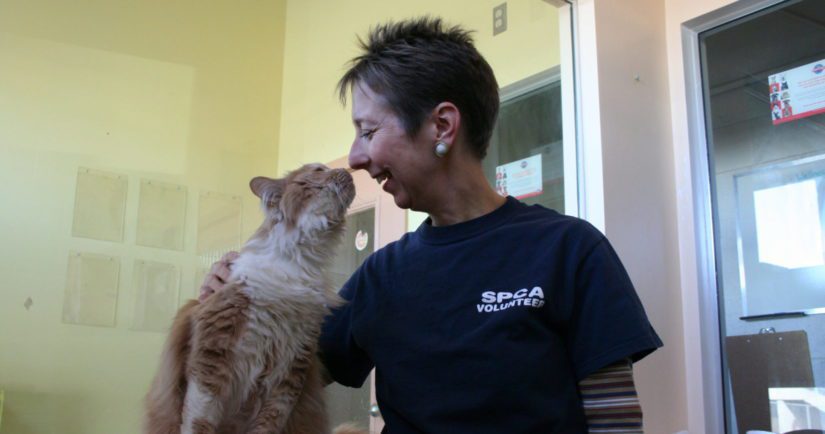 She has seen more animals coming in from SPCA cruelty investigations and going through supportive rehabilitation programs such as behaviour modification plans to reach the point where they can be adopted.
Another positive change was starting the Drive for Lives transfer program. Animals arrive in the Lower Mainland from branches in northern and rural areas to increase their chances of being adopted. "We have a bigger population in the Lower Mainland so the Drive for Lives program is just amazing," she says. "Some kitties have been up north for months and get adopted within days of being transferred."
One particular adoption stands out in her mind. "There was a very shy and sweet cat called Lucky, who was scared to come out and meet people. A lovely young woman came in who was also quite shy and quiet herself. I said, 'oh you should come meet Lucky, just talk to him.' It was one of the most beautiful adoptions I'd ever seen because they were meant for each other," she says.
Her involvement with the SPCA spans decades and Shawna Willan knows that she's making a difference. "It means so much to me to see them get adopted that it keeps me coming back. Even if just one animal goes home because I was there to help means a lot to me."
---
The BC SPCA could not exist without the 5,500 compassionate and dedicated volunteers who offer their time and skills each year to help make life better for animals. Thank you to our incredible volunteers who make such a difference to our province's most vulnerable animals.