It took a whole community of animal lovers to help reunite an American army officer with his dog, Yukon, just in time for Christmas.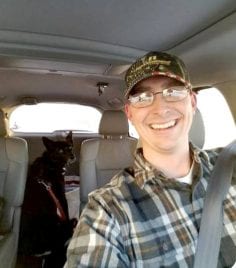 Restationed to Alaska, Jeff Hayes was making his way to the northern state from Alabama Nov. 9, with his brother-in-law and four-year-old husky mix Yukon following, when the troops stopped at the Mile 80 rest stop.
Before they could blink, Yukon had slipped his collar, ran down the busy highway and disappeared into the woods.
"They searched for more than two hours, but with weather getting worse and night approaching, they had to leave – (Hayes) posted a note at the rest stop with his wife's phone number and contacted us and hoped for the best," says BC SPCA North Peace Branch manager Candace Buchamer.
"It wasn't long before people started calling – Yukon built himself a den near the rest stop but we were also concerned because it's close to the highway, which can be very busy with lots of truck traffic," Buchamer notes.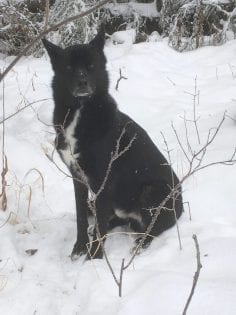 Buchamer and two branch employees started going out every day and every night, trying to catch Yukon, a rescue himself who was quite fearful.
Volunteers and members of other groups – the Yukon Animal Rescue Network and On Our Way Home and other local Good Samaritans – came out to help as well, with shared social media posts, baited traps and treats to try to tempt the canine in from the cold.
While the initial hope was to get Yukon to come of his own accord, more than two weeks of trying to capture the elusive canine passed. The impending weather forecast – five days of blizzards – and continued danger of having a dog running around on a busy highway prompted action and Fort St. John veterinarian Dr. Justin Sewell came out to tranquilize the stubborn dog, who eventually succumbed to the medication.
"It finally all came together and we had him safe in our care – he was in surprisingly good shape – no injuries, just a little dehydrated," Buchamer says.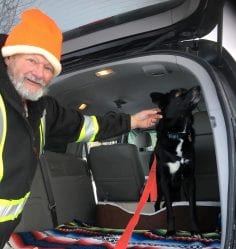 "Jeff was so happy to hear that his furry family member was safe! One of his (four) children had even written to Santa asking for Yukon back for Christmas. We're so glad Santa was able to come through!"
With help from Alaska-based Carlile Transportation and Edmonton-based Capital Transport, volunteers connected with truck driver Nick Stoneburgh, also called St. Nick for his white-bearded resemblance to the Christmas icon, who picked Yukon up in Fort St. John on one of his runs and reunited him with Hayes in Beaver Creek, Yukon, on Nov. 30.
"He was overwhelmed with everyone's kindness and compassion and called it a Christmas miracle – the whole family was so happy to have Yukon back, especially in time for the holidays," Buchamer says.
"It literally took a village to make it all happen and I can't thank everyone enough. Everyone came together to bring Yukon home."
Photos submitted by On Our Way Home president Lani Belcher