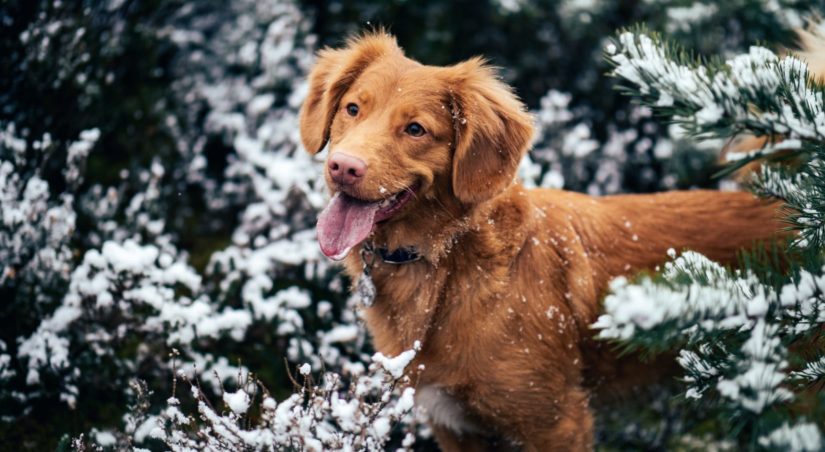 Before snow is in the forecast and temperatures drop well below freezing around the province, we want to share our tips on how to keep your pet safe in winter conditions.
Dog Walking
Guardians might want to watch for the salt or sand used on side walks and streets to make driving and walking safer for humans. For your own sidewalk, choose a pet-friendly, non-corrosive de-icing compound readily available through retail outlets;
When your dog is walking, those materials could get between paw pads or toes – you don't want your pet licking or ingesting those materials during or post-walk.
Dry your pet's paw pads after being outside and clean between toes and pads.
It's also important to walk slowly and carefully when conditions are icy or slippery, because – like humans – your canine companion can slip and injure themselves.
Keeping Warm
If temperatures are extremely cold, pet guardians may want to think about getting their dog a winter jacket or covering, or even dog shoes and/or booties to wear to help protect his paws.
Consider classes or fun activities inside if it's too cold to be out and about.
They may have fur coats but some aren't very thick – dogs get cold and can suffer from exposure to the cold just like humans.
Safety Checks
The SPCA strongly urges pet guardians to keep all animals indoors during cold weather, but if you must keep domestic or farm animals outside, ensure they have access to shelter that is off the ground, provides protection from wind, cold and dampness, and is properly insulated.
Regular checks to ensure drinking water has not frozen over are also a must.
Think and Thump before you drive off in your car!
Cats or wild animals may be using your vehicle for shelter from the cold. Learn more about Think and Thump.
Use pet-safe propylene-based antifreeze instead of ethylene glycol antifreeze, which is toxic to pets and wildlife. A mere tablespoon of ethylene glycol antifreeze can kill a cat or small dog. Learn more.
Farm & Wildlife
When winterizing your camping gear, ensure your pets (or wild animals) are not hiding inside, as some equipment can exert intense pressure when being expanded or dismantled;
People with farm animals must also make sure these animals have adequate cover from the elements and that all water containers are kept ice-free.
---
RESOURCES
---