When the wildfires spread quickly across parts of British Columbia last week, requests for assistance from pet guardians also came in quickly. The BC SPCA has provided care to hundreds of animals from the affected areas, including 129 animals who entered into emergency boarding, more than 50 requests for assistance beyond the fire evacuation lines and increased requests for pet food and supplies.
One of the calls for help received by the BC SPCA was from Lorelee. She was given less than 10 minutes to evacuate before she lost her home to the devastating wildfire that swept through Squilax. With little time to prepare, Lorelee prioritized the needs of her cat, Atticus, and her two dogs, Eve and Pixie, before her own. She left home with only a few clothing items for herself.
"If anybody is ever in a situation like mine, where they've only had 10 minutes or less to get out of a home, it's just… I can't even find the words… it's devastating… it's stressful," says Lorelee.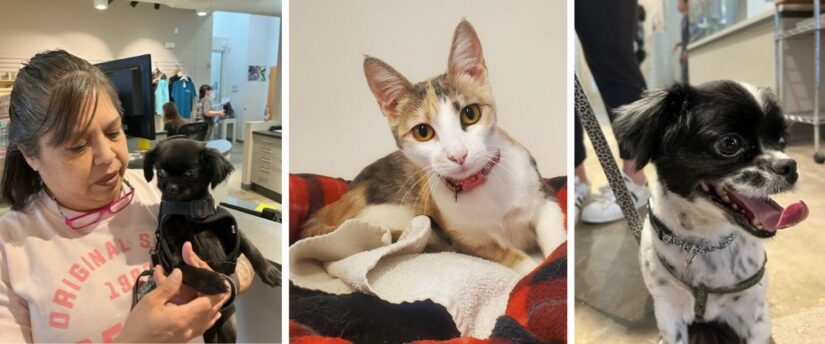 Although many of the animals in emergency boarding have started to go home, others have a long journey ahead as their houses have been destroyed by the fires. For some, like Lorelee, knowing their pets are safe in temporary boarding with the BC SPCA gives them much needed peace during this very challenging time of rebuilding.
"When I phoned the SPCA, I called thinking, 'Oh my god I hope they can help me, I hope they can help me. Sure enough… I was able to bring them in," says Lorelee. "From there it was like a burden lifted off of me, I wasn't as heavy knowing they were going into the SPCA… It was the best sleep I've had since we've been evacuated."
As she begins to navigate the challenges of rebuilding her life, the BC SPCA will continue to provide support to Lorelee and to other wildfire evacuees in similar positions. Atticus, Eve and Pixie will remain, temporarily, in the BC SPCA's care and will receive everything they need. Along with love and care from our teams, they will also be vaccinated, microchipped, and spayed during their time with us – additional supports that Lorelee shares are "a big thing for me".
Are you an evacuee in need of emergency boarding, pet supplies or food, more information? Get assistance today!