With wildfires still raging in B.C., the BC SPCA has officially been deemed an essential service by the province, allowing animal protection officers access beyond checkpoints to collect as many animals left behind as possible.
Officers are feeding, watering, and comforting animals and where possible, reuniting them with their guardians at check points. If the animals are in danger (fire or health) they are temporarily being taken into BC SPCA care.
"The community support has been amazing for deployed BC SPCA staff and volunteers," says BC SPCA general manager of community relations Lorie Chortyk. "In every area, locals have donated space in their homes, or room in their yards for a camp – their generosity is truly inspiring and we are so grateful."
While officers are dealing with mostly dogs, cats and horses, they have also worked to rescue pigs, llamas, mules, a cockatiel and even a six-foot red tail python.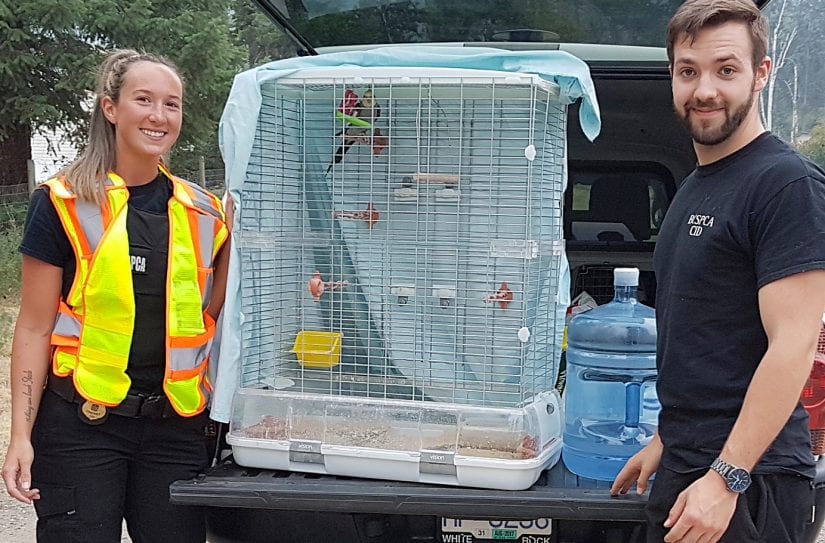 "We were able to reunite Medusa (the python) with her guardian at a checkpoint," says BC SPCA senior animal protection officer Kent Kokoska. "He was very happy to see her again."
In some areas there are farm animals wandering highways, as people have let them loose so they won't be trapped in a fire. This is only recommended as a last resort, which sadly many people were left with, Chortyk notes.
In addition to assisting with other emergency care sites for animals in Prince George, a BC SPCA-run evacuation care site for dogs in Prince George is now fully operational and the society has transferred more than 150 homeless animals in the SPCA's care in affected areas to other SPCA shelters to allow staff and volunteers to focus on the needs of evacuated animals.
If you want to help with these efforts please donate at spca.bc.ca/emergencyalert.
Original story:  BC SPCA escalates rescue efforts for animals affected by wildfires
July 17, 2017
The BC SPCA is escalating rescue efforts to help animals impacted by B.C.'s raging wildfires.
"Our staff and volunteers have been very active in supporting emergency services in affected areas, but as the wildfires spread we are escalating our involvement," said Lorie Chortyk, general manager of community relations for the BC SPCA.
"The animal evacuation centre being operated by the Prince George Humane Society with the support of the SPCA is now full so the BC SPCA has set up a second Evacuation Dog Care Site in the Duchess Park Warehouse at 747 Winnipeg Street in Prince George," says Chortyk. "There are currently 35 dogs in care but the facility has the capacity to handle more incoming dogs."  Dog owners will be referred to the SPCA-run centre by local Emergency Social Services personnel.
The BC SPCA has also deployed a number of special constables from its cruelty investigations department to a basecamp in Clearwater, where they will be providing support in rescuing animals trapped behind fire evacuation lines.
"In addition we have transferred more than 130 homeless animals in our care from SPCA shelters in the Cariboo region to our facilities in the Interior, the Lower Mainland and Vancouver Island to free up space for temporary emergency sheltering for animals impacted by the fires," says Chortyk.
She said the BC SPCA has also contacted large pet supply companies about shipping urgently needed pet food and supplies to evacuation centres.
In areas where evacuated families are seeking temporary shelter the BC SPCA is also offering free spaces for kids in their week-long summer camps (as capacity allows).
"The situation and the needs are changing on a daily basis, but the BC SPCA is in regular contact with provincial and local ESS officials and our staff and volunteers are ready and willing to help however we can," said Chortyk.
The BC SPCA has set up a special online emergency donation site to help animals affected by the wildfires.
Update:
The BC SPCA Animal Helpline 1-855-622-7722 is now also fielding calls from pet owners in the Cariboo Regional District who require officers to attend, feed/water animals and remove animals if given the authority to do so by the owners. Currently the Animal Helpline is managing calls from the 100, 103, 108, 150 Mile areas as well as Lac La Hache and Williams Lake.