As we say goodbye to the whirlwind year of 2020, the BC SPCA's Wild Animal Rehabilitation Centre (Wild ARC) is reporting another successful season in a year of many challenges. Thanks to the dedication of staff, volunteers, and our community, Wild ARC was able to care for more than 2,800 animals from 135 different species, each with their own unique diet, treatment and enrichment needs.
In an average year, 70 per cent of our patients are birds, and the remaining 30 per cent are mammals, only occasionally admitting amphibians or reptiles.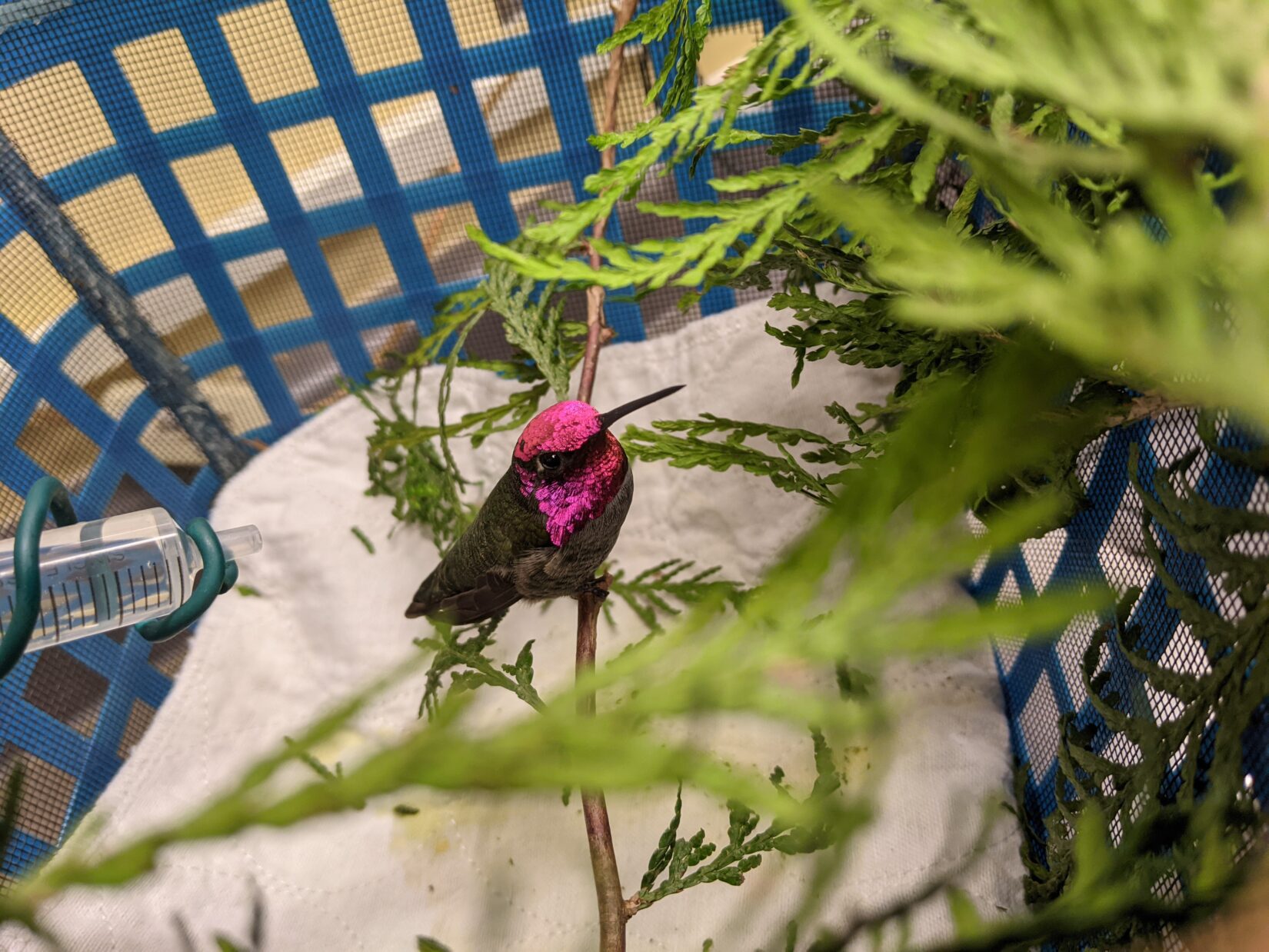 Without fail, Anna's hummingbirds are one of our most frequent visitors in all months of the year. This year, Wild ARC admitted 112 Anna's hummingbirds. These high-metabolism, nectar-eating birds are vulnerable to cold snaps in the winter months, heat exhaustion in the dry summer months, and orphaned hummingbirds are often the first babies to arrive at Wild ARC each spring. These fragile babies require constant care, needing to be hand-fed every 10 minutes when they are young.
Spring and summer bring the start of the "busy season" at Wild ARC – needing all hands on deck to care for the many baby animals that come through our doors. The happiest days for our staff and volunteers are actually when babies can be reunited with their moms in the wild, and skip Wild ARC entirely! From April to September, Wild ARC successfully reunited 67 baby animals with their wild moms including fledgling birds, deer fawns, raccoons, goslings, squirrels and rabbits.
Unfortunately, not all babies are so lucky. In June, Wild ARC admitted a young otter pup whose mother had been struck by a car when they were crossing the road.  Tragically, the mother was killed instantly, but the month-old pup was miraculously uninjured and brought to Wild ARC for care. She arrived quiet and dehydrated, not surprising given the trauma she had experienced.  After some specialized meals and a quiet space to recover, she started to brighten up and behave like a normal young otter, including growling and being wary of staff when they entered her enclosure. Our staff are covered head-to-toe in personal protective equipment to prevent imprinting.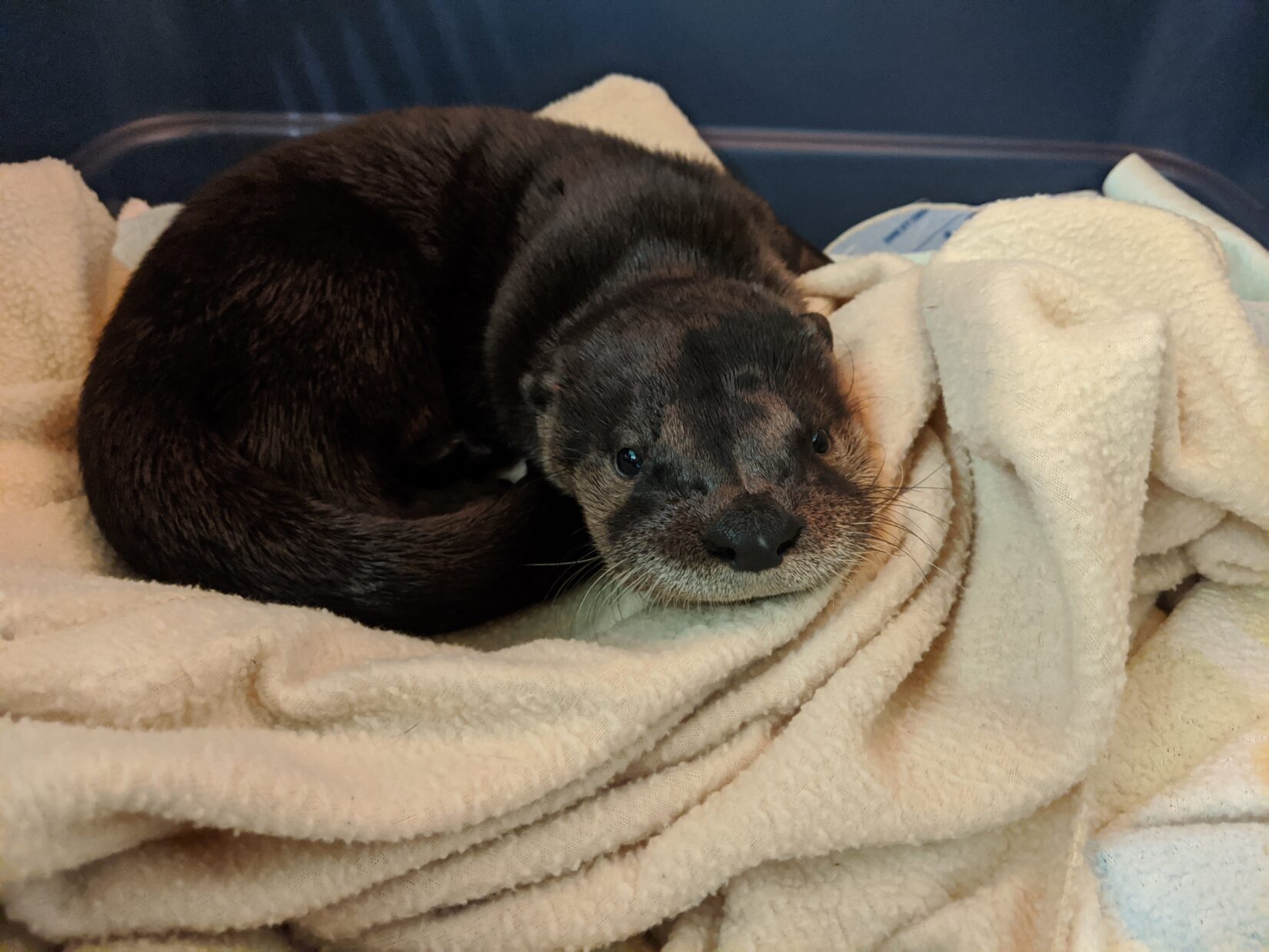 Otters normally spend the first year of their lives with their mother until they're mature enough to be on their own. At only a month old, this girl was far too young to be out in the wild without a mom, which is why staff at Wild ARC are doing their best to raise her wild and help her develop the skills she'll need to thrive in the wild on her own when she's ready. Together with another orphaned pup, this young otter will be in care until next spring. They will receive specialized care including a diet that mimics the foods they would find in the wild, natural enrichment items and access to a pool to help them learn and develop necessary skills like how to swim and climb.
These young otters are currently on our Critter Cam, and most active in the morning!
Although every year has a pattern, no two days are alike, and we are often surprised by curious cases. In September, Wild ARC admitted five squirrels who were stuck together by their tails! During an unusual heat wave, their tails had become stuck together by sticky tree sap that melted. A member of the public found the five siblings stuck to the ground and unable to free themselves. Luckily, one of Wild ARC's incredible volunteers was nearby and came to the poor squirrels' rescue by carefully cutting them free from the grass and bringing them in.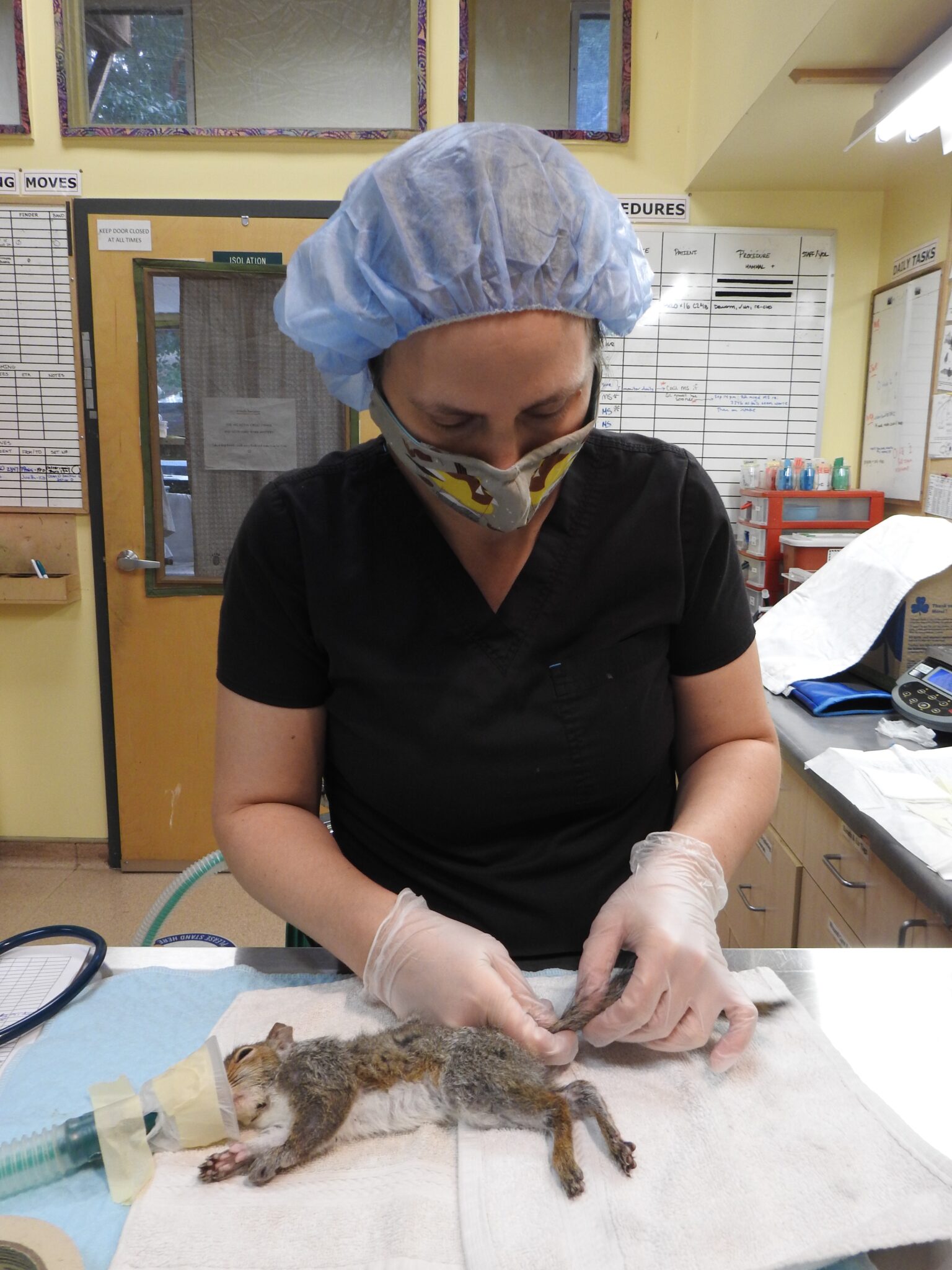 It took the Wild ARC rehab team over an hour to carefully separate the squirrels' tails without injuring them further – they had likely been stuck together overnight, and had tried chewing themselves free. The squirrels were exhausted and stressed after their ordeal, and one of the squirrels was so badly injured that they had to be humanely euthanized to prevent further suffering. The others all had extensive damage to their tails, resulting in partial amputations. Our senior rehab team worked closely with a wildlife veterinarian to confirm the squirrels would live full lives, even without a portion of their tails.
They were given lots of time in our specialized enclosures to navigate their surroundings and transition to a new life with partial tails. Once we were confident they were healthy and had adapted to normal squirrel behaviour, they were ready for release. These four recovered well, and the same volunteer who assisted in cutting the squirrels free from the grass had the pleasure of releasing the four siblings back into the wild!
With so many different species and situations, Wild ARC rehabilitators must be highly skilled to provide such specialized care. Wild ARC is a member of provincial and international wildlife rehabilitation organizations and has a dedicated team of more than 240 active volunteers who collectively donate more than 24,000 hours of their time every year towards animal care, fundraising and outreach to ensure Wild ARC can continue this important work.
This year has also been a remarkable year of recognition for Wild ARC's work in the community. The BC SPCA's Wild Animal Rehabilitation Centre (Wild ARC) was named 'favourite non-profit' by the WestShore Chamber of Commerce for the second year in a row.
The BC SPCA relies primarily on public donations to carry out its life-saving work helping the province's most vulnerable birds and wild animals. You can help make 2021 another successful year for Wild ARC by volunteering, donating to our cause or helping us to spread the word about wildlife issues. Follow us on Facebook, subscribe to our WildSense e-newsletter and share what you learn with your friends, family and colleagues.