The BC SPCA is investigating a Victoria area man who was seen beating a baby raccoon and its mother to death with a hockey stick last Monday night.
BC SPCA animal protection officer, Erika Paul arrived at the scene Tuesday to retrieve the bodies which will be critical to confirming how the raccoons died.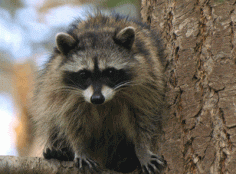 "Raccoons are considered pests under the Wildlife Act." Paul stated. "People do have the legal right to terminate a raccoon that is damaging their property [but] if they do decide to terminate, it has to be done in a humane method," she said.
"Humanely would mean the death would have to be instant and would have to be pain-free," said Shawn Eccles, chief animal protection officer for the BC SPCA. "And this wasn't. This would be considered to be a brutal death."
The BC SPCA continues to investigate and will look to recommend charges under the Criminal Code of Canada. Once information is presented, it will rest with Crown Counsel to decide whether to proceed with charges.
The British Columbia Society for the Prevention of Cruelty to Animals is a not-for-profit organization reliant on public donations. Our mission is to protect and enhance the quality of life for domestic, farm and wild animals in B.C.