Of the 21 cats and eight kittens surrendered into the BC SPCA's care from a property in Powell River, Pinky, a three-month-old, white kitten, was in the worst shape.
"She looked terrible," says Tara Daniels, manager of the BC SPCA's Powell River animal centre. "Many of the cats were underweight and had eye issues, but she was obviously in need of urgent veterinary care and was immediately taken to a clinic."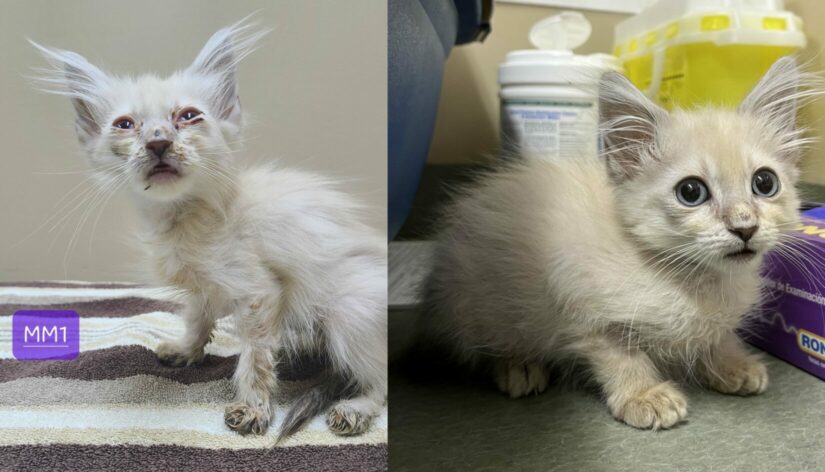 After examination, it was determined that Pinky was severely dehydrated. "She was so severely dehydrated that a blockage had developed in her intestines," says Daniels. "She would need five days of intensive care to recover. She also has a congested nose, most likely due to untreated upper respiratory infections she suffered early in life, which is the cause of a little whistle while she breathes. It doesn't seem to bother her and will likely be with her for life."
Pinky was one of 15 cats and kittens that would remain at the Powell River animal centre. The other cats would be transferred to Comox, Parksville, and Nanaimo.
"This was a team effort that required support from people from multiple communities," explains Tara Daniels, manager of the BC SPCA's Powell River animal centre. "Just to make space for the intake of these cats at the Powell River location, 16 cats and kittens had to be transferred to the Sunshine Coast animal centre."
Pinky has been recovering at a BC SPCA foster home. "We knew she was doing better when she started eating and having normal bowel movements," says Laura her foster. "She has been making improvements every day and is pretty much a normal kitten."
Laura adds that she is still on a wet food diet to help with her hydration and laxatives to make sure the blockage doesn't come back. "She is using her litter box now which is great news."
Pinky spends her time running around her foster home pouncing on things (including the other cats, the lab mix and the wolfhound). "Pretty soon she will be running the show," says Laura. "This little baby showed so much heart and fight in her battle to live, and now she is going to have a normal life with a bit of consistent gentle care." Go Pinky!
Pinky will be available for adoption in two to three weeks.
Additional Resources
Caring for cats
View all adoptable animals
How do I know if my cat loves me?