Many Canadians were shocked at the undercover footage revealed by Mercy for Animals showing workers from a Chilliwack chicken-catching company torturing and abusing chickens earlier this year.
Two years ago, more undercover video footage by the same organization showed dairy cows in Chilliwack being abused. In that case, a BC SPCA investigation led to charges of animal cruelty against the industry and company involved.
BC SPCA specialist of humane products marketing, Tianna Mamalick, wants animal lovers to know there's a way to take action.
"If you're horrified by the images you saw on these videos, then help us change the way farming is monitored in Canada," she says. "Sign petition E-1219 to let Parliament know we will not stand for abuse in Canadian agriculture."
This petition will push for cameras to be a requirement in all industrial farming businesses that raise, transport or slaughter large numbers of farm animals. A requirement like this will allow the government to better regulate intensive farming. Cameras will give assurance to Canadian citizens that animals raised in intensive farming systems are, at minimum, receiving the basic care required in the national Codes of Practice. England and France have already passed laws to require all slaughter plants to have cameras, so let's make Canada next.
There is currently no country-wide system in place to audit farms to the Canadian Codes of Practice. Many industries have started to design their own internal auditing systems to ensure basic codes are followed; however, these audits are industry-run and commonly far apart.
"Let's push Canada into the forefront of animal welfare. Sign the petition now," Mamalick urges.
BC SPCA investigates shocking abuse at Chilliwack chicken catching company
Original story: June 12, 2017
The BC SPCA has launched a formal investigation after receiving a disturbing undercover video of multiple workers, including a supervisor, at Elite Farm Services Ltd. in Chilliwack abusing and torturing broiler chickens. Elite, a licensed chicken-catching service, was hired to round up chickens for transport to the Lilydale/Sofina Foods Inc. slaughter plant in Port Coquitlam.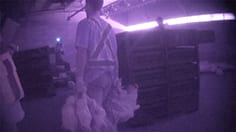 The undercover video, filmed by the non-profit group Mercy for Animals between May 10 and June 9, 2017, documents numerous acts of animal cruelty and gross noncompliance with federal and provincial laws, regulations, and guidelines.
"The images in this video are absolutely sickening and the individual employees and the companies involved need to be held accountable," said Marcie Moriarty, chief prevention and enforcement officer for the BC SPCA. The video shows workers dismembering and killing, throwing, kicking and hitting the birds and forcing the animals into violent sexual acts with one another.
"The video includes some of the most brutal and sadistic acts of violence against animals I have ever seen," said Moriarty. "It is extremely difficult to watch."
Moriarty said the BC SPCA received the video from Mercy for Animals on Friday and immediately launched the investigation.
"We will be putting our report to Crown counsel together as quickly as possible and will be recommending multiple charges of animal cruelty under both the Criminal Code of Canada and the Prevention of Cruelty to Animals Act.
Moriarty says the BC SPCA is also calling on B.C.'s poultry industry to take immediate action. "We would expect the industry to come out strongly against this abuse by immediately suspending the workers involved, suspending contracts to Elite Farms Services until the matter can be resolved and by reviewing the industry's monitoring systems across the province to ensure that all workers handling broiler chickens and other poultry are at a minimum meeting the standards outlined in the Canadian Code of Practice for the Care and Handling of Hatching Eggs, Breeders, Chickens and Turkeys and are acting in compliance with animal transportation and cruelty laws."
She notes that similar actions were taken two years ago by the dairy industry when a Mercy for Animals undercover video highlighted the abuse of dairy cows in Chilliwack.  In that case, a BC SPCA investigation led to charges of animal cruelty against the individuals and company involved, as well as widespread industry changes.
"In that case the BC SPCA also worked with the provincial government to have the Code of Practice for Dairy Cattle adopted into a new regulation, so that the "generally accepted practices" outlined in the code became clearly entrenched in the law," says Moriarty. "We will pursue a similar path with government moving forward with the Code of Practice for the Care and Handling of Hatching Eggs, Breeders, Chickens and Turkeys."
If convicted, the individuals and companies involved in this latest investigation face a fine up to $75,000, a maximum five-year jail sentence and up to a lifetime ban on owning or being around animals.