Poor Suzy only wants to play. The one-year-old dog, brought in as a stray by a Good Samaritan, has a broken hip that never healed properly, leaving her in constant pain and unable to sit properly.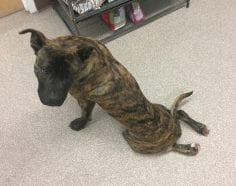 "She limps constantly and sits funny from the break not healing properly," says BC SPCA North Cariboo Branch manager Alyssa Stauble. "It's really heartbreaking because she's so young and just wants to play all day, but she can't."
Suzy needs a femoral head osteotomy, which will remove the top part of her femur (thigh) bone, which fits into the hip joint. After the surgery and recovery, Suzy will be available for adoption, Stauble notes.
"She is such a sweet, loving girl! She loves people and loves getting attention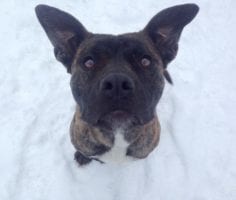 and affection, despite the constant pain she has been in," she says. "We just want her to have a second chance at an active, happy life in a forever home."
The medical costs associated with Suzy's care are expected to exceed $2,700. A non-profit organization, the BC SPCA relies primarily on public donations to carry out its life-saving work in helping the province's most vulnerable animals.
If you can help Suzy or the animals like her at the BC SPCA North Cariboo Branch, you can donate online at spca.bc.ca/medicalemergency or in person at 4011 Landsdowne Rd., Prince George.