The BC SPCA has rescued 19 cats and kittens in distress from an animal hoarder in Tahsis, B.C. The cats and kittens were suffering from a range of medical issues, including wounds, lesions, ear mites, internal parasites, ocular discharge, fleas and diarrhea.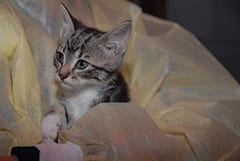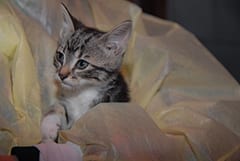 "The conditions in the area they were living were absolutely deplorable," says BC SPCA senior constable Tina Heary. "The odour of urine, ammonia and feces was so overwhelming that our staff had to step away periodically to recover while they were capturing the animals. It's so sad to think of the cats and kittens having to live in this environment." She noted that one female cat was about to give birth and would have had to deliver her babies in the highly unsanitary conditions.All the cats and kittens were transported to the Comox Valley & District Branch of the BC SPCA, where they are receiving veterinary treatment and ongoing care. The pregnant mom delivered her kittens at the shelter shortly after the warrant was executed.
Lorie Chortyk, general manager of community relations for the BC SPCA, said hoarding cases are challenging for the SPCA because of the space and resources needed to care for large numbers of incoming animals. "Animals rescued from hoarding situations have been through so much and we want to do everything possible to get them healthy again and in loving homes as soon as possible." She notes that this is the second large hoarding case the SPCA has dealt with in recent weeks. SPCA constables removed 31 cats and kittens from a Port Coquitlam home earlier this month.
The BC SPCA would be grateful for any public donations to help offset the care costs of the Tahsis cats and kittens. The animals are not currently available for viewing while undergoing medical treatment but should be available for adoption in upcoming weeks. If you can help, donate online or contact the BC SPCA Comox Valley & District at 250-339-7722.
Comox Branch supervisor Jennifer Filgate added that, due to the large number of kittens being abandoned or surrendered to the shelter at this time of year, volunteer foster homes for kittens are urgently needed.
The British Columbia Society for the Prevention of Cruelty to Animals is a not-for-profit organization reliant on public donations. Our mission is to protect and enhance the quality of life for domestic, farm and wild animals in B.C.