WARNING: Graphic content below
The BC SPCA is hoping the public can help solve an animal cruelty case involving a deceased dog found near Revelstoke, B.C.
"A member of the avalanche control safety patrol found a large cardboard box at a truck turn-around on the Western boundary of Glacier National Park," says BC SPCA senior animal protection officer Kathy Woodward. "Inside the box was a dog crate containing a deceased terrier-cross dog."  Const. Woodward notes that there was feces inside the crate, leading constables to believe that the dog, who was tan in colour and had no identification, was alive when abandoned.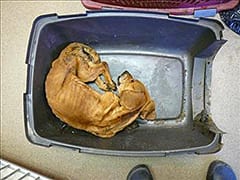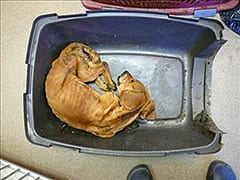 "A dog of this type should weigh approximately 35 pounds, but this poor dog weighed a mere 11 pounds," says Const. Woodward. "A necropsy is being carried out but it would appear that the dog was starved to death."
The BC SPCA is asking anyone with information about the case to please contact the BC SPCA Animal Helpline at 1-855-622-7722.
The BC SPCA responds to nearly 8,000 complaints of animal cruelty each year and relies on community donations to support its work.  If you can help, please visit us online or call 1-800-665-1868.
The British Columbia Society for the Prevention of Cruelty to Animals is a not-for-profit organization reliant on public donations. Our mission is to protect and enhance the quality of life for domestic, farm and wild animals in B.C.