Charges of animal cruelty have been laid against Louis and Susan Walkus of the Tsulguate Reserve, Port Hardy, after BC SPCA constables were called out to rescue the couple's seriously injured and neglected dog. The blond-coloured shih tzu mix named Roxy had severe injuries to both hind legs and was unable to walk.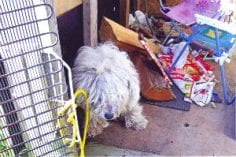 "It was the worst case of animal suffering that I have ever personally witnessed," said Kathleen Embree, manager of the Campbell River SPCA Branch.
"It was heartbreaking to see that poor little dog dragging herself across the ground because she was too injured to walk."
She adds that Roxy was badly matted and was found hiding in an outdoor wood shed filled with debris.  "The entire yard was filled with garbage, old appliances and other waste," said Embree. "The living conditions she was forced to live in were deplorable."
When the couple failed to seek proper veterinary care for Roxy, SPCA constables took the dog into custody and rushed her to a veterinarian where she had to be humanely euthanized because of critical distress.
"It is extremely upsetting for anyone who loves animals to see a situation like this because this animal did not have to suffer and die," said Embree. "Roxy deserved to be loved and cared for."
The accused couple makes their first court appearance on January 19, 2011 in Port Hardy.
Photo caption: Roxy was found hiding in a cluttered backyard suffering from injuries so serious that she was unable to walk.
The British Columbia Society for the Prevention of Cruelty to Animals is a not-for-profit organization reliant on public donations. Our mission is to protect and enhance the quality of life for domestic, farm and wild animals in B.C.