Found hiding in some bushes and brought to the local fire hall in a box, Sneaker, a tiny, six-week-old kitten, made his way into the South Okanagan-Similkameen BC SPCA Branch's care when it was discovered he has a badly broken femur bone, an extremely painful condition.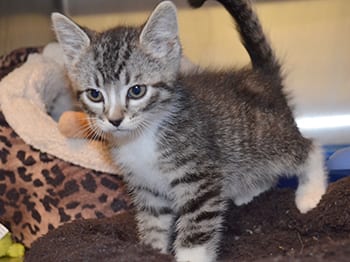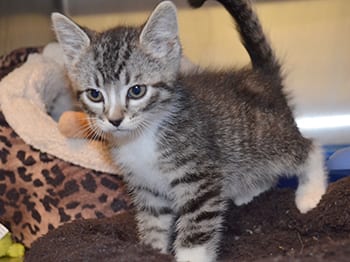 "Sneaker is a brave little guy, but because of the severity of the break, he had to have his left hind leg amputated," says South Okanagan-Similkameen BC SPCA Branch manager Carolyn Hawkins.
During surgery, the veterinarian discovered little Sneaker had also suffered internal trauma, resulting in the removal of one of his kidneys. But the kitten's prognosis is good, and after recovering from surgery, he will be available for adoption into a loving home.
"After his surgery, he's back to being a regular kitten – he's a fighter!" Hawkins says. "He is eating, drinking and jumping around like nothing happened! Even with three legs and one kidney, this spunky furball can still live a long, happy and healthy life in a forever home."
Sneaker's medical costs are expected to exceed $2,000. A non-profit organization, the BC SPCA relies primarily on public donations to carry out its life-saving work in helping the province's most vulnerable animals. If you can help Sneaker and other animals like him in need at the South Okanagan-Similkameen SPCA, you can donate online at spca.bc.ca/medicalemergency or in person, at 2200 Dartmouth Drive, Penticton, B.C.
The British Columbia Society for the Prevention of Cruelty to Animals is a not-for-profit organization reliant on public donations. Our mission is to protect and enhance the quality of life for domestic, farm and wild animals in B.C.