A presa canario's breeding days are over, after a judge ordered a Sooke couple convicted of animal cruelty to spay their dog.
The order came after Dwight Fengstad and Anna McIntyre failed to seek veterinary care for their dog's painful eye condition.
"Tika was diagnosed with entropion, a hereditary medical condition in which the eyelid folds inward," said Erika Paul, the special provincial constable for the BC SPCA who investigated the case. "An order for Tika's owners to seek veterinary care for her within 10 days was ignored."
Tika was seized by investigators and underwent surgery in the SPCA's care. She was subsequently returned to her owners in accordance with a release agreement with the SPCA, which went on to pursue charges under the Prevention of Cruelty to Animals Act. Under the agreement, Fengstad and McIntyre were required to reimburse the SPCA $1,106 for Tika's entropion surgery.
Since entropion is a common hereditary disorder in dogs, Fengstad and McIntyre, who also have a purebred male bullmastiff, were ordered to have Tika spayed.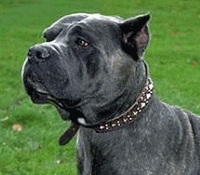 "Unfortunately, when the order came down March 11, Fengstad and McIntyre informed the court that Tika was already pregnant," said Paul. "Even though there is a strong chance her puppies will also have this painful eye condition, they went ahead and bred her. This should be a lesson to the public to be extremely wary when purchasing puppies from backyard breeders, pet stores and through newspaper and online classified ads. Here, profits often come before the health of both the puppies and the breeding stock."
The judge ordered confirmation of Tika's pregnancy and that she be spayed within 30 days if her pregnancy test was negative, or following the whelping of her puppies if she was indeed pregnant.
Photo Caption: Please note, this is a photo of a presa canario dog. It is not a photograph of Tika.
The British Columbia Society for the Prevention of Cruelty to Animals is a not-for-profit organization reliant on public donations. Our mission is to protect and enhance the quality of life for domestic, farm and wild animals in B.C.