How much is that doggie in the window – the one with the waggly tail? When Patti Page's rendition of this famous song topped song charts in 1953, people were likely thinking about the cute puppy in the window and not where he came from. Chances are, puppies in any pet store window came from a puppy mill, where shocking acts of cruelty and neglect are routinely inflicted on breeding animals.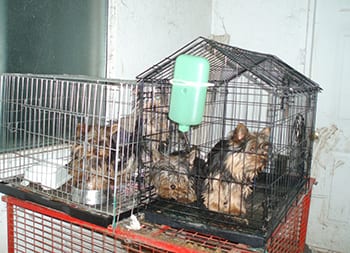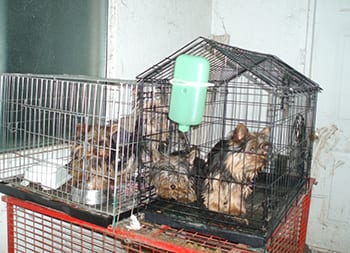 "The term 'puppy mill' refers to any breeding operation where the sole motivation is profit, and where little to no regard is given to the physical and psychological we'll-being of the animals," says BC SPCA chief prevention and enforcement officer Marcie Moriarty, who notes that kitty mills, where cats as young as six months are bred for profit, also exist. "Typically, the animals live out their entire lives huddled in cramped, filthy cages. In addition to emaciation and dehydration, they often also suffer from a wide variety of physical ailments as a result of severe neglect and frequent inbreeding."
Pet stores aren't the only place people can purchase puppy mill pets: online websites, classified ads in newspapers and online classified sites will often sell pets who come from puppy mills, as it is easy to sanitize the breeding facility through polished language and fake photos.
The good news is, several sites are taking action to keep disreputable breeders and suspicious ads off their sites. In 2013, Buy, Sell & Trade (BuySellTrade.ca) decided to remove private pet ads from their site altogether, and last month, UsedEverywhere.com brought in new policies to ban profiting from the sale of household pets on its entire network of online classified sites. The popular online site craigslist also prohibits pet sales and allows the re-homing of pets with a small adoption fee.
"The moves made by online sites are huge victories in the long fight against pet mills in B.C. and across Canada," Moriarty says. "The message is loud and clear to anyone exploiting animals by breeding them and selling them online – it's time to stop."
Hundreds of animals are affected by pet breeding mills every year in B.C., so it is important for anyone considering adding a pet to the family to do their homework, and research exactly where the animal is coming from, she notes.
Visit spca.bc.ca/breeding for more information.
The British Columbia Society for the Prevention of Cruelty to Animals is a not-for-profit organization reliant on public donations. Our mission is to protect and enhance the quality of life for domestic, farm and wild animals in B.C.