Sam Joe and Thelma David of North Saanich are facing new charges under the Criminal Code of Canada after breaching the conditions of a previous sentence on animal cruelty.
In 2008, the couple was banned from having custody of animals after pleading guilty to severely neglecting 12 pit bulls in their care. In 2007, the BC SPCA seized the dogs and puppies, who were deprived of food and water and were chained to tires, cars and other items in the yard. Formal charges of animal cruelty were laid against Joe and David in January 2008 and the couple was sentenced six months later.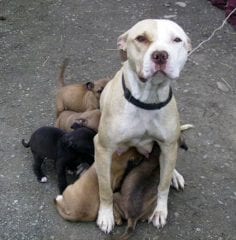 "Part of their sentencing included a two-year ban on having custody of animals, but on May 22, 2010, a witness observed a dog on the family's property," said BC SPCA constable Erika Paul.  "The RCMP investigated and found a number of very young pit bull puppies in the home."
Charges have now been laid against the couple for breaching the conditions of their 2008 sentence.
The British Columbia Society for the Prevention of Cruelty to Animals is a not-for-profit organization reliant on public donations. Our mission is to protect and enhance the quality of life for domestic, farm and wild animals in B.C.