She was thrown from a vehicle and left to be buried alive in a rural construction zone. Luckily, a worker heard Prairie Rose's tiny mews for help and rescued the kitten, who was obviously in agony and rushed to the vet.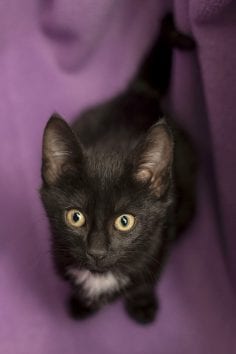 Now, BC SPCA North Peace Branch staff are hoping the public can help little Prairie Rose bloom into a healthy, active and happy cat.
"Rose suffered greatly after being thrown from the vehicle and is mending a broken pelvis, but she also suffered a prepubic tendon rupture that allowed her intestines to fall into her stomach cavity," says BC SPCA North Peace Branch manager Candace Buchamer.
"Despite the excruciating pain she's in, her 'instapurr' remains intact and she loves to get all the love you're able to give."
The surgery and medical costs related to Prairie Rose's care are expected to exceed $2,000. A non-profit organization, the BC SPCA relies primarily on public donations to carry out its life-saving work in helping the province's most vulnerable animals.
Buchamer notes that Prairie Rose is one of six kittens who has been thrown from a vehicle and abandoned on the area's rural roads recently.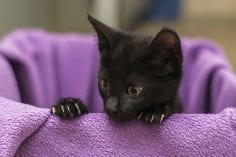 "We just want to re-iterate that throwing any animal from a vehicle and leaving it to suffer, in pain, is never an acceptable solution to unwanted pets or litters," she says, adding the BC SPCA and other rescue organizations will take unwanted animals rather than see them treated so cruelly.
"These are totally preventable injuries and it just breaks our hearts. We just want little Prairie Rose to have a chance at living a full an active life, hopefully with a loving family who will shower her with all the loves she needs."
If you can help Prairie Rose and other animals like her at the North Peace BC SPCA Branch, visit spca.bc.ca/medicalemergency to donate online, or in person at 9311 81 Ave., Fort St. John.