There always seems to be a hot new yoga trend, whether it's hot or cold, like 'snoga' – doing yoga in the snow – or attending yoga classes with live kitties sharing the mats. Inspired by felines' natural stretching abilities, Vancouver-based visual effects company Image Engine, known for their Academy Award-nominated visual effects work, has created and donated a video featuring a completely computer-generated cat to help homeless cats and kittens at the BC SPCA find their 'purr-fect' guardian.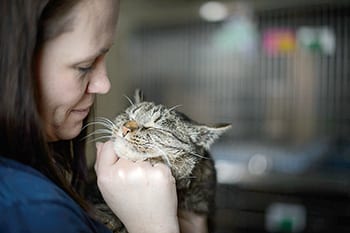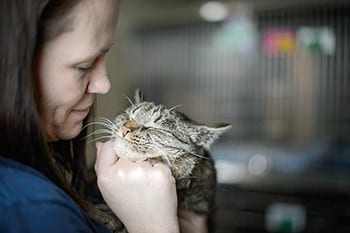 "Our adoption matching process is a lot like a dating service – we want to make sure that we spend time with people so we can match them with a pet that will match their lifestyle, needs and expectations," says Lorie Chortyk, BC SPCA general manager of community relations. "Every animal has a unique personality, so it's important to find an animal who is the best match for you."
When Image Engine approached the BC SPCA with their idea, which features a yoga enthusiast looking to adopt a cat, Chortyk says the idea resonated right away, not only because of the amazing visual effects the company creates for high-profile TV series and blockbuster movies, but because finding your 'purr-fect' match is what BC SPCA staff and volunteers attempt to help people do every day, at all 42 BC SPCA locations throughout British Columbia.
"We're amazed by how real the computer-generated cat looks and how he and his new adoptive guardian learn they're the 'purrfect' match for each other," Chortyk says. "We can't thank Image Engine enough for creating such a fantastic video for the BC SPCA."
Find your 'purr-fect' match at your local BC SPCA branch today, or search all adoption options online, at spca.bc.ca/adopt.
The British Columbia Society for the Prevention of Cruelty to Animals is a not-for-profit organization reliant on public donations. Our mission is to protect and enhance the quality of life for domestic, farm and wild animals in B.C.