Karin Adams and her daughter Catherine Adams of Houston, B.C. have pleaded guilty to charges of animal cruelty following a 2014 BC SPCA investigation. On Aug. 28, 2014, BC SPCA constables seized 53 animals, including 18 horses, 18 large- and small-breed dogs, 15 birds and two cats from their property near Houston, B.C. One hundred and four fish kept in filthy conditions were also removed in the seizure.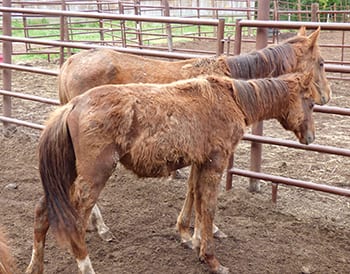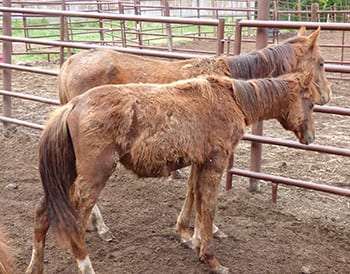 On Oct. 15, 2015, Catherine Adams pleaded guilty to charges under both the Criminal Code of Canada and the Prevention of Cruelty to Animals Act and was given a 20-year ban on owning animals, a six-month, conditional house arrest and three years' probation. Karin Adams pleaded guilty to a PCA Act charge and was sentenced to 15 days in jail, a 20-year ban on owning animals and two years' probation. The judge also ordered the women to each pay $5,456 in restitution to the BC SPCA to offset care costs for the animals.
Marcie Moriarty, chief prevention and enforcement officer for the BC SPCA, said the horses were kept in deplorable conditions, with overcrowding, inadequate and unsanitary shelter and little or no access to food or water.
"Many were underweight and several had overgrown hooves and suspected parasites," says Moriarty. She notes that two of the horses were so malnourished that they had been eating a large section of wood from the back wall of a shed in an attempt to survive.
The dogs, which included a number of German shepherds, poodle crosses, two Chinese crested dogs, a Newfoundland-cross, a pit bull, a Maltese cross and a bloodhound cross, were also being kept in unsanitary conditions and had dental issues and medical concerns, ranging from lacerations to extreme matting. Many of the dogs also appear to be poorly socialized and fearful. Moriarty noted that the 15 birds – cockatiels, love birds, quail, budgies and a conure – were also badly neglected and housed inappropriately.
The BC SPCA provided shelter, medical care and rehabilitation for the seized animals and they have since been adopted into loving homes.