A stray cat who recently came into the care of the Quesnel SPCA with several wounds is a good reminder about proper pet grooming. Augustus, found outside a business in downtown Quesnel, covered in mats and dirt, with four wounds on his body. The senior feline, estimated to be about 15 years old, is thought to have sustained the wounds when someone tried to cut mats out of his fur.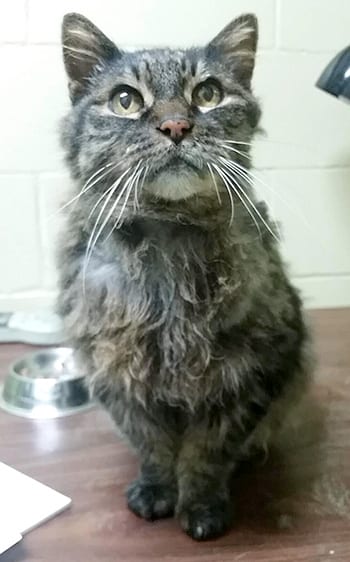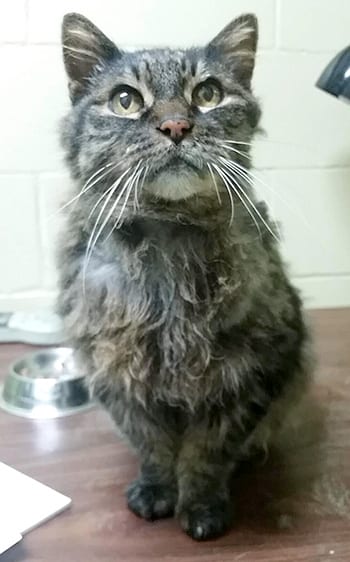 "At first look, it appeared to be wounds caused by an animal, but upon closer inspection, we believe these are wounds caused by someone who tried to cut tight mats off but also cut the skin," says Quesnel and District BC SPCA Branch animal care attendant Sarah Steeves. "Many of the mats on him were half cut off, some of them extremely tight to the skin, and the wounds were all uniform in size and shape."
Mats are clumps of knotted fur in a cat's coat that can be painful for the feline, especially as the mat grows larger and deeper into the fur, constantly pulling on the skin.
Steeves notes that cats should be brushed regularly, especially long-haired cats, as regular brushing prevents fur from matting and removes loose fur. If mats are already present in the fur, it is important to make sure they're properly removed, even if that means seeking help from a groomer or veterinarian, Steeves says.
"Augustus is quite thin and he's a little older, but senior animals need love just as much as younger pets," she says. "We're hoping someone might be the right match for him and provide a loving home for the years he has left. He's a really nice guy despite everything he's been through."
If you think Augustus might be a good companion for you, visit the online adoption site at spca.bc.ca/adopt or the Quesnel location, at 1000 Carson Pit Rd., Quesnel.
The British Columbia Society for the Prevention of Cruelty to Animals is a not-for-profit organization reliant on public donations. Our mission is to protect and enhance the quality of life for domestic, farm and wild animals in B.C.