When you're a small puppy in a big world, a lot of things can be scary – especially when you're experiencing them for the first time.
That's why it's important to reward your puppy when she experiences new things, like meeting new people when out walking.
"When someone is approaching, it can be scary for a puppy, especially if they're wearing a hat or hoodie or carrying a big umbrella, which is common here in Vancouver," says BC SPCA manager of animal welfare Kim Monteith.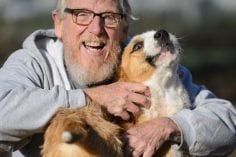 Sometimes, people might be in a motorized scooter or wheelchair, or using a bike or other equipment your puppy may have never seen or heard before.
"Make sure you're carrying some 'payment' with you – treats or their regular kibble, to reward them when they encounter something new, to help make it a positive experience."
Rewarding every new experience with praise and positive associations can help your puppy look forward to meeting more people and experiencing new things, Monteith says.
Get updates from the BC SPCA
Want to receive more articles like this, right in your inbox? Use the form below to subscribe for updates.