It was his personality – not his pitch – that landed him in his forever home.
Lyle, a two-year-old pig who seemed to enjoy the spotlight when the story of his penchant for 'singing' went viral, attracted the attention of more than 40 potential adopters after being in BC SPCA care for more than a year.
But it was Cassie Labbe and Mitch Coers who proved they were the right humans for the personable pig.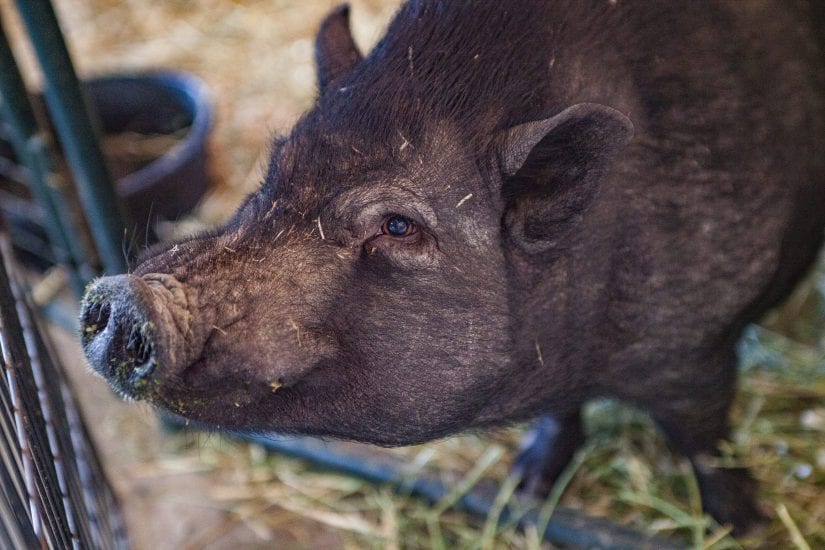 "We're so happy they adopted Lyle! They were the perfect fit – and Lyle fell for them instantly," says BC SPCA farm animal care supervisor Leiki Salumets. "They built a whole new enclosure, just for him, where he can go inside and out whenever he wants."
Labbe and Coers, who live on 20 acres in Abbotsford, created a special home in the workshop on their property, where Lyle has settled in nicely, just in time for the holidays.
"I had always wanted a pig because I think they're such smart and funny animals, so when I heard Lyle's story, I thought he'd be perfect, because we have the space and he needed a home," Labbe says. "He has adjusted so well – he has recently started singing for us and he also likes to squeak when he is feeling happy and getting attention."
Lyle loves to get belly rubs, to root around or to bury himself in his piles of hay, and has made friends with Ms. Johnson, a cat who often visits him in his enclosure. Lyle can also always be trusted to ask for treats, Labbe notes.
"His personality is very big and he can be a bit bossy at times, especially when he wants food! He definitely isn't afraid to tell you when he's not happy with something," she says of the vocal animal.
Along with their dog, also adopted from the BC SPCA, and rabbit, Lyle is the perfect addition to the family, Labbe says.
"He has enriched our lives by completing our family. We are so thankful we were picked to be Lyle's forever home!"
Lyle the singing pig searching for a forever home
Original story: October 19, 2017
A pig with a whole lot of personality is still hoping for his forever home.
Lyle, a two-year-old pig, has been in BC SPCA care at the society's Good Shepherd Barn in Surrey since September 2016, when he was seized with several other animals as part of a cruelty investigation.
Now, more than a year later, he's a much different pig.
"When Lyle first came into our care, he was extremely fearful and didn't want to be touched at all," says Leiki Salumets, BC SPCA farm animal care supervisor.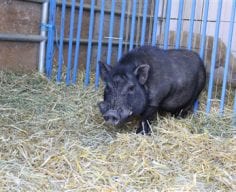 "We worked at building his trust and slowly, he transformed into the social and very vocal guy he is today – he loves his belly rubs and foot massages."
As his personality bloomed in BC SPCA, barn staff and volunteers started to notice something else – Lyle likes to 'sing', especially when he hears the voice of his favourite volunteer.
"I'm not sure if he's opera-ready, but it's great to see him so much more social and vocalizing so much," Salumets says.
"Lyle is a sweet and gentle fellow just looking for someone to fall in love with him and offer him a home where he will be doted on. He's an awesome pig!"
To arrange a visit to meet Lyle, email rescues@spca.bc.ca.