From the moment pets walk into Vancouver's boutique Loden Hotel, they are not just welcomed, but are positively pampered with treats made in-house, luxurious beds and toys. The Loden, a generous supporter of the BC SPCA for many years, warmly welcomes pets of all sizes and types, including cats, birds and even the occasional snake!  To the Loden, being pet friendly means delivering its signature hotel experience to all its guests, including animals.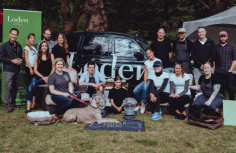 In addition to inviting guests to bring their pets with them during their stay, the Loden has also helped animals in need across B.C. by supporting the BC SPCA in many creative ways over the years.
For the Scotiabank and BC SPCA Paws for a Cause Flagship walk in Stanley Park, they provide a gourmet barbecue for humans and yummy treats and a comfortable lounge for dogs. They have generously donated delicious private dinners and lunches to allow us to thank our supporters, and include dogs adopted from the BC SPCA in their photo shoots and on social media. The Loden also chose the BC SPCA as its preferred charity partner for Kind Traveler, a website through which caring travelers can receive exclusive booking rates in exchange for making a donation to charity. The Loden staff have fundraised for BC SPCA events and donated weekend stays help us raise funds at our events' silent auctions.
"We have a team full of animal lovers here. Working with the BC SPCA has given us the ability to give back and extend that love past the furry four-legged guests we welcome at the hotel. Everyone is looking forward to this year's flagship walk and many more fun photo shoots with pups from the BC SPCA," says Ashleigh Rockwood, marketing manager at Loden Hotel
The Loden believes not only in incredible hospitality and outstanding service, but also in working with charities to make a difference in their community and province.  The BC SPCA is so grateful for their kindness and support, and encourages travelers to consider bringing their furry (or feathered or scaled) friends to stay with them at the Loden!
For more information on our
Generosity in Action
program, please contact
Erin Walkey
, Director of Philanthropy, Revenue Development 1-800-665-1868.