Each year, the BC SPCA receives nearly 1,000 calls to rescue animals who have been left inside vehicles on hot days. We know that people love their pets and would never knowingly put them in danger, but pets can quickly suffer when left in a vehicle in warm weather, putting them at risk for heatstroke and even death.
The good news is the death of a pet left in a hot car is a completely preventable. When the heat of summer strikes, the answer is simple: leave your pets at home. Follow these tips and your pets will feel comfortable, cool, and safe this summer.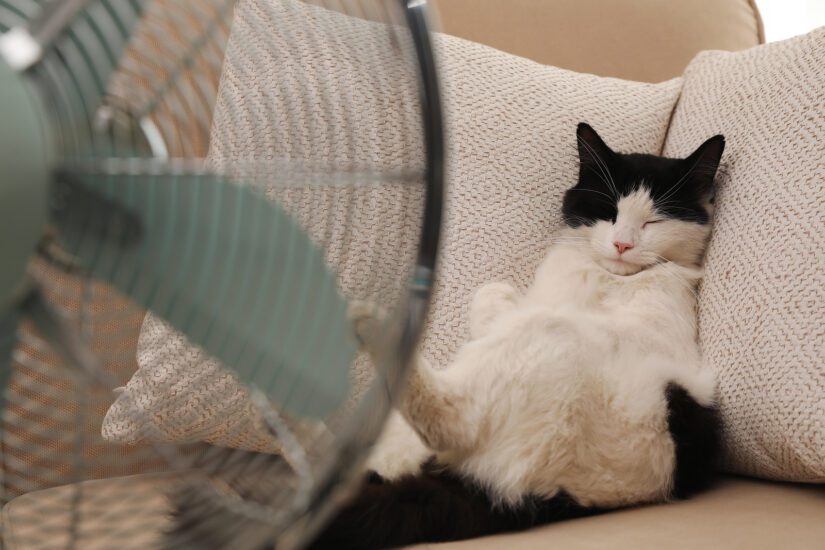 Provide lots of water
First and foremost, keeping your pet hydrated is important to keep them cool and safe. Keep fresh bowls of cold water that are easily accessible to your furry friends. Have a finicky cat? They might be more enticed with a fun fountain water bowl. You can also keep the bowl cool by adding a few ice cubes to it.
Make a frozen treat bowl
A frozen treat bowl is a cool way to keep your pets both entertained and refreshed. Freeze kibble or their favourite treats in a bowl of frozen water, and your pets won't be able to control their tongues. For added flavour, combine water with chicken or beef stock mixture and they'll really be excited about this tasty treat.
Give them a cooling place to sleep
Before leaving the house ensure your pet has a cooling place to sleep and relax. This might mean ensuring they remain on the lower level of the home where it's cooler as well as providing a cozy area for them that's out of direct sunlight. You might also want to close blinds and curtains to keep your space as cool as possible.
Depending on your dog's personality, you might also want to consider purchasing a doggie cooling mat that will help prevent them from becoming overheated if they like to stretch out in the warm sun (cats can use them too!).
Keep a fan going
If you don't have AC, consider keeping a fan going while you're away from the house to keep fresh air circulating inside for your pet. They're a great way for your pet to keep cool and you might even consider attaching a pet-friendly misting system to provide even more relief.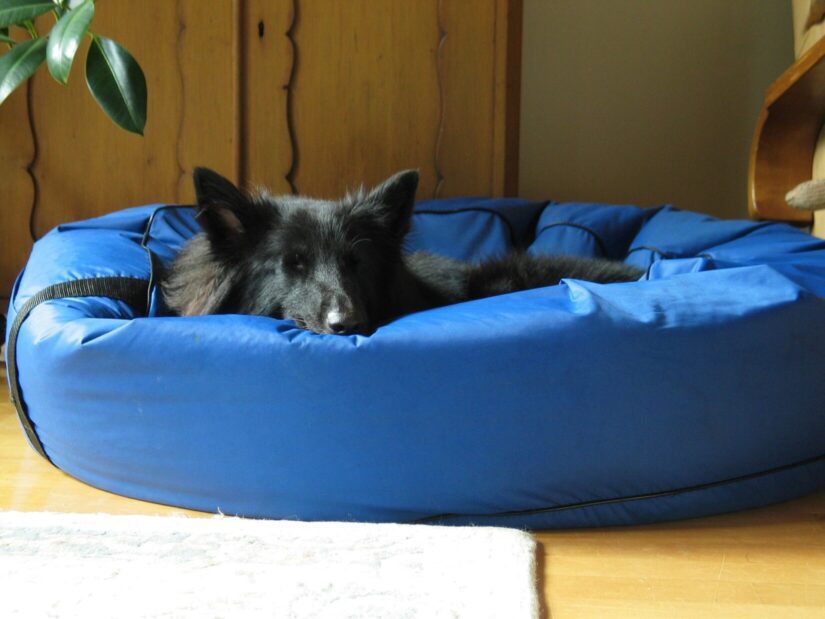 Treat them with a frozen Kong
Your dog loves their Kong, especially if it's filled with their favourite goodies. Try lining the Kong with some peanut butter or their preferred treat, and freezing the kong, for a refreshing cooling twist on the treat.
Keep your dog at a healthy weight
Overweight dogs have a harder time keeping cool in warm weather and are at greater risk of overheating. Consult with your veterinarian to help maintain their ideal body condition, which varies depending on the breed of your dog.
Take care of your dog's coat
Ensuring your dog is regularly groomed in the summer is important to keep them cool. Your dog's coat doesn't just keep them warm in the winter but can also keep them cooler in the summer. It can also protect their skin from sunburn. Regular and thorough brushing helps allow proper airflow for their skin as well as prevents mats, which are not only painful but also trap heat and moisture and can result in skin infections. If you have questions regarding your dog's grooming, consult with your veterinarian first.
Remember people in the heat, too!
Just as we need to pay close attention to our pets, it's important to check on our neighbours and loved ones, especially during extreme heat events. Certain people, including seniors, have less ability to regulate their body temperature and are therefore more at risk of heat-related illness.
---
More like this
Awareness tips to keep pets cool in the summer heat
Is your dog extra sensitive to hot weather?