Time to take your puppy to the vet? The veterinarian's office can be new and scary for a puppy – that's why it's important to help make his visits to the vet as positive as possible.
"You want your puppy to feel comfortable going to the vet – it can be a scary place… we understand they're there to help but your pet might not," says Kim Monteith, BC SPCA manager of animal welfare.
"There's different smells, different chemicals and things they're not used to, so it's a good idea to bring one of their favourite blankets that smells like them – then they have something familiar in an unfamiliar place."
You don't have to wait until your puppy needs to go to the vet – if you're able to go several times when he's young to help get him used to going and make it not such a scary place, it's a good idea, Monteith notes.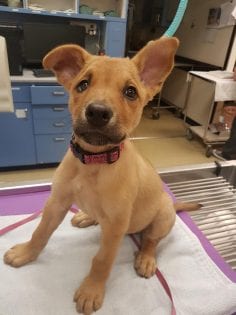 Another must? High-value treats to reward, or to 'pay' your pup.
"I have yummy treats – I want (the puppy's) experience to be fun and high-value treats are given to build up that good association," Monteith says.
Then it's time to start getting the puppy used to vet clinic tools and to being touched.
"I'll get an empty syringe to show her, then she gets a reward… then I'll touch her back with it and give her a treat, so she gets used to people touching her back and handling her, looking at her ears, handling her ears, remembering to pay her for it each time."
By introducing your puppy slowly and positively and rewarding him each time, pet guardians can help make their fur-baby's trips to the veterinarian comfortable and stress-free.