A good Samaritan was cleaning their garage. When they moved a storage crate, they were shocked to find little Haddie trapped underneath. The tiny kitten's leg looked badly injured. Struggling to free herself, this six-week-old kitten had twisted her leg so badly it had broken and was badly infected. She was gently bundled up and immediately brought to the Vancouver BC SPCA.
"Haddie was cold, dehydrated, and hungry when she arrived," says Jodi Dunlop, manager of the BC SPCA's Vancouver animal centre. "We knew she was seriously injured and rushed her to an animal hospital." Dunlop says that when the veterinarian examined her leg, she determined that it had been fractured for several days. Haddie would need life-saving emergency surgery to remove the badly fractured and infected leg. "This poor kitten must have been in so much pain," says Dunlop.
The feisty stray who hadn't had much human interaction prior to coming to the BC SPCA, slowly warmed up to the staff who took care of her post-surgery. Haddie was placed with a BC SPCA foster family while she healed. Who knew she would meet a little girl there who would give her a forever home?
"Haddie was being fostered at our neighbour's home," says Sandy. "Whenever they foster cats, they let us know because my daughter loves cats and desperately wanted to adopt a kitten." Sandy says her daughter went over every day to visit Haddie. They didn't learn about Haddie's tough start in life until they looked her up online and saw all the stories posted about her. "My daughter had clearly fallen in love with Haddie, so we filled out an application and hoped for the best," says Sandy.
The family was thrilled when they got the news that they could adopt Haddie. The whole family is involved in taking care of her, "My daughter cleans out the kitty litter and feeds her and my son vacuums the area around the litter box," says Sandy.
Sandy's daughter was so committed to taking care of her that she slept on the floor beside Haddie when she first arrived. "She gave Haddie her space to get used to her surroundings, but she stayed in the room to make sure Haddie would feel safe."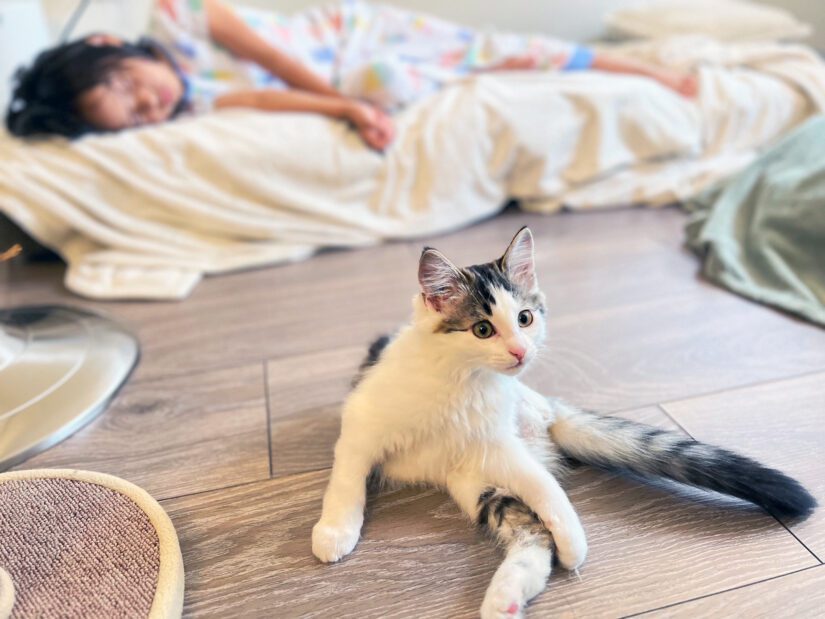 The family has a 12-year-old beagle named West who has shown no interest in Haddie so far. "Haddie would love to play with her, but West just ignores her. Haddie will go over and poke and paw at her, but she just lays there and turns her head."
And how is Haddie doing as a new tripod? "Really well, It doesn't seem to hinder her at all" says Sandy. "She is super curious and jumps all over the place. She can get to any surface except for the kitchen counter, which isn't a bad thing" Sandy adds that her daughter has plans to set up some tree walls and a hammock for Haddie just like she had in her foster home. "We bring Haddie over to the neighbours who fostered her. The two cats she was fostered with love to play with her and they have a great time together."
The one thing they have noticed about Haddie is how much she loves to play with her feather wand, on her own, ignoring everyone else. "The kids will jam the wand into the sofa so it's perfectly positioned for play and Haddie will flop herself around and do somersaults in the air while she is playing with it. It is so much fun to watch," says Sandy.
"She also loves to lay across the kid's necks like a scarf." Sandy is quick to add that although the kids have tried to convince Haddie to sleep with them, she is still choosing to sleep with mom and dad.
"Haddie is such a delight and brings so much joy and laughter to our home," says Sandy. "I was the last one to say yes to having a kitten and I have fallen madly in love with her. I can't imagine our home without her."