Interested in sharing your view on whether the proposed standards are good enough for hens?
This is where we think there are priorities for improvement:
Recommended practices: Do you think any of the recommended practices throughout the draft code should be requirements?
Housing system: Enriched cages are permitted in the code. Can enriched cages provide good enough welfare for hens? (section 2.3 and final comments)
Space allowances: The space recommended per bird differs based on the housing system (birds in enriched cages get less space than birds in free-run and free-range circumstances) and the scientific report recommends more space than the draft code provides. Should the minimum space requirement be the same for all hens, regardless of housing system? (section 2.3.2)
Dustbathing & foraging opportunities: Cage-free hens are permitted at least 15% of usable space for dust-bathing and foraging, while caged hens are only allowed 5%. Should the amount of space dedicated to dust-bathing be the same for all hens? (section 2.3.5)
If you're interested in more areas for improvement, feel free to contact us.
Don't miss your chance to speak out for egg laying hens and pullets in the Canadian Code Public Comment Period, live now until August 29th, 2016!
For the first time, Canadians are being asked for their input on our national standards for egg farming. Don't miss your chance to speak up by commenting on the Canadian Code of Practice for Egg-Laying Hens. Millions of hens are counting on you to make a difference!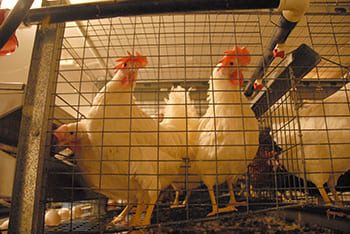 Ninety-five per cent of Canada's hens are housed on conventional egg farms where they spend their entire lives in cramped, barren battery cages. This can lead to extreme frustration, brittle bones and an increase in negative stress-related behaviours like feather pecking.
However, a better life where birds can stretch their wings, roost and perch, nest, forage for food, and give themselves a dust bath is possible – we just need your voice!
Your comments will be taken into consideration when creating the new standards of care for egg-laying hens, so make sure to visit the National Farm Animal Care Council's website and share your thoughts about what kind of lives egg-laying hens should have.
Do your part in keeping Canada's hens happy; contribute to the public comment period now!
The British Columbia Society for the Prevention of Cruelty to Animals is a not-for-profit organization reliant on public donations. Our mission is to protect and enhance the quality of life for domestic, farm and wild animals in B.C.