For Sally Roth, her life-long love of animals started with a budgie named Charlie she received as a child. Sally adored Charlie, cared for him, cleaned his cage, and taught him to talk. When she was 15 she adopted her first cat, a long haired calico kitten she named Cher, despite her parents not being keen on having a cat. Cher eventually charmed her parents and had many adventures with Sally over the 18 years they shared (smuggled on the train from Toronto to Vancouver when she moved).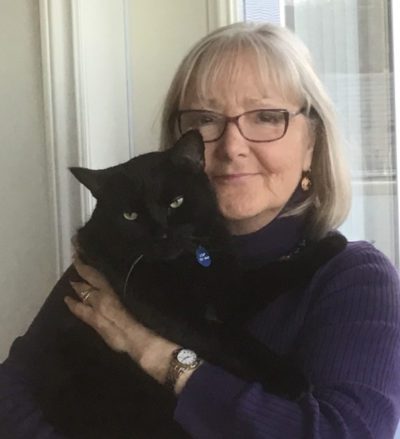 When Sally met her husband Don, Cher won over the self-proclaimed "dog person". When Cher passed away, Sally and Don adopted two kittens, Sarah and Diana, who lived to the happy age of 20. They then rescued a cat found running on the upper levels highway and named her Cara. The Roths' couldn't imagine life without a pet, "We feel that animals are a privilege to have in our lives," says Sally. "They add so much joy."
During the holiday season in 2016, Sally and Don were dealing with a hospitalized family member which took them away from home; suddenly Cara, at 14 years of age, became ill. Sally hurried back home to rush Cara to the vet, where she left her to undergo tests while she waited on pins and needles at home. "Just as I was leaving the house to pick Cara up, fifteen minutes after the vet called and said Cara could come home, she called me back to say she had passed from a heart attack,"says Sally.
Devastated, the Roths' swore to not adopt another cat again. After a couple of days, however, Sally and Don realized they could not live in a house without animal companionship, and Sally took to the internet to search the BC SPCA's website for a black cat in the Comox Valley. "We knew we would adopt a black cat again, as they are harder to find homes for,"she says.  Almost immediately, Toby (then Tom) popped up on her screen. When they finally met Toby, Sally fed him some treats and he meowed gently. Don asked "What do you think?" and Sally replied, "We are going to take him home".
Within 30 minutes Toby was lying on the back of Don's chair, with Don in it. "He looked as though he'd been with us for years," Sally recalls, "I think the three of us just all knew we were meant to be together". Sally reports that Toby continues to be a joy: "He makes every day better.  He is so loving and affectionate.  He makes us laugh at his antics. He is an integral part of our everyday life and he makes us think beyond ourselves".
Sally and Don have a long relationship with the BC SPCA, from adoption, to being monthly supporters, to recently adding a gift in their wills. They made their first donation of support back in 1986. When they learned about a cruelty case on the local news and the BC SPCA's role in rescuing the animals and pursuing charges, they decided that they had to make their donations an ongoing monthly gift of support.  That was 30 years ago!  And they have never considered stopping. "We feel the BC SPCA does amazing work and is the champion for animals in our province. Who else is going to stand up for the rights of animals?"
Last year Sally and Don decided to extend their commitment to the BC SPCA to future generations of animals in need, by becoming Forever Guardians. They updated their wills to include a bequest to the BC SPCA. "We feel fortunate that we are able to leave a gift," says Sally, "and it is so important that (the BC SPCA) continues to exist, and grow, and continues the amazing work it does."
To find out more about leaving a gift in your will to The BC SPCA go to foreverguardian.ca
*Note: A few years ago there was a greater bias against black cats and they did take up to 16 days longer to find their forever homes.  We can now happily report that statistically the length of stay in our branches of black cats vs other colours is almost even. This is thanks to people like Sally, who actively searched out black cats to fight the stigma, as well as the success of our spay and neuter programs that have greatly reduced the number of cats in our care and therefore their length of stay in our shelters. With fewer cats in our shelters, black cats can now shine as equally unique!