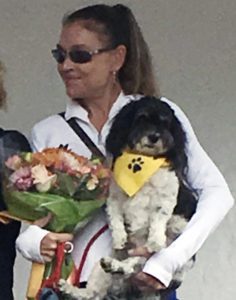 Each summer Christine Renner rallies her friends, family and co-workers together in support of animal welfare. By reaching out to her entire network, Christine has raised more than $50,000 as part of the BC SPCA Paws for a Cause presented by Hill's® Science Diet®.
Christine has had animal companions her whole life, including her beloved dog Munchie, known as "the Happy Maker" in the family. She explains her commitment to the cause comes from the heart.
"Animals bring me true joy and love, both of which provide balance and purpose to my life… I am committed to fulfillment of a dream that our society becomes better educated and more proactive in ensuring that animals are treated with respect and compassion. This is my mission."
With that mission in mind, Christine spends her summers reaching out to everyone she knows to ask that they join her in giving a gift to the BC SPCA. Her hard work earned her the top fundraiser spot at last year's Metro Vancouver Paws for a Cause event, a spot she hopes to keep in 2019, setting an incredible $25,000 goal!
To reach that goal, Christine uses a carefully crafted plan to communicate to those she hopes will give. She makes sure that others see her passion while also "paint[ing] a picture of purpose and relevance" to connect others with the cause. She believes in approaching each person in a way that will result in them wanting to be part of a worthwhile cause and solution. Christine ultimately inspires more people to want to give to the animals, making the process more meaningful.
Christine would like to thank all those who have supported her fundraising. If you would like to support Christine in inspiring others and walking to save lives, you can donate to her at Paws for a Cause.
For more information on our Generosity in Action program, please contact Erin Walkey, Director of Philanthropy, Revenue Development 1-800-665-1868.