At first, she didn't know how to play. She was emaciated, anemic, nervous and scared. But that didn't deter local lawyer Chris Ness from adopting Emily, formerly Chilli, a Bernese Mountain dog seized with 65 other animals from a puppy mill in Langley last February, dubbed the Langley 66.
Now a therapy dog with St. John Ambulance, Emily has come a long way from the anxious dog Ness first met while volunteering as a dog walker for the Vancouver BC SPCA Branch.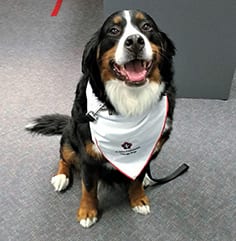 "I hum now. I literally hum with happiness as I take Emily on walks, usually 'My Girl' Emily is like sunshine on a rainy day! I have not hummed since I was a small child," Ness says.
A longtime animal lover, Ness's fondest memories of his childhood are connected to animals: his godmother's King Charles Cavalier spaniel named Emily (Emily 1.0); a gentle giant of a Rottweiler named Cupcake; a fearful cat named Belinda; and puppies Kodi and Kara.
When he suffered a severe concussion while playing soccer during his last semester of law school, his recovery took more than a year, and Ness turned his focus back to animals, volunteering to be a dog walker with the Vancouver SPCA, as walking was the only exercise he was able to do.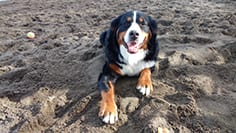 "The dogs and I got our exercise, but also so much more," he says. "They accepted me as I was… the shelter dogs were my therapy and I was theirs. I gradually improved, but continued volunteering as a dog walker because I enjoyed it so much."
When the Langley 66 dogs came into the Vancouver BC SPCA Branch, Ness had the opportunity to walk several of the Bernese Mountain dogs and was drawn to sweet Emily, then named Chilli, but tried not to get his hopes up about adopting her, as he had to figure out his living arrangements – he was in a no-pets home at the time, as well as whether he could take her to work. While his boss was open to him bringing a dog to the office, others in the office weren't as keen, and Ness's hear sank.
"I called my sister, Susan, and told her I'd have to withdraw my application for Chilli. I was upset and so disappointed because I had gotten my hopes up," Ness says. "Five minutes later, Susan called me back and told me not to withdraw my application – she and her family would support me in this huge step. I was in awe and so grateful."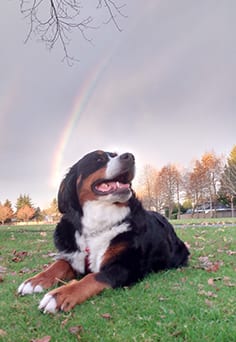 Ness says he couldn't have adopted Emily without the help of Susan, her husband Glenn, son Ryan – and their cat Cheddar – as their support and commitment meant she could have constant companionship, especially at the beginning, when she was learning to just be a dog, rather than a piece of property used to pump out puppies for profit.
After finding pet-friendly housing close to his sister in Richmond, Ness successfully adopted his new furry family member, naming her Emily in memory of Emily 1.0 and his godmother, who has since died. Emily was nervous at first, afraid to do anything in case she did something wrong.
"The first day she didn't eat or drink anything… she learned I liked it when she sat down, so she would sit down every 10 seconds even while outside on walks," Ness says, recalling that at first, Emily would only lie down on her dog bed. "We could only teach her so much about how to relax and experience freedom – when my sister dog-sat a dog named Charlie, it was Charlie who showed Emily how to relax."
Emily didn't run for the first month, as she had limited energy and strength.  She wouldn't play with toys, as she wasn't familiar with having toys to play with. Any time Ness raised his hand above her head, she would cower in fear. Gradually, however, she stopped flinching and learned to run and play simply for the joy of it.
"Setting the stage for Emily to succeed and then seeing her overcome her obstacles has been incredibly rewarding – seeing her experience pure joy as she runs around the park or beach is the greatest reward," Ness says.
Noticing how Emily enjoyed meeting strangers, Ness realized her gentle, friendly approach and excellent behaviour made her a strong therapy dog candidate, and enrolled in the St. John Ambulance therapy dog program, where Emily excelled, and her first visit to see the senior residents at Rosewood Manor went very well.
"She created lots of smiles and brightened many peoples' day – as is her way," Ness says. "Once Emily has enough experience and passes the next level of evaluation, we hope to visit the kids at BC Children's Hospital and/or cancer treatment facilities."
Now, Emily loves going outside to run and sniff everything, as well as snuggling with her two- and four-legged family and friends, including some of the other dogs seized in the Langley 66 cruelty investigation.
Ness says he's looking forward to her therapy dog journey and can't imagine his life without her.
"I fell head over heels in love with Emily. The day I found out the adoption was approved was the happiest day of my adult life," he says. "Emily has taught us to enjoy the moment rather than dwell on the past. She inspires us to overcome obstacles and be better people. She's so sweet, loving and gentle. Her happiness and enthusiasm are contagious."