On Father's Day we celebrate the important role dads play in our lives. Father figures like Uncle Wesley are just as vital in helping to raise the next generation of cats.
"Wesley is such a gentle boy, despite the fact he's so big," says his guardian, Erin. "He's still just a big baby, so he loves to play with the kittens."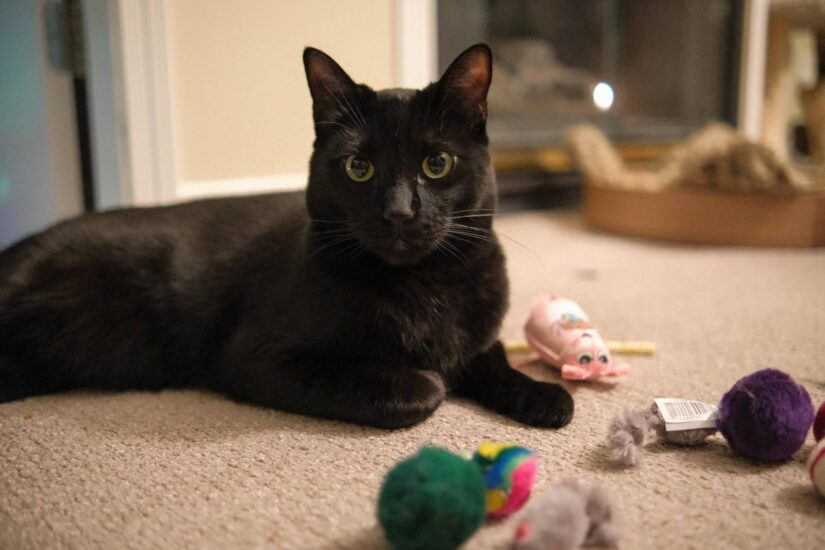 Erin adopted Wesley from the BC SPCA four years ago as a "foster fail." Like many of the kittens he has "guided," Wesley's story also started tragically as he and his siblings were found orphaned on a street. Erin knew Wesley would make the purrfect addition to the family when, as she tried to give him the bottle, he pushed it away "and instead grabbed my chin, nuzzled it, and purred. He wasn't being fussy because he was hungry, he just wanted to cuddle. I called my husband that minute to suggest adopting."
Because the couple already had another cat ("who is a bit of a diva," says Erin) it was important that the personality be the right match.
"Wesley has always been easy-going," says his mom, an important "cat-eristic" that also makes him such an exceptional feline father figure. "He just wants to do what the other kittens are doing, whether that was eating, sleeping or playing. He's super chill and really gentle with his play."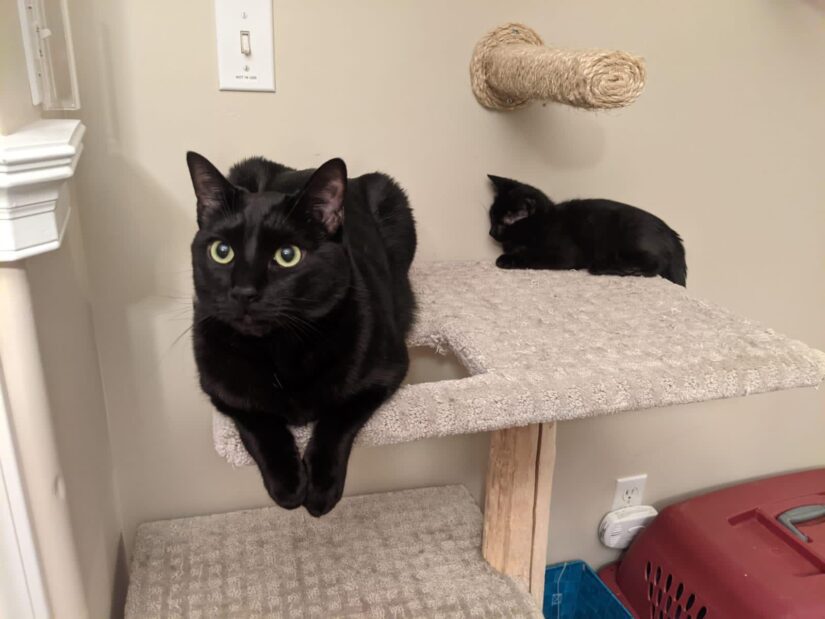 Erin and her husband welcomed 10 foster kittens over the last year. While Wesley was initially scared of the first batch of kittens (nicknamed the Bread Basket for their bread-related names) it wasn't long after they started toddling around that he then "recognized them as prospective playmates and buddies."
Erin says Wesley was a big help during their weaning. "Naan and Pumpernickel had a really hard time switching from bottle to bowl. We started feeding Wesley beside them, and it was only hours later that Naan and Pumpernickel decided they could do a bowl."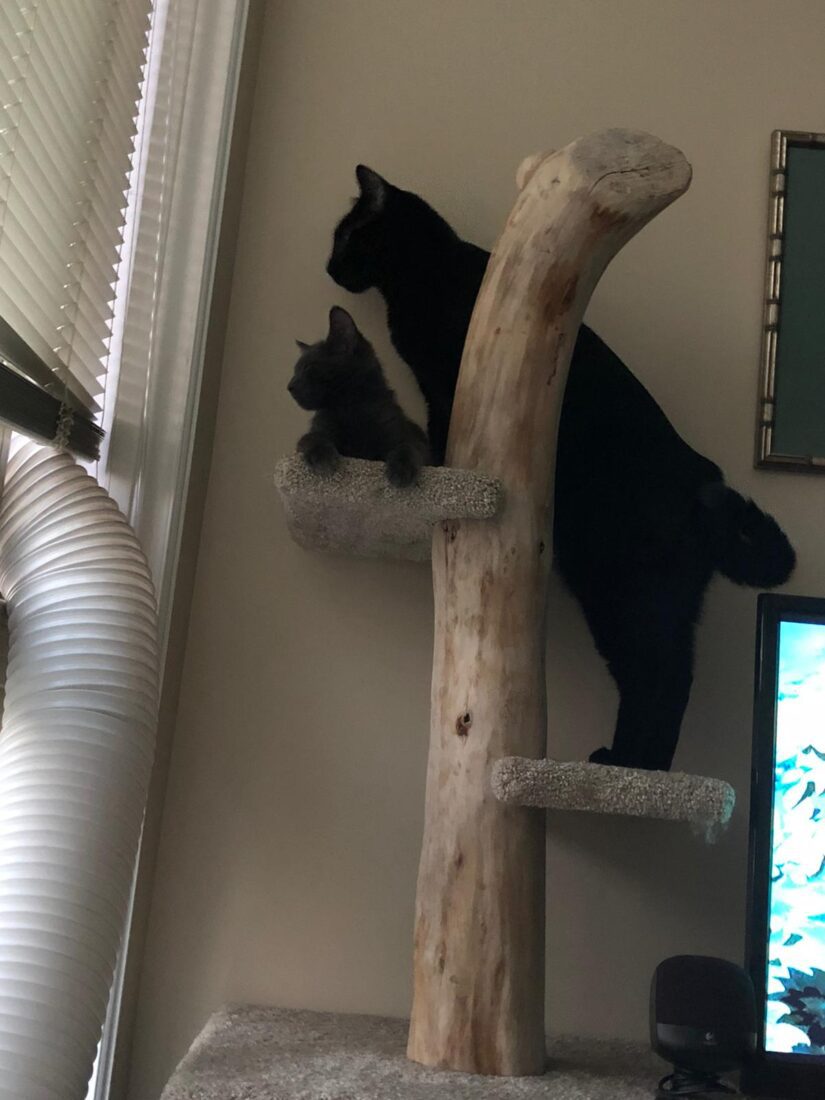 By the time the Bread Basket left, they had shadowed him all over the apartment. "They ate, napped, played together, and he diligently groomed them after meals."
Olive (formerly Naan) was a fully adjusted kitten by the time she was adopted by her new mother, Brianne. "She was the most personable kitten who was immediately comfortable with her new surroundings, including her litter box and food," she says. "I have no doubt Uncle Wesley is responsible for her instant cat-ness."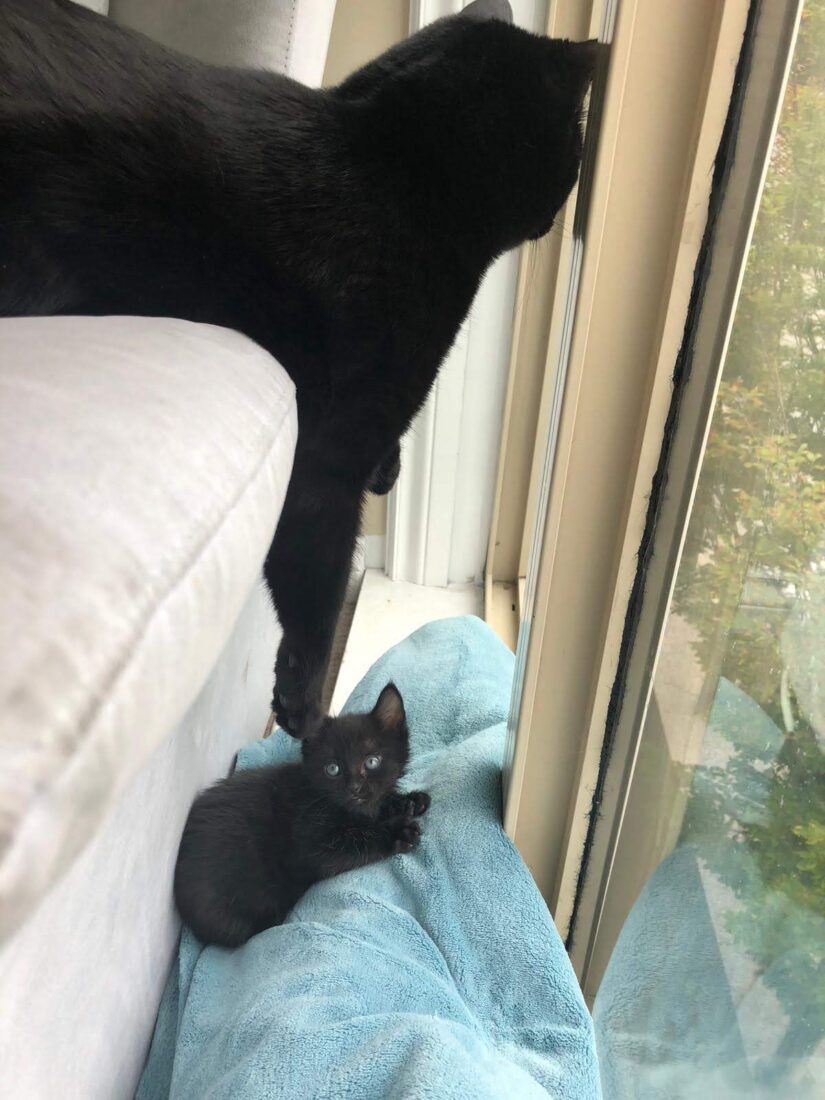 By the time Erin brought the next kitten home, she says Wesley was "immediately elbow deep in the crate like 'give me that baby!'"
Soon Wesley was watching the kittens during their feeds (happily waiting for a spare kibble or two) and if the babies were messy, "he was happy to help with clean-up duty."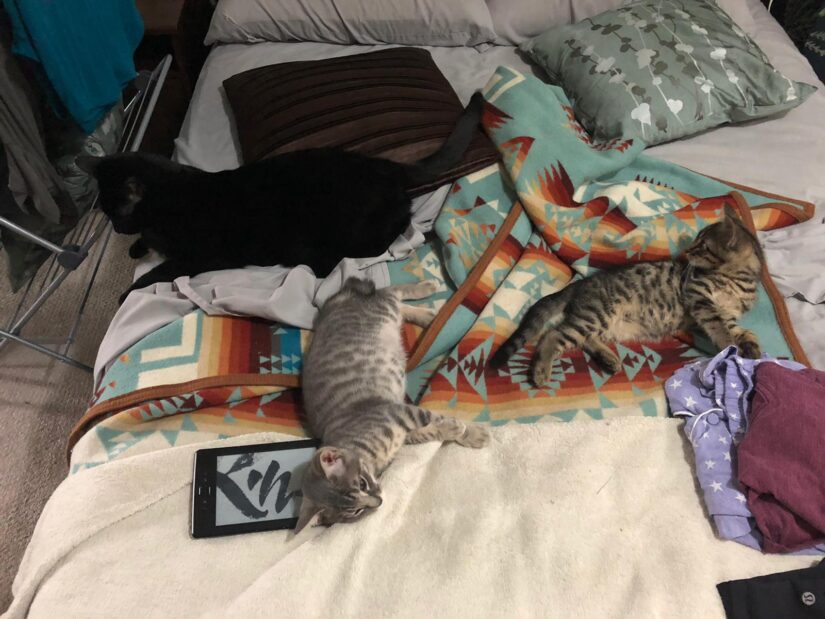 According to Erin, one of the kittens, now known as Luna, "really took on Wesley's confidence and she quickly blossomed in our house. It was also clear that she would need a buddy in her new home. Wesley turned her into such a confident girl, and she found a home with a new dog buddy who she absolutely loves."
Luna's new mom, Katelyn, says from the beginning Luna has been more comfortable around other animals than people. "I think having Wesley to learn from was a huge help with that," she says. "I don't know much about her first few months but it's so great to know that her first loving home was with Wesley and fam! She's such a loving cat and has been the perfect fit for our family."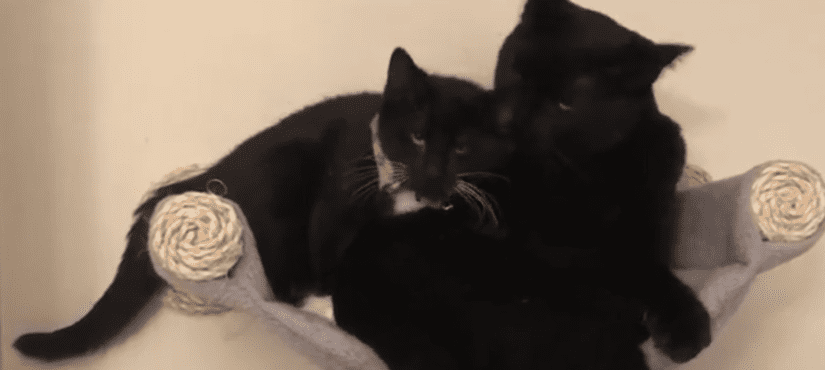 After the kittens are adopted out, Erin says Wesley takes a "long nap" and then "sort of wanders the house looking around to see if he can find babies." Eventually, he settles back into his own routine. No doubt ready, willing and able to co-parent new kittens at a moment's notice.