BC SPCA officials announced today that necropsies conducted by internationally known forensic veterinarian Dr. Melinda Merck on the remains of mutilated cats and other animals found in the Lower Mainland, have determined the animals were victims of predator attack. Initial findings from pathologists and veterinarians, combined with the unusual placement of the bodies, had raised the possibility of human involvement, but new forensic science brought to the investigation this week reveals evidence of death by predation.
In total, Dr. Merck conducted necropsies on 30 animals found in recent weeks, including 20 cats, eight birds, one rabbit and one dog. The BC SPCA says that while a conclusive cause of death could not be determined in five cases where only a tail or leg remained, these body parts also showed evidence of predation. "The definitive cause-of-death results we do have, combined with additional evidence of predator attacks on isolated body parts, leads us to conclude that the animals were victims of coyotes or some other predator," says Marcie Moriarty, general manager of cruelty investigations for the BC SPCA.
Moriarty said the SPCA could not initially rule out the possibility of human involvement because veterinary and pathology reports from 2011 and 2012 indicated that the animals had been severed using a sharp instrument. "We worked closely with members of the Ridge Meadows and Langley RCMP detachments to explore every avenue in the investigation, including behavioural profiling and DNA testing," says Moriarty. "The physical evidence in the case was crucial, however, and the BC SPCA was fortunate enough to engage the services of Dr. Melinda Merck, whose state-of-the-art knowledge of forensic science is sought internationally for major investigations involving both human and animal remains. Dr. Merck had assisted the BC SPCA with the Whistler sled dog investigation in 2011 and agreed to come to Vancouver this week to lend her expertise to this case."
Dr. Merck says the injuries inflicted by predators can appear very similar to an attack by a sharp instrument because the tear is so precise. "However, other factors, such as the nature and the angle of the skin tears and puncture marks and patterns left by canine molars in underlying skin tissue and bone, can provide more conclusive evidence."  Dr Merck says coyotes are stealthy predators, usually attacking quickly and silently. "It is not unusual for them to bite their prey in the middle and run off with half the body in their mouths, which would explain the number of cat bodies which were found in exact halves on lawns or in parks."
The BC SPCA is currently working with DNA experts at Simon Fraser University to confirm if the predators involved in the attacks were coyotes or some other animal. SPCA investigators have also alerted conservation officers regarding the necropsy findings.
"We are incredibly fortunate to be able to integrate this level of leading-edge forensic knowledge into our investigations and we are grateful to Dr. Merck and to the experts at Simon Fraser University for their assistance and to the RCMP for their invaluable help," says Moriarty.
While the necropsies have revealed evidence of predation, Moriarty says any new cases will continue to be examined fully for all possible causes of death, including human involvement.
"RCMP detachments in the Lower Mainland will continue to work with the BC SPCA on the few outstanding instances where human involvement in handling the bodies is suspected," says Insp. Dave Fleugel of Ridge Meadows RCMP and Insp. Steph Drolet of Langley RCMP.
"While the SPCA is the lead on cruelty to animal cases, the RCMP wishes to reassure the public that we will continue to share information with the SPCA, and that should any instances of other criminal behaviours be suspected, this behaviour will be fully investigated."
 Moriarty says the BC SPCA is strongly reiterating its warning to pet owners to keep all of their animals inside, particularly in the areas of Maple Ridge and Langley where the attacks have been focused. "Predators will remain in areas where there is a food source and the only way to ensure your cat, dog or small animal's safety is to keep them out of harm's way."
Photo caption: (below) Dr. Melinda Merck, left, with BC SPCA investigator Eileen Drever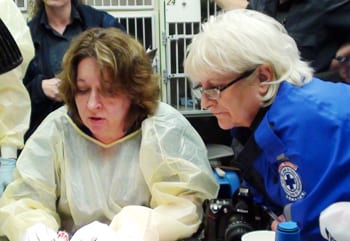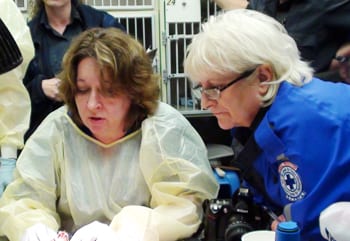 Melinda D. Merck, D.V.M.
Veterinary Forensics Consulting, LLC
Dr. Melinda Merck is an internationally known forensic veterinarian consulting on cases involving animals. Dr. Merck assists investigators of animal cruelty with crime scene investigation as well as the examination of live and deceased victims.  She helps with large scale operations including exhumations of burial sites and examination of skeletal animal remains. She frequently testifies as a veterinary forensic expert for animal cruelty cases, including cases involving animal fighting, neglect and trauma.
Dr. Merck is a member of the Board of Directors for North American Veterinary Conference and is Program Chair of the Veterinary Forensic Science track. Dr. Merck is also a member of the Board of Directors for the International Veterinary Forensic Sciences Association. She is the author of the textbook, Veterinary Forensics: Animal Cruelty Investigation, and co-author of the book Veterinary Forensic Investigation of Animal Cruelty: A Guide for Veterinarians and Law Enforcement.
Dr. Merck frequently provides training for veterinary, attorney and law enforcement professionals internationally on the use of veterinary medical knowledge in the investigation and prosecution of animal cruelty cases.  She developed the first Veterinary Forensics course for the University of Florida veterinary school and frequently lectures at other veterinary colleges. She teaches workshops on animal crime scenes and the processing of burial and surface remains. She is a member of the American Academy of Forensic Science and the International Association of Blood Stain Analysts.
The British Columbia Society for the Prevention of Cruelty to Animals is a not-for-profit organization reliant on public donations. Our mission is to protect and enhance the quality of life for domestic, farm and wild animals in B.C.