The BC SPCA expanded their outreach food bank services at the start of the pandemic in order to help pet guardians in need, delivering over 75,648 kilograms and 55,791 cans of pet food.  
Jane Struthers and Carole Liggett are just two of the many hard-working BC SPCA volunteers who helped the organization reach out to more than 33,000 pet guardians through the BC SPCA pet food banks in 2020.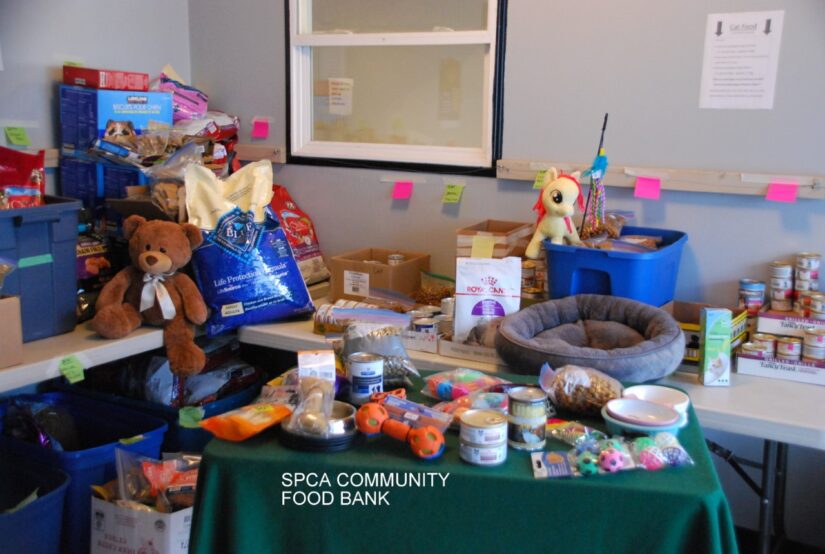 Jane Struthers 
Jane Struthers started volunteering at the BC SPCA in Surrey 16 years ago as a dog walker and dog foster. More recently Struthers has been an invaluable part of the shelter's pet food bank where she started at the inception of the COVID-19 outbreak.  Struthers says her role includes sanitizing all food donations as well as organizing the food by type. With a friend, she helps to deliver pet food to several different food banks and organizations in the area, including the North Delta Food Bank and some Indigenous communities.  
"Jane has been indispensable to our foodbank program," says Taizo Ellis, the interim manager of BC SPCA Surrey Education and Adoption Centre. "She is one of our best partners for both delivering and donating to the food bank." 
As the pandemic continued on, Ellis says Struthers expanded her own personal outreach to a number of organizations in the area. "She has been able to find placement for many of the difficult or 'unwanted' donations we receive in order to keep our storage uncluttered," he says. "Jane's contribution to every aspect of the foodbank program cannot be understated, she is an incredible volunteer and asset." 
Struthers says it's a "wonderful feeling" being a part of a community who cares both for the well-being of people and their pets.  
"Enjoying all I do for the BC SPCA is what makes me content and knowing it is appreciated keeps me willing to do as much as I can for them." 
Carol Liggett 
Carol Liggett first began volunteering with the Victoria BC SPCA in 2007 as a dog walker. Since then, she's volunteered in a number of initiatives over the years, including working primarily as part of the Cat Wellness program. However, when that program was put on pause as a result of the pandemic, Liggett jumped in to help out at the shelter's pet food bank, coming in every other Wednesday to collect food, litter and other items for pets in the community in addition to preparing hampers for low-income families. 
"Volunteering at the pet food bank has been really rewarding," says Liggett. "I very much enjoy connecting with the public and helping them to feed their pets." 
Ligget's devotion to animals and her commitment to her volunteer work isn't left unnoticed. 
"Carol is such a help around our shelter – we and the animals are so lucky to have her," says Larissa Johnston, assistant manager at the Victoria BC SPCA. "She goes beyond the call of duty and she's a friendly face for those who come in to collect food and other goodies for their pets." 
For her part, Liggett says it's been "real privilege" to volunteer with the Victoria BC SPCA. 
"I'm grateful to come into the shelter as I certainly enjoy working with the lovely staff," she says. "I feel very fortunate to volunteer with this organization."