Finding Dory may be a popular animated summer movie, but for a Sparwood family, it was reality. Earlier this year, Teena Blackmore and her family adopted Dory, a ginger-and-white tabby cat, from the Cranbrook BC SPCA shelter, but lost her while travelling to Alberta. Reunited last week, thanks to Dory's microchip being registered in the BC Pet Registry as well as the caring staff of a sign shop who helped care for the footloose feline, Dory is now back in her Sparwood home, safe and sound.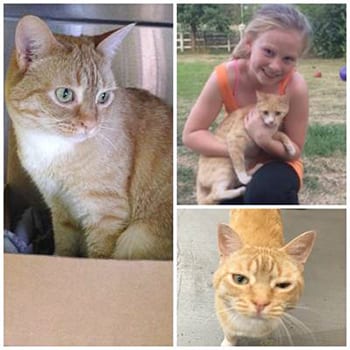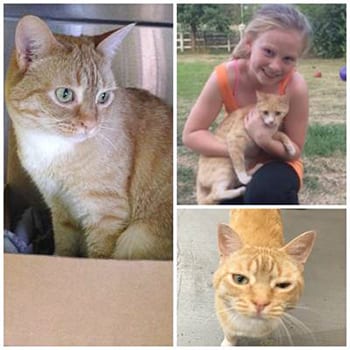 "We were going for a visit with friends in Lethbridge earlier this year, and we couldn't just leave Dory home alone, so we took her with us," Blackmore says.
During the drive, one of her children took Dory out of her carrier, and on a bathroom stop in Pincher Creek, Alberta, the ginger cat leapt out of an open car door and disappeared.
"We looked for her everywhere – they were all so upset," Blackmore says. "We had to keep moving, and we stopped again to look for her on the way back from Lethbridge, but there was no sign of her."
About a month ago, a woman who works at a sign shop in Pincher Creek found the friendly tabby and initially hoped someone from the area would come forward.
"When no one did, she took the cat into a veterinarian and the vet found one of our BC Pet Registry microchips, which had (Blackmore's) contact information," says Jessica Fordham, a BC SPCA Animal Helpline operator. "The entire shop took care of Dory, which was so kind of them, and even helped get Dory back home."
As Blackmore was in Creston to help her daughter, who was expecting a baby, one of the sign shop employees drove Dory to a Tim Hortons in Sparwood to return her to one of Blackmore's sons.
"It's so great to hear that Dory is back at home now – she ran right to her favourite bed," Fordham says.
The whole family is happy the 'Finding Dory' saga had such a happy ending, Blackmore says.
"We were so surprised and so excited to hear Dory was found!" she says. "We didn't think we'd ever see her again. She's doing great! We're all happy she's home again."
The story illustrates the importance of ensuring your pet has permanent identification, such as a microchip or tattoo, as well as an ID collar with contact information, says BC SPCA general manager of community relations Lorie Chortyk.
"No one plans to lose a pet, but it happens every day in B.C. – doors and windows are left open, gates aren't properly latched… there are so many ways pets can accidentally go missing, even if they're indoor pets," Chortyk says. "That's why the BC Pet Registry – a pet identification registry with a centralized database that links missing companion animals with their guardians – was established last year. It's great to hear success stories like these! Even in Alberta, the registry reunited Dory with her anxious human family."
At upcoming Paws for a Cause events across the province in September and October, there will be microchipping clinics for companion animals at several locations, including Vancouver, Penticton, Cowichan, Salt Spring Island and Prince George, Chortyk notes.
Visit bcpetregistry.ca for more information about the BC Pet Registry.