He was one of the faces of the BC SPCA's evacuation from Fort St. John. PJ was a tiny, black, and white kitten who was in the BC SPCA's care when the order came down to leave the area because of an uncontrolled wildfire. In total, staff and volunteers worked quickly to evacuate 21 animals to the BC SPCA's South Peace location.
"After the evacuation, due to the unpredictable nature of the fire situation in this area, we had all the animals in our care transferred to other animal centres throughout the province," says Candace Buchamer, manager of the BC SPCA's Fort St. John animal centre.
PJ's new dad Leigh, first saw PJ on the BC SPCA's adoption page when he was in Quesnel. "Everyone in our house is obsessed with cats. We have two and we wanted to add another to our family. We were ready to drive up to Quesnel to get him, but then we found out he was being transferred to Abbotsford and they forwarded our application to the Abbotsford animal centre."
The family went to meet PJ and he was sweet, loving, and docile. It was a match! "But when we got PJ home, he wasn't as gentle as he had been when we first met him," says Leigh. "We weren't sure if he was frightened or just overwhelmed but his play was quite rough with the kids. He was biting and scratching them. We really didn't want to take him back to the animal centre, but we were concerned about his behaviour." After a discussion with staff at the Abbotsford animal centre and appeals from the kids who had fallen in love with PJ, Leigh decided to wait for a few more days to see if PJ would settle down after more time getting used to his new home and family.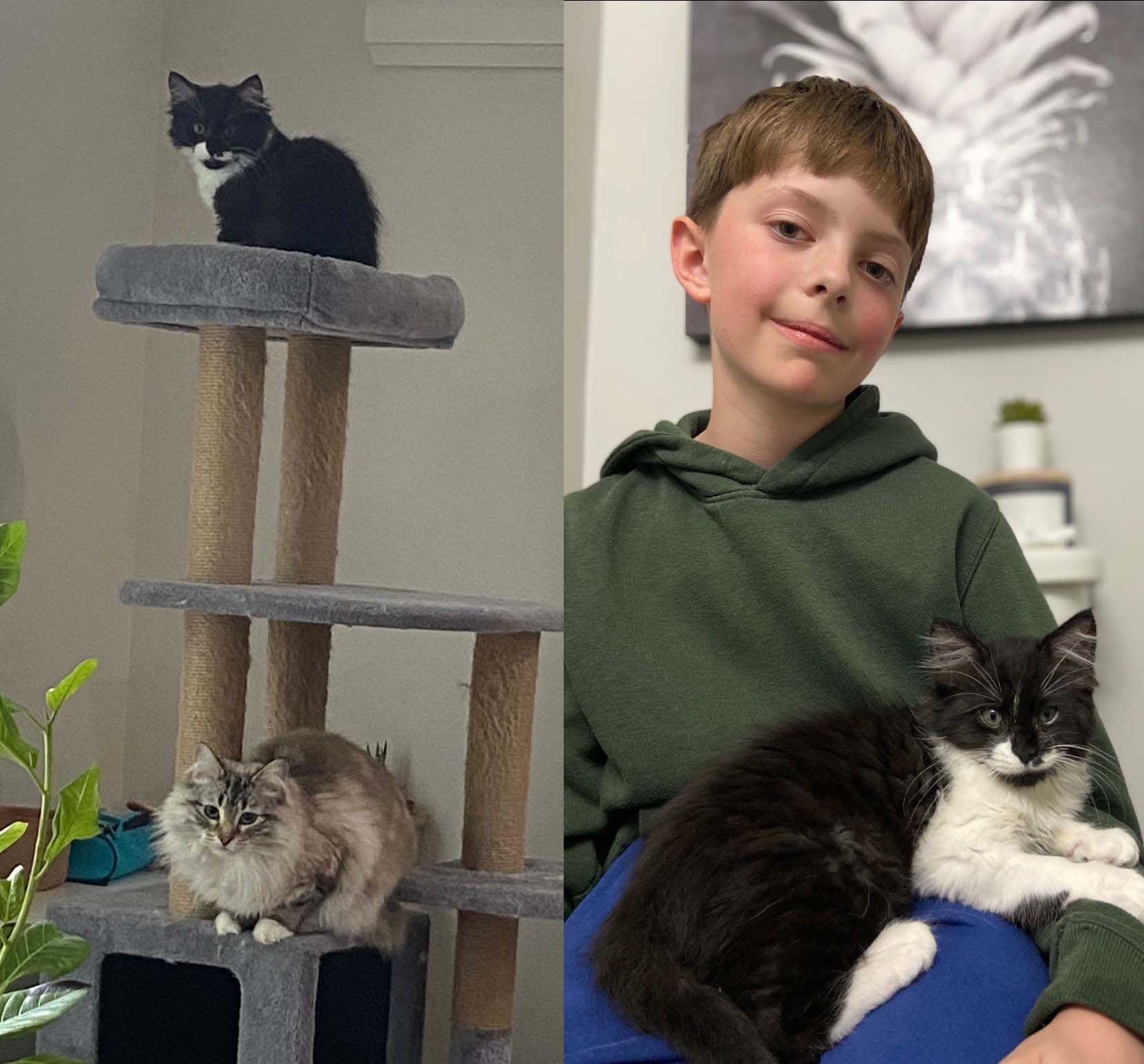 "This kitten had been surrendered to the BC SPCA's care when he was very young," says Kim Monteith, BC SPCA's manager, animal welfare. "Kittens learn about biting and scratching through play with littermates and of course mom. When they've been removed from littermates and mom too early, they are still learning when they play. If we play with them using our hands and encourage that type of play, it will continue."
Monteith adds that when you bring a new kitten or pet into your home remember it's familiar to you and all new to them. Help them adjust by giving them time to learn about you, your home and the other animals that may live there. Set up a routine so they learn quicker, offer play sessions especially with new kittens. This will help them adapt to their new home.
"Remember their behaviour will tell you a lot about how they're feeling and what they might need," says Monteith.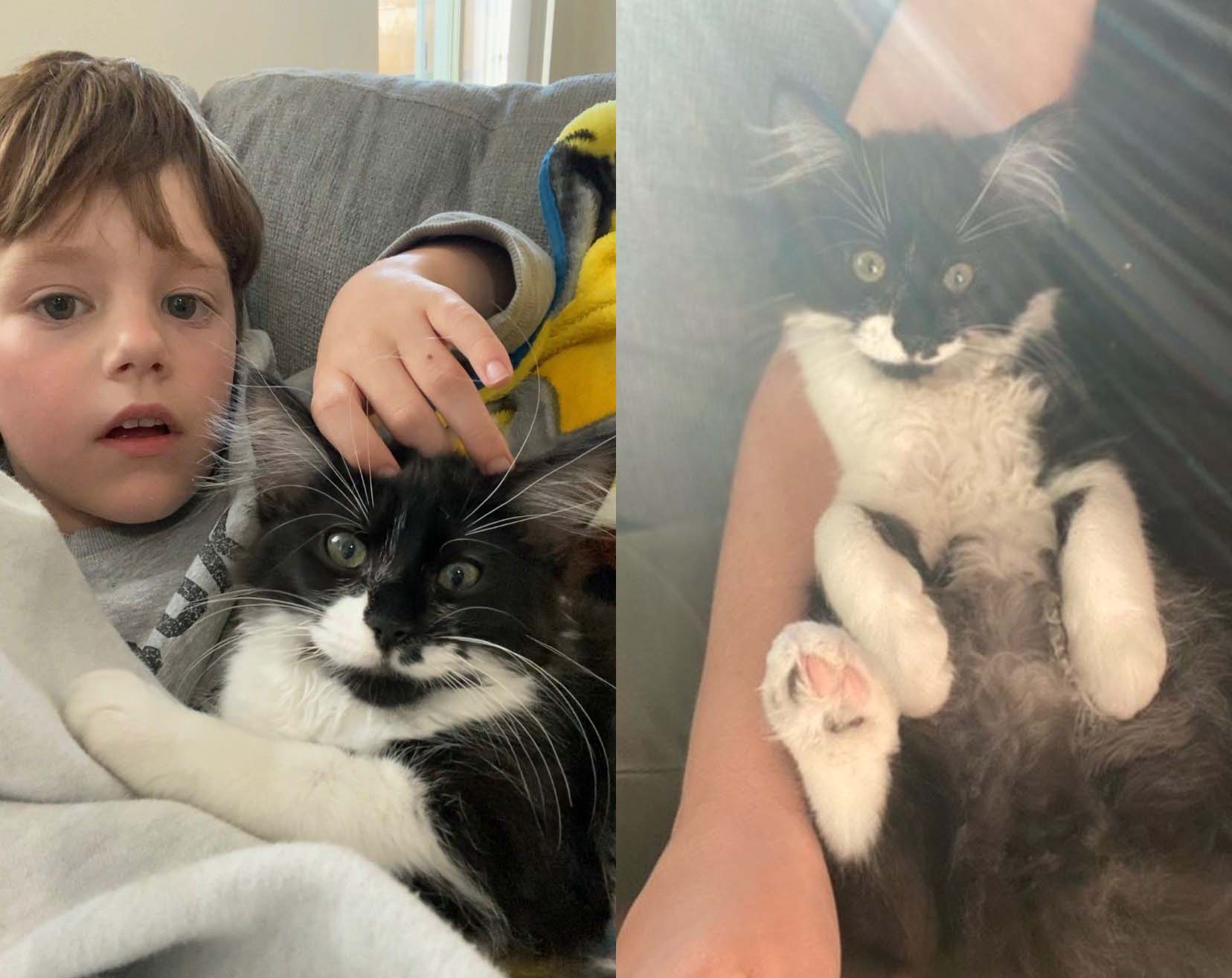 And all PJ needed was a little more time. "He still plays like a kitten, but his sweet side came out," says Leigh. "I have never seen a cat that wants to play that much. The kids could play with him all day, every day and it wouldn't be enough." PJ also loves lap time and snuggling. "If I am just sitting on the couch, PJ will jump on my lap and run his face on my hands trying to get me to rub under his chin." Leigh adds that PJ has the loudest purr. "It is super crackly and snappy."
PJ also loves to lay on his back in the crook of Leigh's arm, just like a baby. "He relaxes when he is on his back and goes super floppy." Leigh adds that the rocky start has turned into a great adoption story. "He is such a sweet cat. We just had to give him time to find his way. He has been through so much already in his young life."