An emaciated mother dog and her one struggling puppy are fighting for their lives after being rescued from a rural property in Duncan Wednesday.
The adult dog, named Dawn, is in "guarded" condition at Central Cowichan Animal Hospital while the single three-day-old pup is being cared for by Sandi Trent, manager of the BC SPCA's Cowichan & District Branch.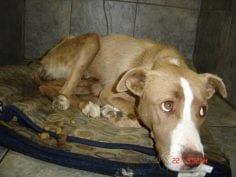 "This is one of the worst cases I've seen, and making it even more tragic is that it didn't have to happen," says Trent.
Responding to a complaint, BC SPCA special provincial constable Dale Bakken attended a property to find an emaciated mother dog with the umbilical cord still attached. The Labrador retriever mix was about 20 pounds underweight, covered in maggots and too weak to lift her head.
"We were told she had given birth the day before to eight puppies, but three had already died," says Trent.
Bakken found the five surviving pups outside under the bushes; they, too, were seething with maggots, dehydrated and hypothermic. One of the pups passed away within hours of coming into custody; another two died yesterday afternoon, one passed away in the middle the night Friday and the last one remains in critical condition.
Between the five pups taken from the property, Trent scraped a quarter cup of maggots from their skin – maggots that at first glance she thought were speargrass seeds from where they huddled in the bushes.
Dawn, the mother dog, was admitted to the Central Cowichan Animal Hospital and placed on IV fluids. By Thursday morning, she had gone through her fourth IV bag. Making matters worse, the vet diagnosed a closed pyometra, or massive uterine infection. Closed pyometra is most successfully treated surgically.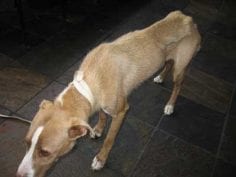 "This is usually a treatable condition, but she's so weak we really don't know if she can beat this," says Trent, who estimates Dawn to be about a year old. "She's not even in the realm of being able to withstand surgery."
Trent is at a loss to explain how Dawn could have ended up this way. She notes that her hand fits around Dawn's entire waist.
"No dog has to starve in the Cowichan Valley," she says. "Our branch has a pet food bank for guardians who are down on their luck, and we'll even deliver to guardians who aren't mobile."
In the meantime, Bakken continues to investigate the initial cruelty complaint. Charges may be recommended under the Prevention of Cruelty to Animal Act.
The BC SPCA's Cowichan & District Branch cares for nearly 700 animals a year, many of whom require significant medical care. If you would like to help care for Dawn and other homeless, injured and neglected animals in the Cowichan area and community, please donate today. Your gift could save a life.
July 29. update:
The Cowichan and District Branch would like to thank everyone who has supported the ongoing care of Dawn, the emaciated lab-cross who was rescued last week along with her critically ill puppies.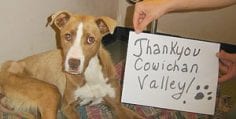 While sadly none of her puppies have survived, Dawn has been discharged from the veterinary hospital and is now being fostered by an SPCA staff member as she continues her recovery. Dawn's daily treatment includes seven different kinds of medication and she is being fed small amounts of food every few hours so that her digestive system will not be overloaded.
Sandi Trent, manager of the Cowichan SPCA Branch,  says Dawn is making slow but steady progress and is winning the hearts of staff and volunteers with her affectionate personality and her determination to get well. "She is such a sweetheart – she becomes attached to people very quickly and is so loving," says Trent.
The branch welcomes contributions for Dawn's ongoing care and for the other animals in urgent need of help. While Dawn is not out of danger yet, we are optimistic that she will continue to get stronger and will soon be ready for a new 'forever home' where she will receive all the love and attention that she deserves.
The British Columbia Society for the Prevention of Cruelty to Animals is a not-for-profit organization reliant on public donations. Our mission is to protect and enhance the quality of life for domestic, farm and wild animals in B.C.