BC SPCA animal protection officers found her in a freezing cold basement with no heat or insulation, chained to a wall. The Australian shepherd was emaciated and very pregnant.
"This poor mom was in an area of the basement that had been separated by plywood and fencing," says Eileen Drever, senior officer, protection and stakeholder relations for the BC SPCA. "She was exposed to freezing temperatures and had no protection from the cold except for a sprinkling of alfalfa straw and some dirty towels. She was surrounded by piles of feces and urine."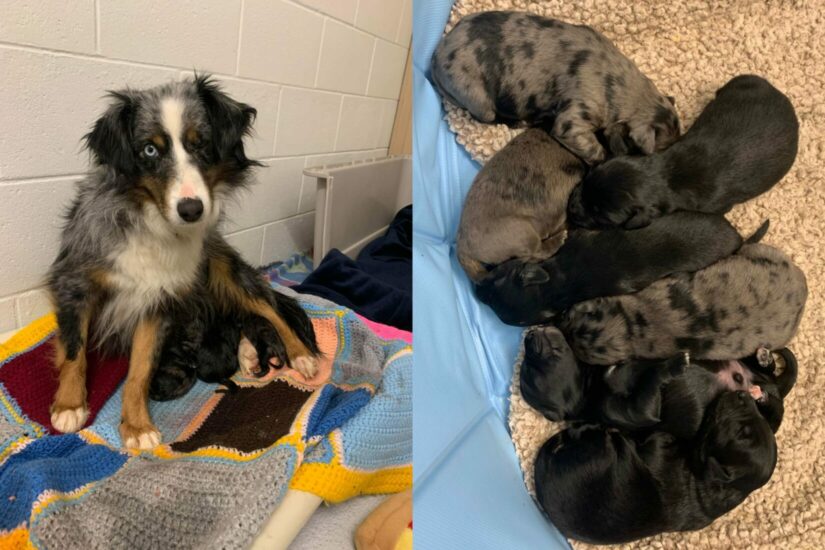 The mom was immediately taken to a veterinarian for examination. She was brought to the BC SPCA's Kelowna animal centre where she gave birth to seven healthy puppies. "Noelle is just the best mom," says Chaelyhn Berry, manager of the BC SPCA's Kelowna animal centre. "She loves to show off her babies."
Then came the challenge of finding a BC SPCA foster that would be able to take on a mom and seven puppies. And, boy, did they find one.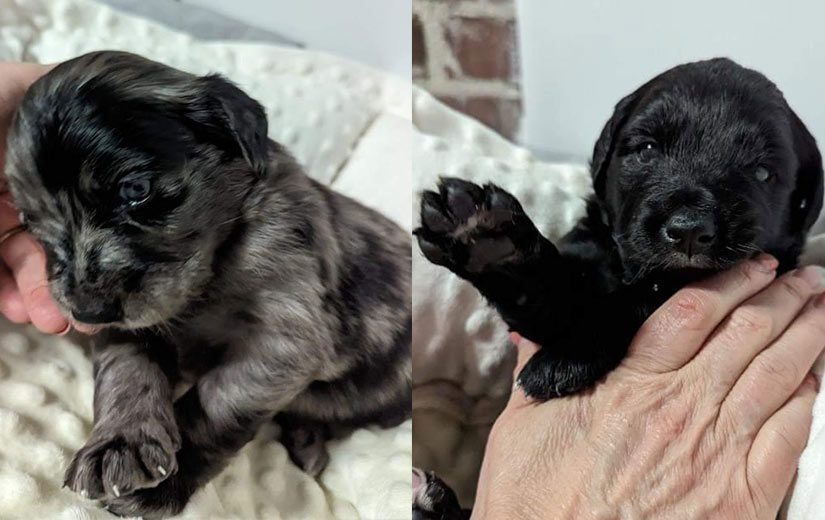 Asked if taking care of seven puppies was a lot, Martyn replied, "Seven is not a big deal, not after you have fostered a mom and 13 puppies." Martyn and his wife Linda have been fosters for the BC SPCA for more than sixteen years. "We have thousands and thousands of puppy photos," he says.
When asked about how this mom is doing, Martyn says Noelle is one of the best they have fostered. "She is fantastic," says Martyn. "She feeds them, cleans them and even cleans up after them, which we haven't seen in other moms we have had in our home."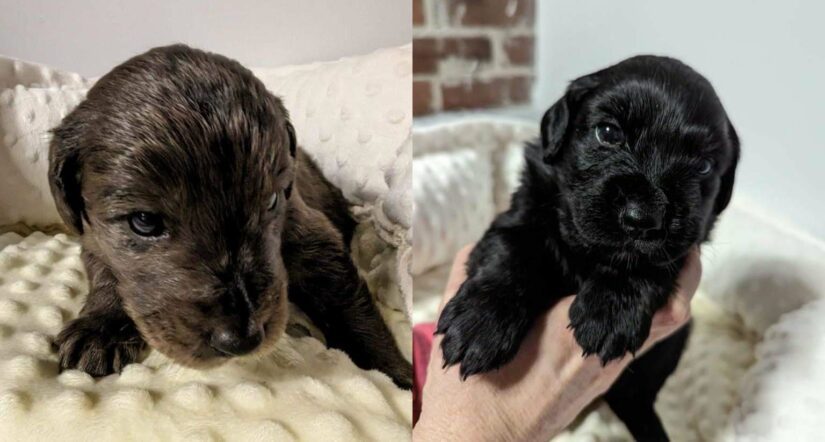 Martyn adds that Noelle is also a total sweetheart and loves being with people. "She is so happy to go up to anyone and offer a paw. She wants to cuddle, lean up against you."
Like any mom she needs a break every now and then, so they have set up one of the rooms in their home as a puppy room where they can sleep and mom can get a bit of a break.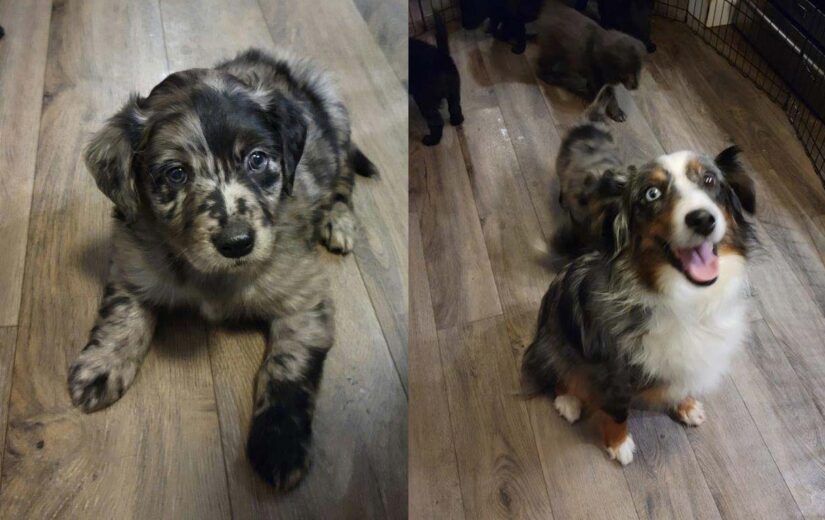 Asked about the puppies, Martyn says they are very loud when they are hungry. However, once Mom has fed them, they quietly play with each other and their toys. "They are big, fuzzy, chubby balls of healthy puppy," says Martyn. "They love to follow me around. It is very difficult to walk when seven puppies are trying to sit on your feet."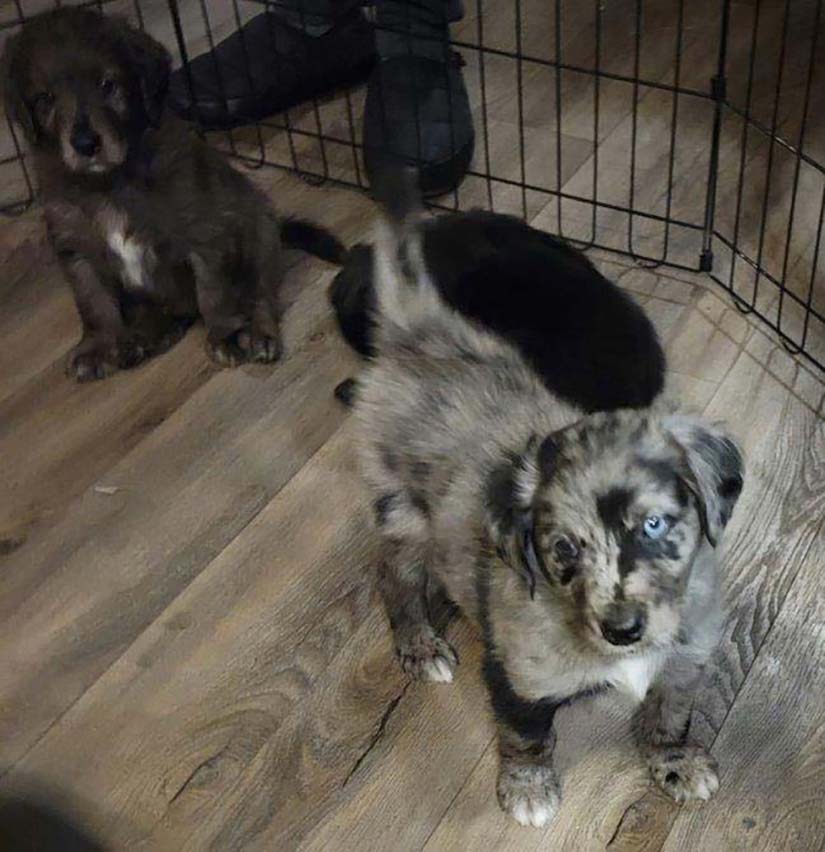 Martyn and Linda have had some luck teaching them to sit, but it all goes out the window when they are excited and happy. "We have started to work on their potty training but we won't really be able to get that done until they are weaned from their mom, but that looks like it will be happening shortly," says Martyn. "Mom will make the decision, but the puppies are getting more and more interested in her kibble."
Noelle will be spayed and once she has recovered, she will be available for adoption. The seven puppies will be available for adoption soon. Sign up for alerts on the BC SPCA adoption site.