When animals are rescued from large-scale hoarding situations, their limited exposure to everyday sights and sounds can make new experiences terrifying. Jeffery, a sweet terrier mix who was seized along with 118 other dogs in a hoarding case in Fort Nelson earlier this year, has been overcoming his fears with the support of his new loving family.
"When Jeffery arrived in care, he was shy and nervous of people," says Sarah Ringer-Vennard, manager of the BC SPCA in Abbotsford. "He loved spending time with his doggie friends, but humans were scary to him."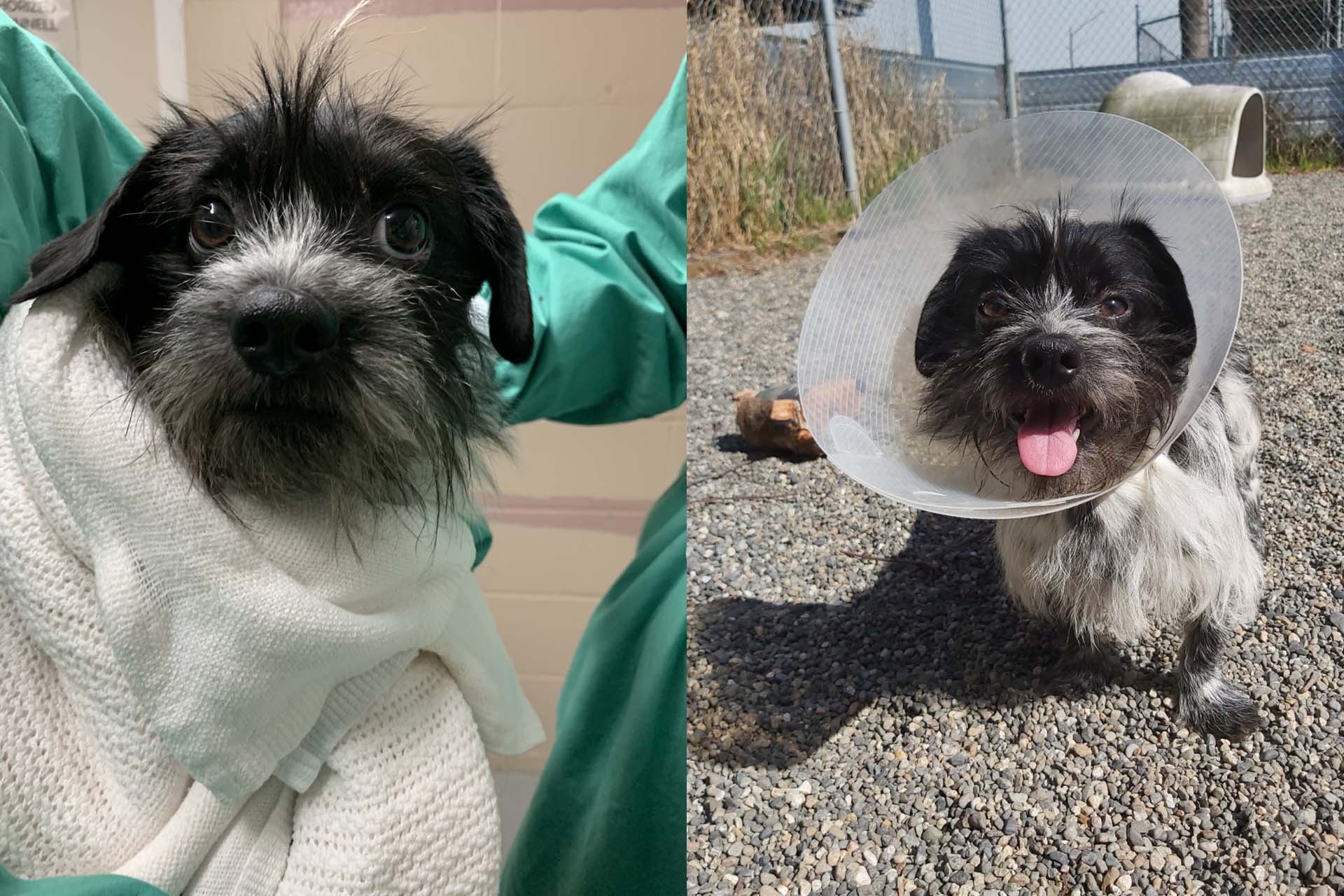 Jeffery's new mom, Victoria, recalls their first meeting.  "We went into the back area of the shelter and Jeffery wouldn't even come out of his kennel. Other dogs were coming out, but Jeffery wouldn't come close. His sad eyes got to Victoria. "You could tell he wanted so badly to come out and meet me, but he was terrified."
After adopting Jeffery, one of the first things his new family had to tackle was getting him comfortable going for a walk. "It was all new to him; the harness, the leash, the whole experience. He had no idea how to go for a walk," says Victoria. "At first it was so difficult to get him in the harness and when we got outside, he darted everywhere."
But with patience and practice he became more comfortable. "It is so cool to see him get excited when the harness comes out now," says Victoria. "He is ready to go, tail wagging."
His comfort level with walks was not the only change Victoria started to see in Jeffery. "He began to relax a little bit, not be on alert at all times, hiding," she says. "To see him curled up on his own on the couch was a big marker for us that he feels safe. We knew he had turned a big corner when he started doing 'zoomies'. He is such a fun, loving dog. He makes us laugh."
Victoria has also noticed a big change in his eating habits. "At first he was nervous about eating – he wasn't motivated by snacks. Now at mealtime, he does these incredible spins because he is super excited that it's dinner time."
Jeffery has bonded with Victoria's other rescue, a terrier mix named Buddy. They immediately got along and love to play together. Jeffery is still more nervous around men and it took a little longer for him to get comfortable with her husband.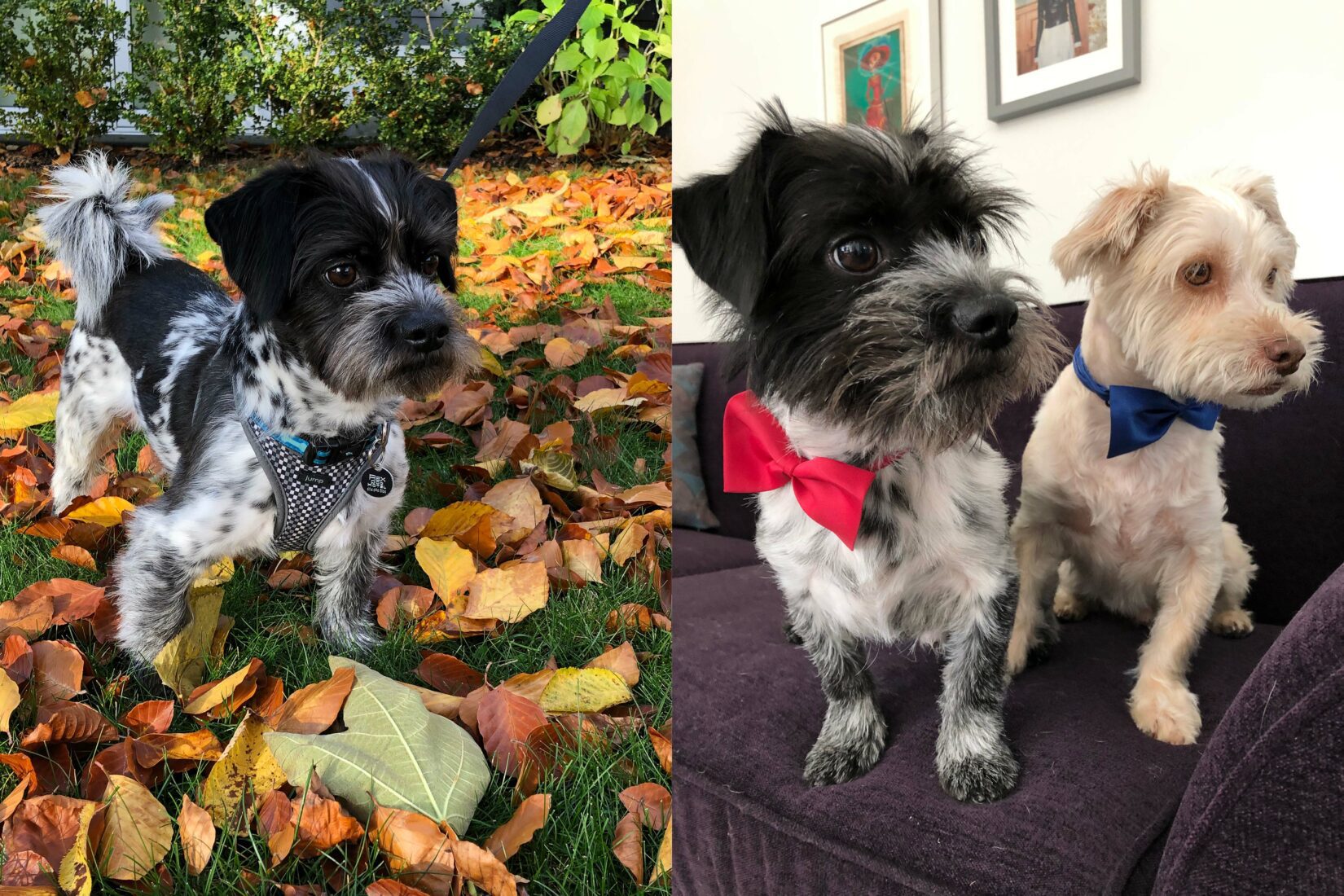 Victoria says Jeffery has also fully embraced his love of toys and that his favourite stuffie is never far from him. "Before bedtime, we will go out for a walk. As soon as he is toweled dry, he grabs his stuffie and brings it to bed. When we walk in the morning, he brings it down with him."
Victoria's first autumn with Jeffery uncovered an adorable and entertaining trait; he loves to chase leaves blowing in the wind.
Watching the changes in Jeffery since he first arrived six months ago, have filled Victoria with joy. She loves that he feels safe now and is able to be a dog. "He has gone from being terrified to a cuddle bug," she says. "He is a happy boy now."
Thank you to all our amazing adopters for giving neglected and abused animals a better life.