On International Dog Day we celebrate the extraordinary bond between dogs and people. The loyalty, unconditional love, companionship and joy that dogs bring into our lives is truly special.
Here are 10 wonderful stories from BC SPCA staff and volunteers about how they met their canine best friend and the positive impact dogs have made on their lives.
Dog: Jack / Guardian: Elizabeth Williams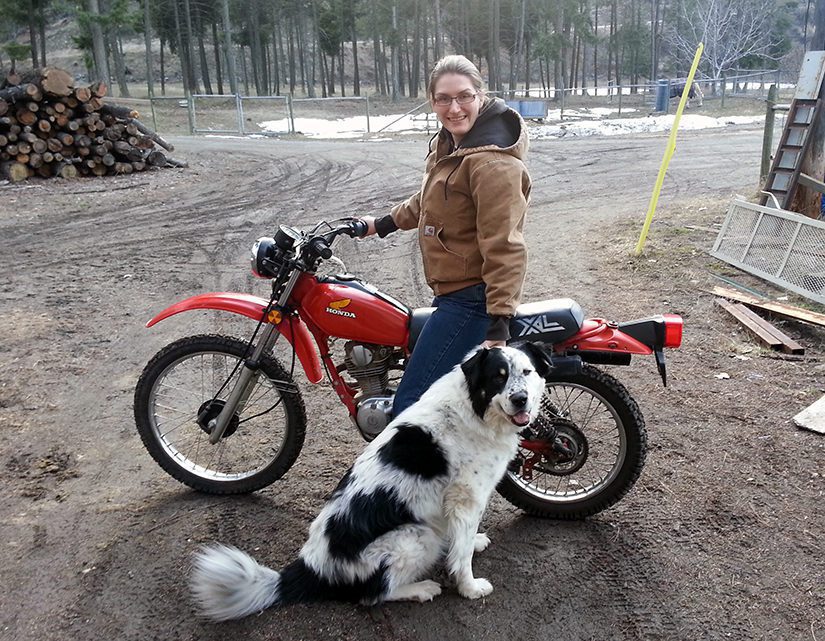 "We knew Jack was special from the moment my husband saw him on the SPCA website. He'd already failed out of two prospective adoptive homes and staff cautioned us when we met him that he wasn't socialized and was very suspicious of people.
Despite this, we brought him home and let him adjust at his own pace. We spent a lot of time pretending we couldn't see him, so that he didn't feel we were forcing him to interact. Slowly but surely he warmed up to human interaction.
Jack has lived with us now for nine years helping us foster over 27 dogs and 18 cats.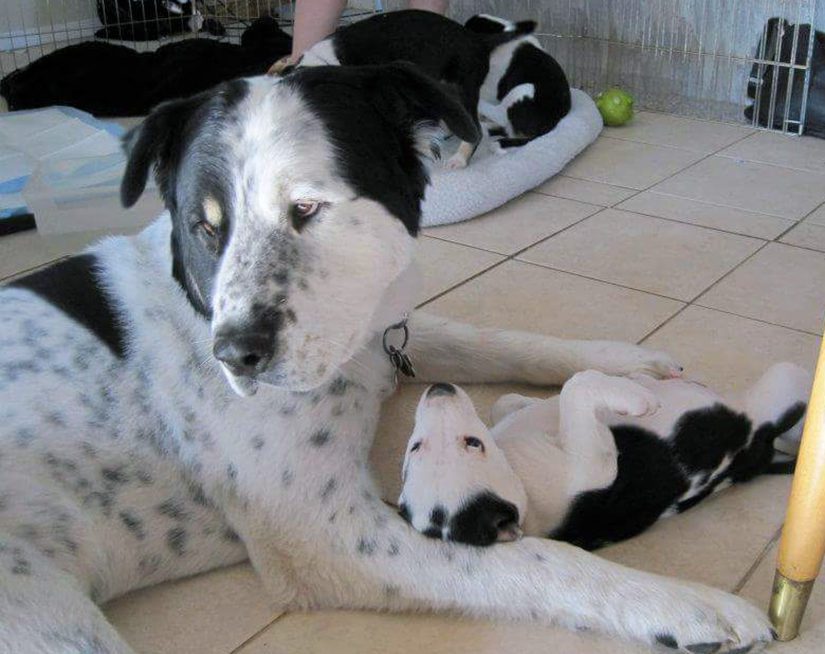 He is calm, patient and loves nothing more than having multiple kittens crawl all over him and pull tufts of hair out of his tail. Jack has been excellent at helping new dogs, sometimes sick, overwhelmed and underfed, feel safer and at ease while staying in our home.
One thing I've learned from Jack is being friendly and unflappable is the best way to make new friends."
Dog: Willow / Guardian: Terilynn
"Willow found me in my darkest time. I was alone, addicted to drugs and depressed. I was her rescue human and rescue me she did. It was love at first sight.
I've had her for three years now and with her love and commitment I can happily say I am two years clean and have a wonderful life now. We do everything together and I couldn't be happier – even when she is hogging the bed. She helped me become a better person and has shown me more love then I've ever known."
Dog: Nico / Guardian: Charmaine McNeil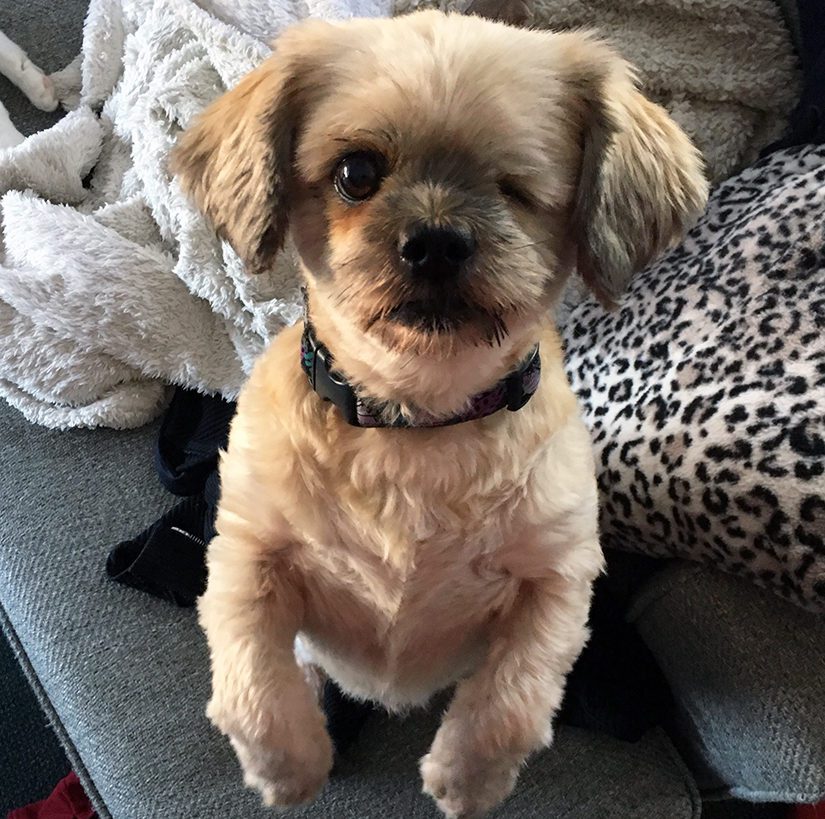 "I got my dog Nico when I was 12 years old. We've been through many hard, and happy times – road trips, camping, loves and losses, moving out on our own and being apart while I traveled. He's had health scares over the years and several surgeries including one to remove a large mass from his eye, which thankfully did not end up being cancer. Now he is our pirate dog.
Here we are, 13 years later. We have our little family, two silly little cat siblings and I am about to get married to my wonderful fiance, who is the best dog dad to Nico.
Not a lot of people can say that their dog has seen them through most of their life, and gone through so many milestones and accomplishments. We have grown together, he is the best dog anyone could ask for and I hope for many more years with him."
Dog: Screech / Guardian: Leila Kullar
"We have been fostering dogs for the BC SPCA and other organizations since 2002. Once in a while we end up keeping a foster dog because we just cannot find them that perfect home. Screech was one of those dogs. Screech was not an 'ambassador dog' for his breed. As Screech grew into adulthood, he became fearful of other dogs which made him extremely reactive to them except Patrick whom he had known since he was five-months-old. He was suspicious of strangers; especially in his home. He was insecure in new environments. Not exactly what people want in a breed that often receives negative social media coverage.
As we lived with Screech, we began to understand that we couldn't change everything about him but we could change things around him. We used baby gates in the house as we had a multi-dog home. Screech got plenty of one on one time with both my sister and I, time with another dog who didn't require play and long walks in places others dogs didn't go to. Every night, he slept in my sister's bed. He participated in nose work which allowed him to use his natural talents without having to mix with other dogs.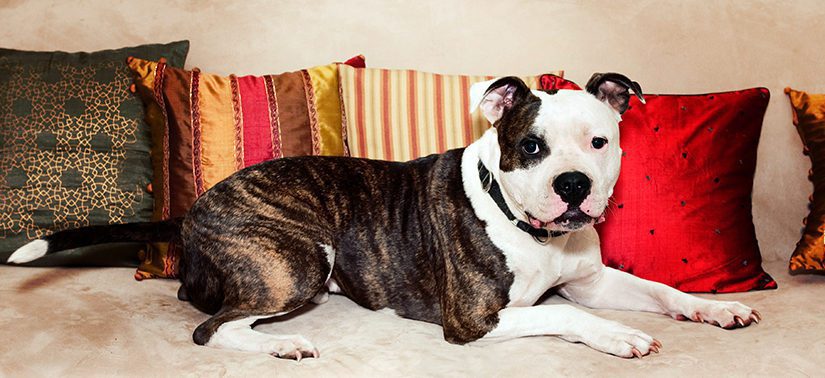 Screech didn't get as much freedom as our more social dogs had but we always used positive reward-based methods to give Screech a good life. Out in the world, Screech could often look worried. At home, he was joyful and goofy dog. Despite the obstacles Screech threw our way, Screech was as easy to love as one, two, three. Screech ended up being the perfect dog for us and we were the perfect humans for him. We were heartbroken when we lost Screech to cancer in April, 2017."
Dog: Kobe / Guardian: Colleen Schettler

"Kobe is my 'part-time' dog. She has her own bed and food bowl at my place and kind of gets along with my cat Tiki.
We go for walks, take naps, go to the beach and swim together. At the beach Kobe dives for rocks!
The rocks are pretty big and heavy but somehow she manages to get her mouth around it long enough for her to bring it onshore and deposit it on the beach. Then with a quick shake she's off again back into the water for another rock. The whole time she's doing this her tail is up in the air and wagging happily.
I worry about her sometimes when she goes underwater for too long, so I pull her head up. As soon as I let her head go she goes back underwater for another try."
Dogs: Bullet and Earl / Guardian: Alyssa Stauble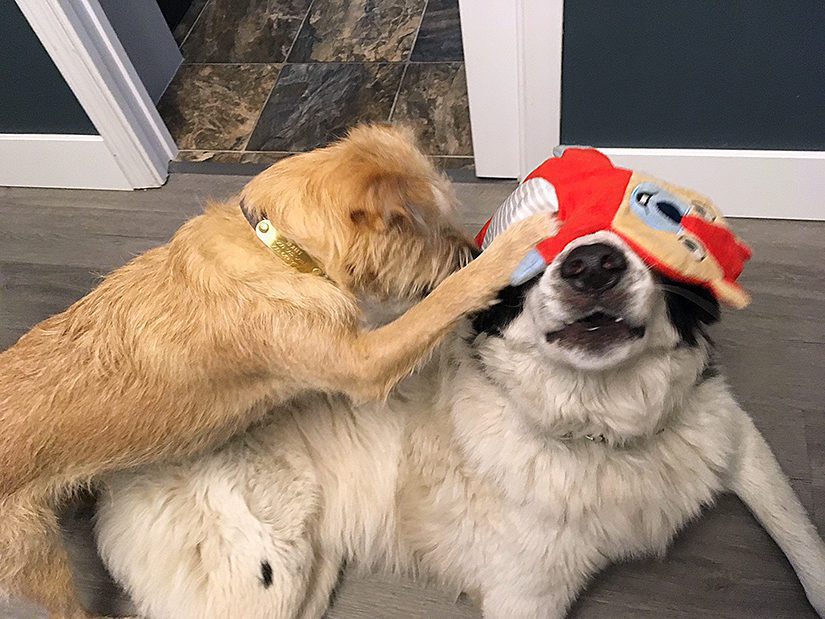 "Our 15-pound dog Bullet is frisky, super-fast (hence his name) and loves to play with Earl, our 100-pound great Pyrenees. Bullet is fearless and acts as if he and Earl were of equal size. Within two days Earl and Bullet were snuggling on a bed together.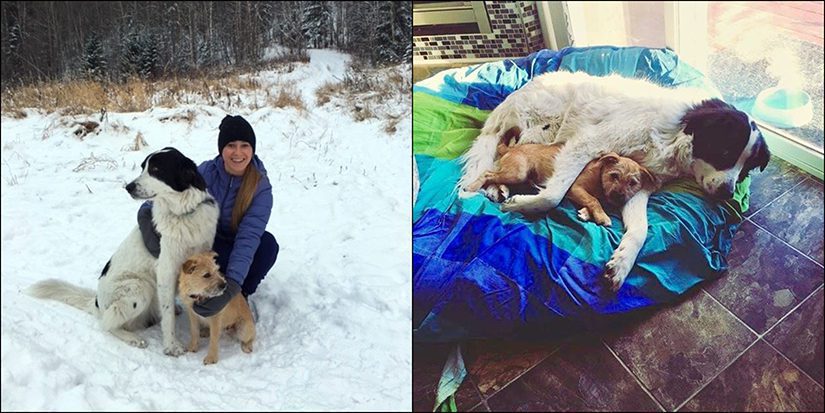 We were a little nervous that such a small dog wouldn't fit in with our active outdoor lifestyle. Boy did he sure prove us wrong! Bullet is always ahead of the pack and eager to explore. He loves hiking, biking, boating and cross-country skiing. Bullet is so smart and incredibly loyal. He has brought so much joy to our family."
Dog: Gryffin / Guardian: Caroline Hale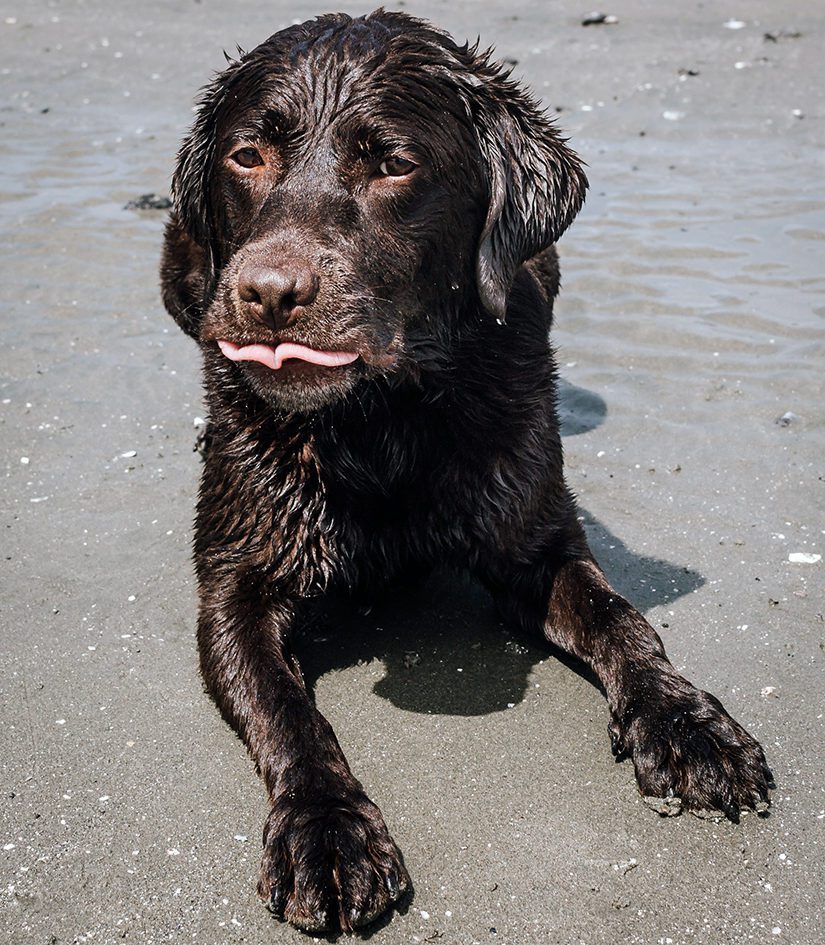 "We were foster failures to Gryffindor in December, 2017 when he was brought to the Nanaimo SPCA extremely emaciated. Perhaps it was his large brown eyes or quirky demeanor that won our hearts but whatever it was, it didn't take long for him to join our family.
I remember the first few months we had him he had trouble keeping up with us on our walks due to his body condition. He was also very fearful of water at that time; avoiding any puddles along trails and even raindrops. Such odd behaviour for a Labrador!
That summer we drove across Canada and took Gryffin and our two other fur babies with us. He had the time of his life playing among the Rockies and on the eastern shore once we'd arrived.
Today Gryffin's favourite activities include eating anything and everything, playing with his precious ball and wouldn't you know it – swimming! This lucky boy now gets to experience life on the West Coast, surrounded by beautiful snowy mountains and warm sandy beaches."
Dogs: Scout and Kaira / Guardian: Kayla Babiuk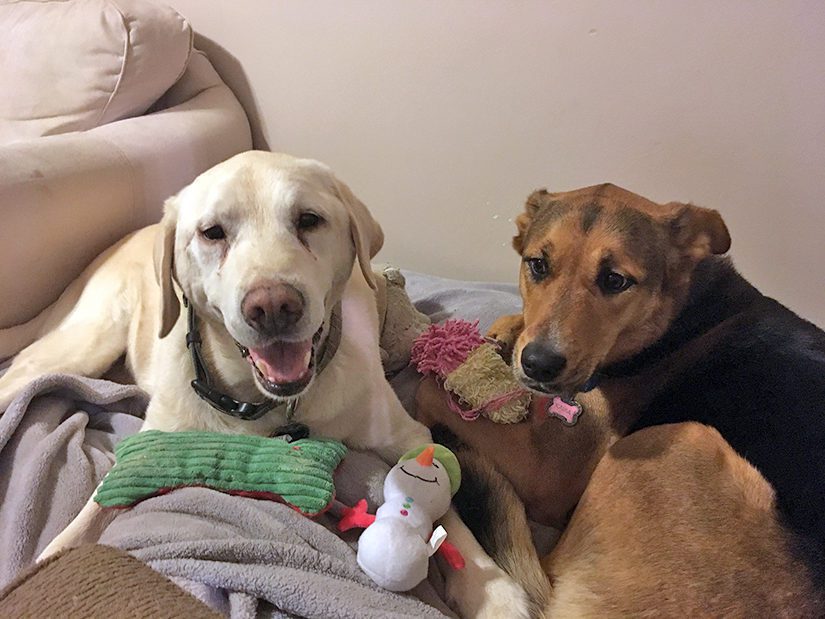 "We took Scout on after our grandparents couldn't care for him anymore. He has cost us our down payment for a house, but he's worth every penny. Scout has had a lot of health issues and has had a few surgeries this past year but he's the happiest and most energetic arthritic 12-year-old Lab you will meet.
Kaira was adopted from the SPCA Alberni-Clayquot Branch. She enjoys coming to work with mom and is so good with all my foster animals. She has many doggy friends at work and is always willing to play with toys or go for a dunk in the swimming pool on hot days.
Dogs are so loyal and always manage to put a smile on our faces. They are so forgiving and I love that about them. My dogs are so sweet and they fit in so well."
Dog: Finn / Guardian: Lindsay Waite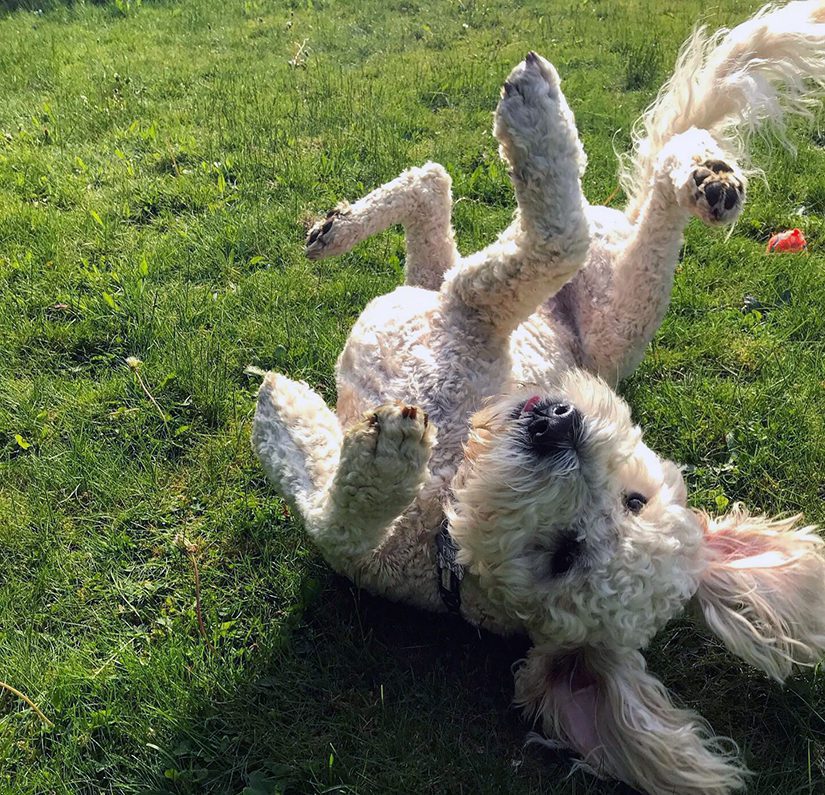 "Finn the goldendoodle came into my life in January, 2018. Right from the moment I met him I knew he was something special. We had an instant bond and from there things began to happen!
I love photography and Finn is pretty handsome so I started photographing all his adventures. We were approached by the editor of the Squamish Chief and we collaborated together on a children's book called The Adventures of Squamish Finn. All profits will be donated to the Sea to Sky SPCA.
I live with multiple sclerosis and Finn has been a huge part of my recovery from my last relapse. We are training together to do a 10 km walk in September for the MS Society of Canada. I couldn't imagine my life without him."
Dog: Cocoa / Guardian: Kevin Zarifeh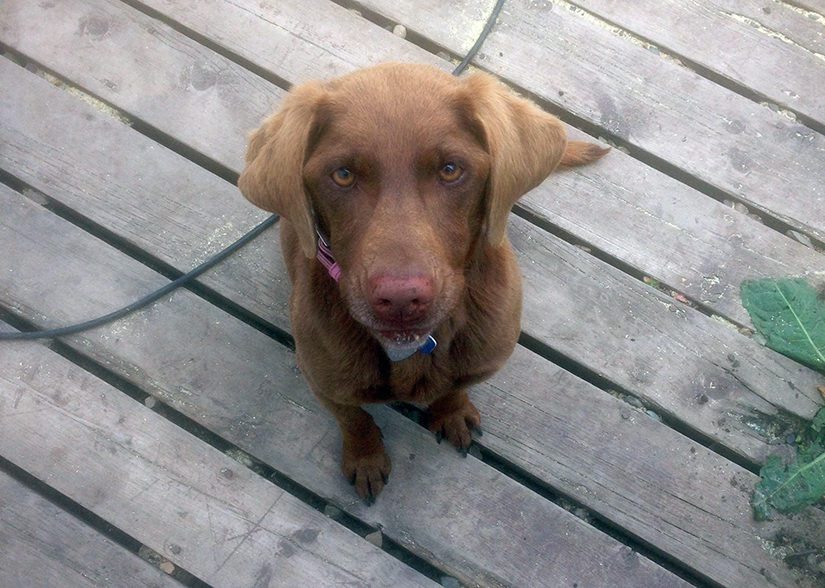 "I first saw Cocoa when she was two years old, chained in a backyard. I worked on the owner slowly, taking Cocoa first for walks, then for a day, then a weekend, and finally forever.
She was a rocket, able to leap our back fence at will, and becoming the first dog to scale the enclosure at our favourite boarding kennel with ease, visiting her new friends until she was discovered by the staff.
She's almost fifteen now and while not yet at the Rainbow Bridge, we can see it in the distance. Cocoa has slowed down, struggles with stairs and her depth perception, but curls up with us and our two other senior dogs every night before falling into dreams. She has touched our hearts immeasurably. The dog once confined "because she takes off" has enjoyed a life of camping, running, snowfalls, lakes, and love from her pack and her people."