A young dog left to die in a ditch in after being seriously injured in a hit and run accident is on his way to a full recovery, thanks to the generosity of SPCA supporters.
Blackie, a sweet 10-month-old Collie mix, was the victim of a hit and run that caused a collapsed lung, internal bleeding and a broken pelvis. "He would have succumbed to his injuries without the quick action of the Mt. Currie Tribal police and others who alerted the BC SPCA's Sea to Sky Branch," says Lorie Chortyk, the BC SPCA's general manager of community relations.  "As the veterinary bills for his extensive surgeries mounted we put out an appeal through our Medical Emergency Fund and we were so grateful for the outpouring of donations we received. His follow up rehab will be long, but our staff at BC SPCA Sea to Sky Branch knew this puppy deserved a chance at a full life."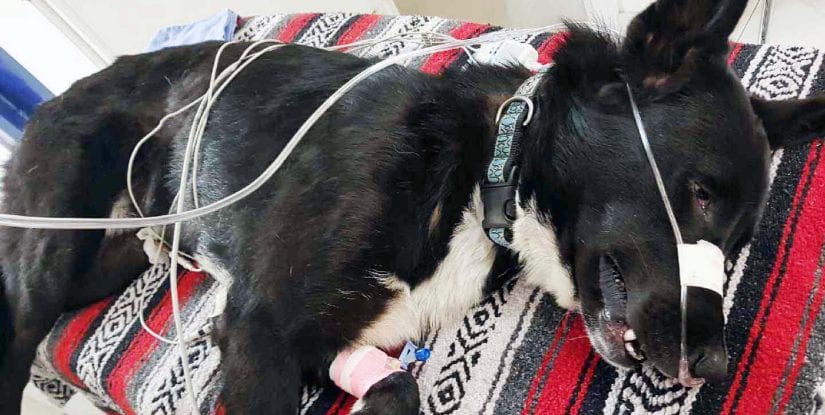 SPCA staff say Blackie has been a trooper throughout his painful ordeal and constantly wags his tail at everyone he meets. "He is coping very well and starts physiotherapy next week," says Chortyk.  "He loves water and even attempts to follow along when his foster mom is doing yoga! He is going to make someone a wonderful family pet when he is ready for adoption."
Blackie still has several months of rehabilitation before he will be available for adoption. View all adoptable animals at spca.bc.ca/adopt.
Thank you to all those who give the animals in the SPCA's care a life-saving second chance. To help other animals like Blackie, please visit spca.bc.ca/medicalemergency.
Get updates from the BC SPCA
Want to receive more news stories like this, right in your inbox? Use the form below to subscribe for updates.