BC SPCA officials are expressing disappointment today with Crown counsel's decision not to proceed with charges of animal cruelty against Mountain View Conservation and Breeding facility in Langley. The BC SPCA launched an extensive animal cruelty investigation at the facility in November 2009 after receiving a lengthy list of concerns about animal welfare neglect.
"We are very disillusioned with Crown counsel's decision not to proceed despite the evidence that existed," said Marcie Moriarty, the BC SPCA's general manager of cruelty investigations. "After spending hundreds of hours and thousands of donor-donated dollars on this investigation, it once again appears that zoos in B.C. are exempt from the standard of animal care that the average pet guardian is held to under the law, given the state of Jerome's overgrown hooves in this case.  We realize that it is Crown's decision to make, but in this case, we respectfully disagree with the decision."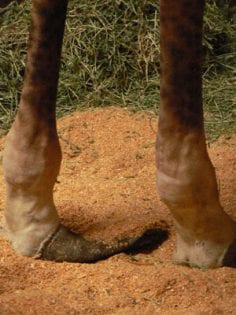 The Mountain View investigation focused primarily on Jerome the giraffe, whose hooves were so excessively overgrown that the animal had to rest on his knees at times because it was too painful for him to stand. "When we attended the scene we immediately ordered Mountain View to have Jerome's hooves trimmed and gave them a four-week period to comply." She notes that Mountain View did not comply as they did not have the proper equipment on site (a "squeeze", which holds the animal still while a procedure takes place), nor had they adequately prepared Jerome to enter a squeeze. On January 10, 2010, BC SPCA constables issued further orders that Mountain View consult with a veterinarian to discuss pain management for Jerome, whose knees were bloody from having to kneel. "The attending veterinarian advised that 'something should be done with Jerome within five days or he would have to be euthanized'," said Moriarty. Jerome was subsequently sedated in order to trim his hooves but died during the procedure.
Crown counsel stated it is satisfied there is sufficient evidence to support the argument that Mountain View took reasonable steps to address the neglect after BC SPCA issues were ordered. "In our opinion, the situation should never have reached such a critical stage of suffering that SPCA intervention was necessary – there is just no excuse for it," said Moriarty.  "On its website Mountain View holds itself up as one of the world's leading facilities. They would have had to have seen that animal each and every day and have noticed the appalling condition of those hooves and yet they did nothing." She adds that when facilities keep wild and exotic animals they have a responsibility to have the proper equipment on site and procedures in place to deal with the animals' welfare needs.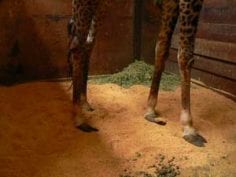 This is the second time that Crown counsel has decided against proceeding with animal cruelty recommendations against a Lower Mainland zoo. In 2005 Crown laid charges of animal cruelty in the case of Hazina, a baby hippopotamus kept in a shed at the Greater Vancouver Zoo, but later stayed the charges after the zoo eventually complied with BC SPCA orders to build a proper facility for Hazina. "For us, the issue is that this neglect should not have occurred in the first place and we believe that institutions which acquire wild animals should be held to the same standards of care that we expect from other pet guardians," said Moriarty.
The British Columbia Society for the Prevention of Cruelty to Animals is a not-for-profit organization reliant on public donations. Our mission is to protect and enhance the quality of life for domestic, farm and wild animals in B.C.