The BC SPCA Comox Valley & District Branch is making headway in addressing cat overpopulation in the region, but needs help from the community to achieve its goal of fixing 700 cats in the city of Courtenay and town of Comox.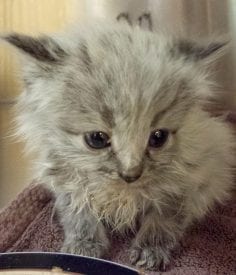 "With the help of generous funding from PetSmart Charities™ of Canada we have been able to help nearly 300 cat guardians," says Emily Priestley, BC SPCA Comox Valley & District Branch manager.
"With 400 surgeries remaining, we are asking Comox and Courtenay residents to take advantage of this time-limited resource while they still have the chance."
Eight-week-old Sashimi came into the care of the branch several weeks ago
after the mother cat had an unexpected litter.
Unable to care for the new additions to the household, the owners brought Sashimi and her siblings to the shelter. After growing strong and healthy in foster care, the kitten has now found a forever home.
"Sashimi is a kitten who illustrates the importance of preventing litters," says Priestley.
"Currently there are more cats and kittens in B.C. than there are homes for them and by spaying/neutering, we can get to the root of the issue and reduce the number of unplanned litters, as well as homeless and abandoned kittens and cats on the streets."
Spaying and neutering also provides lifelong health benefits and behaviours such as spraying, roaming, fighting and howling often subside.
Even if the cat is an indoor cat, his/her risk for developing common cancers of the reproductive system is significantly reduced.
Currently, all residents within the city of Courtenay and town of Comox can fix their cats for free. The program is expected to close at the end of May 2018, but may wrap up sooner if 400 surgeries are reached before the goal date.
"When the community comes together to address an issue like cat overpopulation, success follows. We hope residents will join us is making this a reality in the Comox Valley," Priestley says.
For more information about this program or to make an appointment for your cat, call the BC SPCA Comox Valley Branch today at 250-339-7722 or come by the branch between 1-4:30 p.m. Tuesday to Saturday.