Sarah Heyer is a bright light for animals in today's uncertain times. Together with some help from Tails Pet Supplies in Trail, B.C. Heyer generously donated a truckload of pet food to the BC SPCA in Castlegar for SPCA-run pet food banks in the community.
"I am in the place where I am able to donate and I want to donate to all the pets who can use it," says Heyer. "I know there are a lot of people who are struggling to make ends meet right now." The owner of the House of Paws pet store in Rossland says she wanted to support the BC SPCA's outreach work because the organization "does so much for the animals and I want to help all the unfortunate animals who need comfort and support."
Heyer is just one of a number of incredible donors who have been supporting their local branches with donations of pet food and supplies over the last few weeks.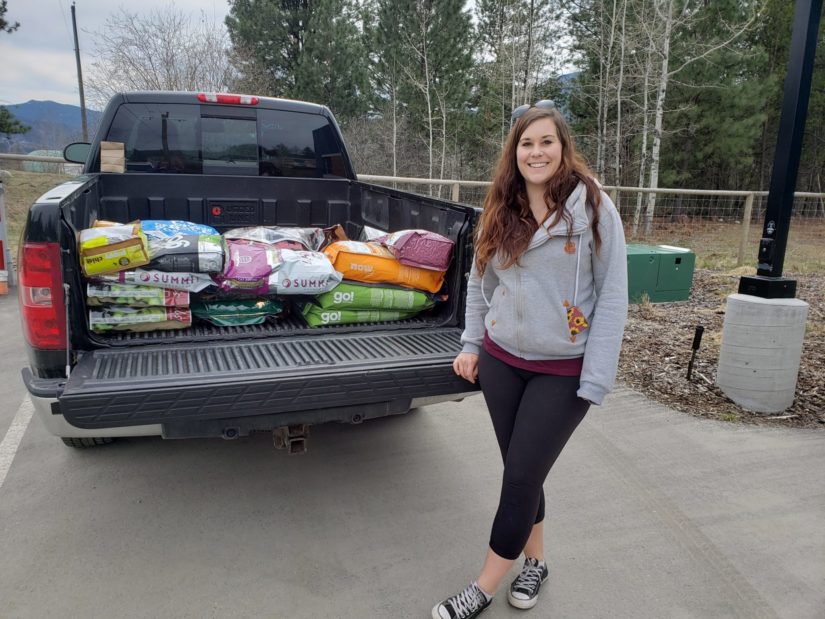 With more and more families impacted by illness, job loss and other challenges during the COVID-19 crisis, the BC SPCA has extended their public outreach services, including expanding food banks at a
number of branches and distributing pet food to families in need.
"Thanks to the generous donations we have received from the public, we have been able to expand our food bank services across the province during this challenging time," says Marieke van der Velden, BC SPCA's outreach specialist.
With growing needs reported by community partners, van der Velden says the BC SPCA is able to provide pet food to groups in the community distributing food, as well as find other ways to meet the needs of vulnerable people and animals, whether that is distributing from an SPCA location or dropping off supplies to remote neighbouring communities.
"Although many of our locations offered services before the COVID-19 pandemic, with the growing amount of people in need, we have been able to step up and grow these important services and make this a priority to ensure families can stay together."
According to van der Velden, in just two weeks of increased programming and distribution, the BC SPCA has provided approximately 3,500 kilos of dry dog and cat food, and more than 2000 cans of wet food to people and their pets in need throughout the province.
However, the demand for help is still great. For example, the Castlegar food bank has seen a 10-15% increase in need of supplies since mid-April.
If you or someone you know is in need of pet food, please call the BC SPCA Animal Helpline at 1-855-622-7722 to find the nearest pet food bank location. To donate unopened dry or canned pet food, please check with your local SPCA for arrangements.