Charges of animal cruelty are pending against the owner of an emaciated golden retriever named Trooper who was dropped off at the BC SPCA's Maple Ridge Branch Feb. 28.
"Through our ongoing cruelty investigation we identified the owner, who has surrendered legal custody of the dog to the SPCA and we will be submitting a report to Crown counsel this week recommending charges," said Eileen Drever, senior animal protection officer for the BC SPCA.
The young adult male dog, whose matted fur was covered in dirt, mud and feces, was dropped off at the shelter by a man who claimed he found the dog near the intersection of 237th Street and Dewdney Trunk Road.
Mark Vosper, manager of the BC SPCA's Maple Ridge Branch, said staff and volunteers at the shelter were also shocked by Trooper's emaciated condition.  "It is so difficult to see an animal in that state – like a walking skeleton –  but despite his horrific condition he loves doing all the things that other dogs do – he is very friendly and loves attention, getting treats and playing."
A typical male golden retriever should weigh between 30 and 34 kilograms; Trooper weighed 11 kilograms (24 pounds) when he was brought in Feb. 28. "He actually weighed less than his bag of dog food when he was brought in but he is steadily gaining weight and it is being checked by a veterinarian every day," said Vosper.
The gentle, affectionate dog is being fostered by a shelter staff member and Vosper expects it will be several months before Trooper will be well enough to be adopted out.
For more information, read our original news story which includes updates from Trooper's foster mom about his ongoing recovery.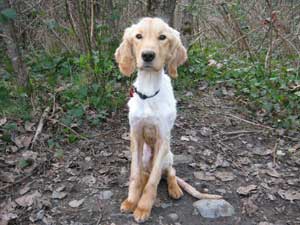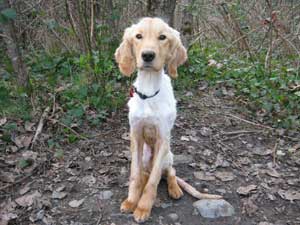 The British Columbia Society for the Prevention of Cruelty to Animals is a not-for-profit organization reliant on public donations. Our mission is to protect and enhance the quality of life for domestic, farm and wild animals in B.C.