A year ago, Captain and Maria, Akbash dogs, arrived at the BC SPCA in Shuswap, skinny, starving, nervous and as their names suggest, inseparable.
"It was clear their life so far had not been easy and that these dogs hadn't seen the best of humanity," says Victoria Olynik, manager of the Shuswap SPCA.
Captain and Maria obviously found strength in each other's company and were dubbed "the married couple" of the branch. One wouldn't walk without the other; they went together or it just wasn't happening.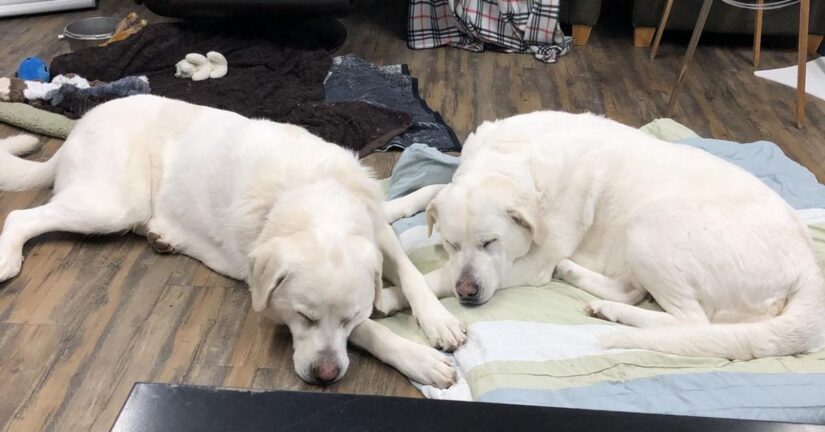 Both Captain and Maria needed treatment when they arrived at the shelter and despite being nervous of people, they were great patients during their examination. Captain had a left eyelid which was partially inverted, causing his eyelashes to painfully rub against his eye and would require surgery. He also needed plenty of careful rest to heal a sprained cruciate ligament in his back leg.
Maria was in need of extensive oral surgery including extractions. Her oral health was so poor for a two-year-old dog that there were concerns about her diet prior to her arrival at the BC SPCA. Mark Montemurro, a BC SPCA volunteer, had the good fortune of meeting with this adorable pair and kindly stepped up with a generous donation to cover their medical care!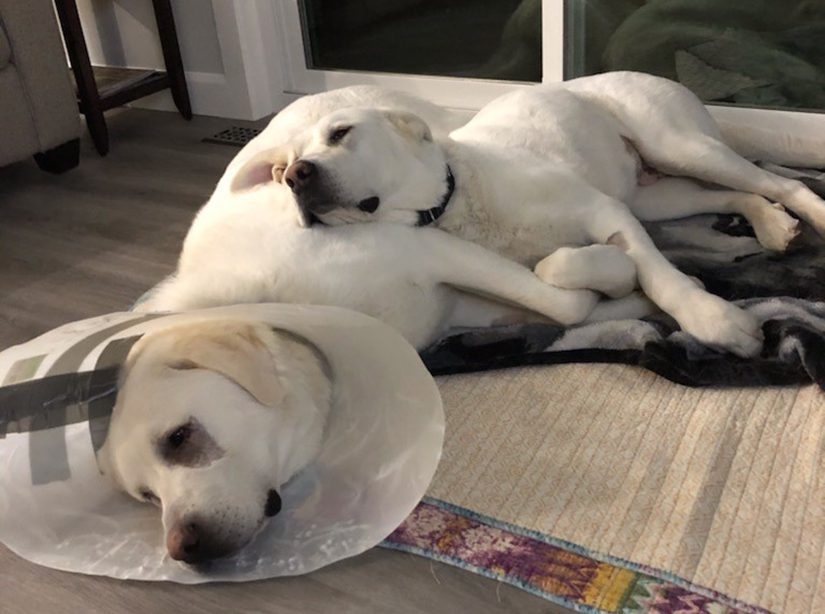 It didn't take long for branch staff and volunteers to fall in love with these two or to realize that these big dogs thought they were lap dogs. As they got more and more comfortable with people, they would snuggle up and try to get as close as possible.
This dynamic duo was never going to be separated so it became important to find a forever home that could take on their 200 pounds of awesomeness.
And that forever home was a farm! Captain and Maria now live their best lives "defending" the fence line on daily perimeter tours each morning and night which comes naturally to Akbash dogs.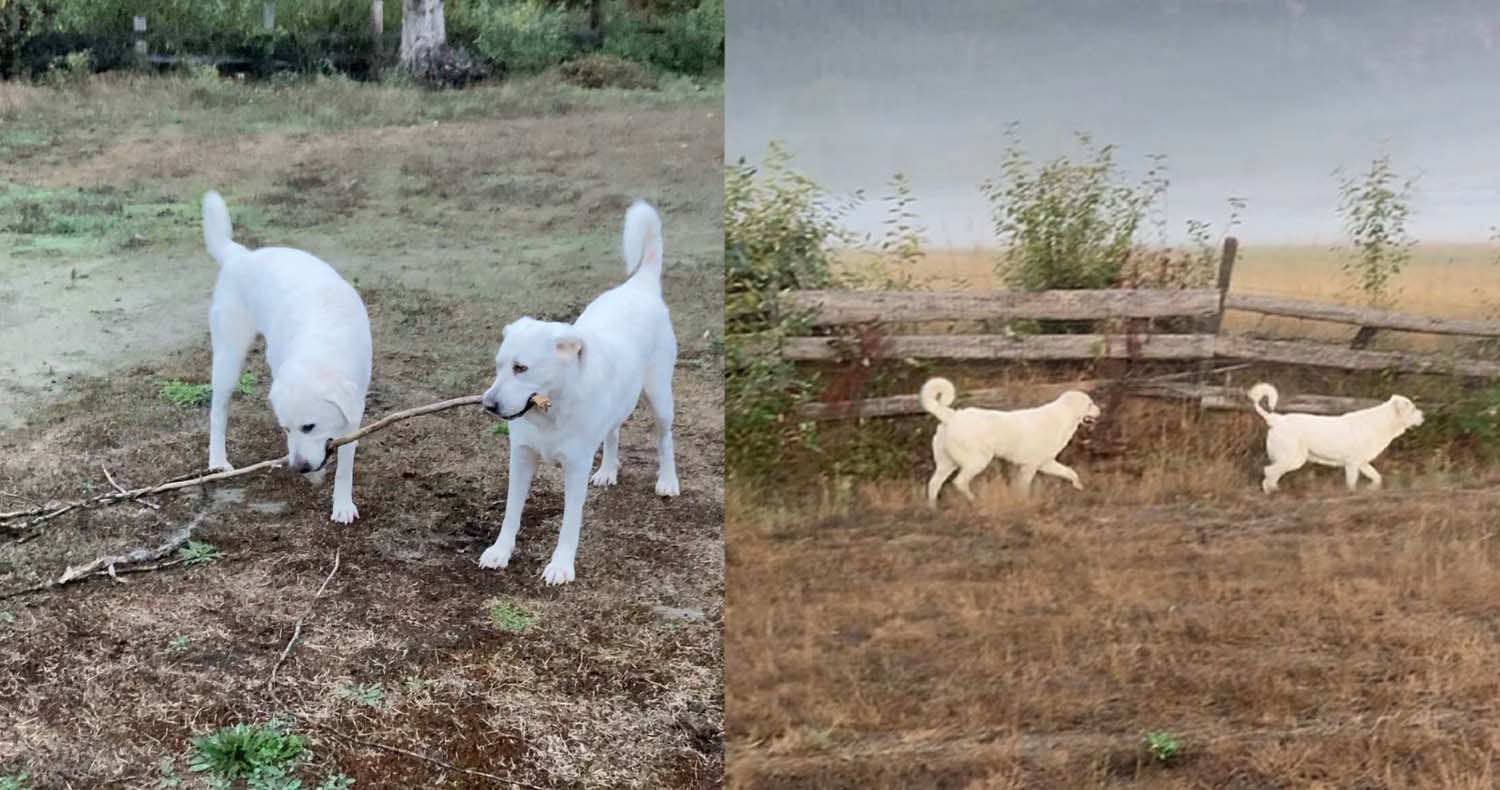 "They are loving it," says Alissa. Captain and Maria romp, wrestle and dig giant holes in the backyard and when they are tired out from playing, they curl up in their favourite spots and keep an eye on the goings-on in the neighbourhood.
Their favourite spot inside the home is wherever their guardians are. If Alissa is working on her computer, Maria is often curled up on one side while Captain has his front paws and head on her leg.
"Maria would love nothing more than to be right next to me getting belly rubs all the time," she says. "Captain prefers a bit more space but when he isn't getting enough love he will let out a Chewbacca-like moan."
Since arriving at the farm, Captain's separation anxiety when he is away from Maria has been greatly reduced. By increasing their time away from each other in small increments, Captain is now completely calm and relaxed at home when Maria and Alissa are on walks as long as Dad is there to keep him company.  During this year's hot summer, Captain stayed at home curled up in the shade (which he preferred) while Maria and Alissa went for walks around the neighbourhood.
Now that the weather has cooled off, Captain goes out for little walks. "He definitely lacks confidence around other dogs when his partner in crime isn't there to back him up, bless his big sweet beautiful heart," says Alissa.
When Captain is feeling a little overwhelmed, he will play his extremely effective "sitting or lying down" card and they give him some time to decompress. They have a relatively quiet dog park in town where they are able to sit and watch dogs play from afar so Captain can learn about dog behaviour.
"Just the other day Captain was able to calmly greet another dog all by himself," says Alissa. "It was a proud day for mom."
Maria is the more adventurous of the two. From a ride in the jet boat to exploring forest service roads in the jeep, she is game for anything!
"We have been so amazed by the resilience and intelligence of these dogs," says Alissa. "They pick up language and commands so quickly and are keen to 'do the right thing'. We love them very dearly and they have brought a lot of joy, laughter and snuggles into our lives."
Thank you to all our amazing adopters for giving neglected and abused animals a better life.
See animals waiting for "fur-ever family"