Brentwood Bay residents David Whiffin and Clayton Cunningham were found guilty today in a shocking case of animal abuse in which they starved their 27-year-old Appaloosa gelding named Jalupae to the point of emaciation and then hung the animal to death by tying him with ropes to an excavator on a waterfront acreage in Brentwood Bay.
While the pair was found guilty under the Criminal Code of causing unnecessary suffering by failing to provide adequate food for the horse, the court granted a judicial stay of proceedings on the charge relating to the killing of the animal, noting that there was not enough evidence to prove the horse suffered before death.
"It is ludicrous that, in this country, someone who intentionally kills an animal by hanging them from a backhoe cannot be convicted under our Criminal Code," said Marcie Moriarty, general manager of cruelty investigations for the BC SPCA.  "We deal with horrific animal cruelty every day in our work, but this case was particularly heinous.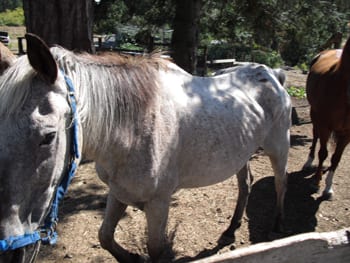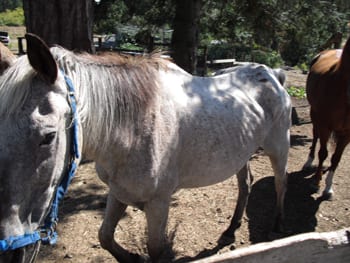 I can only imagine the abject terror and pain this poor animal must have experienced before he died, but the judge ruled that there was not sufficient evidence to confirm that the death was not instantaneous and therefore it did not meet the burden of proof under Criminal Code section 445.1 (1) (a) that states that an offence is committed is a person 'willfully causes, or being the owner, willfully permits to be caused unnecessary pain, suffering or injury to an animal'.
"It is disturbing enough that these individuals allowed Jalupae to starve to the point of emaciation, but any reasonable person would have called a veterinarian to the property if they planned to euthanize the animal," says Moriarty. "They certainly had other options than hanging that poor animal to death."
Whiffin and Cunningham face a maximum fine of $10,000, up to 18 months in jail and a prohibition on owning animals.
Photo caption: Jalupae prior to his death
The British Columbia Society for the Prevention of Cruelty to Animals is a not-for-profit organization reliant on public donations. Our mission is to protect and enhance the quality of life for domestic, farm and wild animals in B.C.